---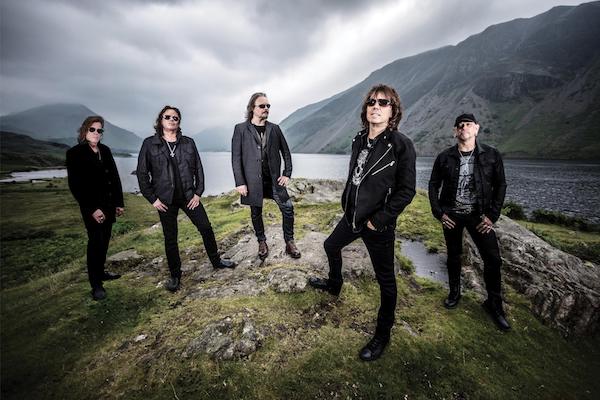 Europe
Can a highly successful hard rock band coming from the 80s take a long break, return into the new millennium and re-establish itself in a stunning way? Many tried and failed. But Swedish supergroup EUROPE is a big exception to the rule. Decades after they came together and dozens of millions of albums sold, Joey Tempest (vocals), John Norum (guitars), Mic Michaeli (keyboards), John Levén (bass) and Ian Haugland (drums) are about to release "Bag Of Bones" – their brand new studio album – and that sounds so fresh, so focused and motivated that even producer Kevin Shirley (Journey, Black Country Communion, Black Stone Cherry, Iron Maiden) didn't need arguments to bring blues superstar Joe Bonamassa over for a guest appearance.
"With 'Bag Of Bones' we've made a hardcore classic rock record with the blues knocking on the door", says Joey Tempest. "We're proud of it. Very proud. Straight from passionate hard rock souls of Scandinavia, this almost feels like a 'prequel' to our very first album, with a 2012 punch." And as John Norum remarks: "This was the first time since the early days of Europe that we all were standing together in the big studio room, playing through the new songs with Joey singing. I was so fascinated by the long forgotten feeling that I even got a couple of electric hits from my headphones. But that didn't really matter. The result is a Europe-album that goes completely back to the basics and… even my mother loves it!"
It all started in a small suburb outside of Stockholm, Sweden. Joey and John met and formed the band Force. They both were into British rock bands like Thin Lizzy and UFO. Led Zeppelin and Deep Purple also made an immense impact on these teenagers. They recorded their first demos when they were only 16 and 17 years old. Record companies turned them down, saying it was "too much guitars and their hair was too long". But with the new name Europe they proved everybody wrong. They won a rock band competition and the first prize was a recording contract. When "Europe" was released in 1983, kids in Sweden and Japan really identified with their music. The second album "Wings of Tomorrow" already gained attention from all over the world. Soon Epic Records, New York (now Sony Music) got interested and signed a million dollar contract. When it was time to release their third album "The Final Countdown", they had Journey-producer Kevin Elson onboard and a major American label behind them. Touring the UK, US and the rest of the world had always been the boys' dream. They had put in the dog years and it was time for the big success. "The Final Countdown" sold 7 million records worldwide and the single was number one in over 25 countries and still is a big anthem all over the world until today. The album spent 70 weeks on the Billboard Charts and had 4 "Top 40" singles. Europe made it. They were constantly on the road all over the world but eventually found time to hook up with producer Ron Nevison (UFO, Led Zeppelin) to record their 4th album "Out Of This World". With the new hit "Superstitious" on the airwaves, they embarked on another 2-year-long world tour. In 1990 they relocated to Los Angeles to record their 5th album, "Prisoners In Paradise", followed by yet another extensive world tour. By then the band had constantly been recording and touring for 10 years and it was time for a break.
2004 the band returned with the powerful "Start From The Dark". The plan was to slowly build up a relationship with fans and the music world again. The album caused controversy with its raw, heavy detuned sound, but was a great platform to build on. 2006 they recorded "Secret Society" - another heavy rocking album. With this album, the British rock press started to take the band serious and for granted - finally. The band continued to tour worldwide but started to get invited to play the UK on a regular basis – with steadily increasing concert attendees. Their most successful record since returning to the scene was released in 2009: "Last Look At Eden". With the bombastic title track and the ballad "New Love In Town", Europe broadened their fan base even more to become one of the most successful bands in their genre and returned to the pole position of the official album charts in their home country. At the end of April 2012, the 9th Europe-album, "Bag Of Bones", will be released worldwide. Possibly the rawest and most honest album in the band's history, it bursts with vitality, does present sensational novelties - and still is a record in best Europe-tradition. There is so much to be discovered in here. The first single/video "Not Supposed To Sing The Blues", the deeply touching "My Woman My Friend" and "Bring It All Home", or the phenomenal "Requiem", side-by-side with the powerful album-opener "Riches To Rags". "Finally we express ourselves completely without restraint. Straight from our hearts and souls. It took some time but finally we have arrived", says Tempest. "We've crossed the line. We've lost our minds and we've started to play some decent rock 'n' roll. Kevin Shirley did such a great job capturing the spirit of this band. He just let us do our thing and then pushed us and our songs to the max! And we had some fun during the process: just like a great rock record should be made. 'Bag Of Bones' definitely is one of Kevin's best productions. It has got that wonderful warm 70's style-sound combined with a 2012-attack." The album was recorded in the legendary Atlantis Studios in Stockholm. Opeth just finished its latest album before Europe took up residence. Europe had changed producers on every single record in their career, which has proven to be a winning recipe. Always keeping things fresh and always moving ahead. Europe's love affair with the UK will continue and the band will be going back for a major tour in autumn, together with extensive touring in Europe, Scandinavia and the rest of the world. "Bag Of Bones" with its typically strong melodies and the tangible joy of playing, is a straight forward rock album, which range still reaches astonishing dimensions - even for Europe: the experienced five-piece managed to develop further and break limits once again, without selling their 'hard rock soul'.