---
Biography Rainbow Kitten Surprise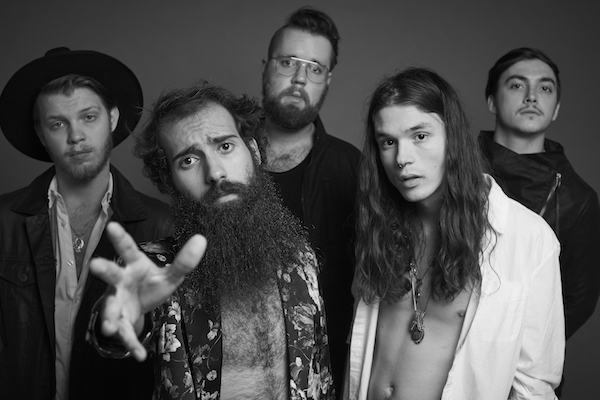 Rainbow Kitten Surprise Nearly every Rainbow Kitten Surprise song unfolds in a dizzying rush of words, feverish yet finespun lyrics that feel both intimate as confession and mythic as a fable. Throughout their forthcoming album How To: Friend, Love, Freefall, the Boone, North Carolina based five-piece set those lyrics to a thrillingly unpredictable sound that transcends all genre convention, endlessly changing form to accommodate their constant shifts in mood and spirit. But while Rainbow Kitten Surprise push into some complex emotional terrain, the band's joyful vitality ultimately makes for an album that's deeply cathartic and undeniably life-affirming.
Produced by Grammy Award-winner Jay Joyce (Cage The Elephant, The Head and the Heart, FIDLAR) and recorded at Neon Cross Studio in Nashville, How To: Friend, Love, Freefall marks Rainbow Kitten Surprise's debut release for Elektra Records. In creating the album, the band immersed themselves in a deliberate sonic exploration that made heavy use of the studio's treasure trove of vintage instruments, infusing their music with the kinetic energy of discovery. And in sculpting the inventive arrangements and ever-morphing textures of How To: Friend, Love, Freefall, Rainbow Kitten Surprise embedded each track with indelible melody and chilling harmonies with a long-lingering power.
A distinctly vocally driven band, Rainbow Kitten Surprise offer a lyrical depth that leaves the listener torn between an urge to read along with every word and the instinct to simply be swept up in the songs. That dynamic is reinforced by frontman Sam Melo's captivating vocal approach, a chameleonic intensity that equally recalls the rambling eloquence of classic folk and the seamless flow of his own hip-hop idols, who include ScHoolboy Q and Frank Ocean. But whether he's intoning soulfully or spitting out lyrics in a stream-of-consciousness style, How To: Friend, Love, Freefall continually reveals Melo's hypergraphic tendencies. "I'm a compulsive writer," he says. "As soon as something's done, I don't even listen to the last cut—I'm on to the next thing. It's like an addiction for me."
As the main songwriter for Rainbow Kitten Surprise, Melo brings an autobiographical element to How To: Friend, Love, Freefall, often drawing from his Pentecostal upbringing. Although he was born in the U.S., he spent ages eight to 15 in the Dominican Republic, where his parents served as missionaries. "Where I grew up in the Dominican Republic, there's a substantial belief in spiritual warfare and the power of the occult—the idea that God and the Devil and angels and demons come in and out of our dimension, and very actively influence the lives of humans," says Melo. The notion of possession and exorcism informed such songs as "Fever Pitch," a track that drifts from delicate piano balladry to groovy rock-and-roll stomp, all while turning out lyrics both unsettling and sly ("Don't let the fever get you/Got got already/Lost my soul in the Seventh Heaven/Making out on Aisle 11"). ...