---
Mario Diaz de Leon & Tak Ensemble
---
Biography Mario Diaz de Leon & Tak Ensemble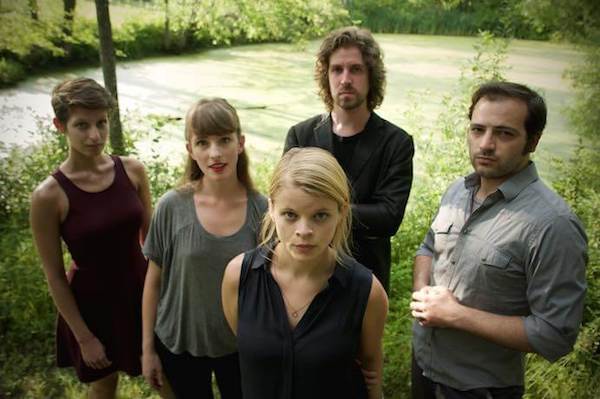 Mario Diaz de Leon
Born in Minnesota, Mario Diaz de Leon has lived in in New York City since 2004, and received a doctorate in music composition from Columbia University in 2013, where he currently teaches. He currently leads the metal band Luminous Vault as vocalist and guitarist, whose "Charismata" EP was released on Profound Lore Records in spring 2017. From 2012-2016, his solo electronic project Oneirogen (o-NI-ro-jen) toured internationally and released three full length albums on Denovali.
Mario Diaz de Leon collaborated with director Zev Deans to create the score for Alien: Biotic, a short film commissioned by Fox as part of the o cial Alien: Covenant campaign. In 2016, the Los Angeles Philharmonic commissioned and premiered his "Lightmass" for their "Noon to Midnight" festival of contemporary music. He has also collaborated with Nate Young of Wolf Eyes on "Standard Deviance One", which they recently performed at Tectonics Festival Glasgow with the BBC Scottish Symphony Orchestra.
Tak Ensemble
is a quintet that delivers energetic and virtuosic performances of contemporary classical music. The ambitious NYC based ensemble "impresses with the organicity of their sound, their dynamism and virtuosity — and, well, just a dash of IDGAF as they slay the thorniest material like it's nothing" (Q2 Music). Their debut album "Ecstatic Music: TAK plays Taylor Brook" was released by New Focus Recordings in September 2016, to critical acclaim; it was featured as Q2 Music's Album of the Week by WQXR, and was listed in the Top 10 Classical Albums of 2016 by The Boston Globe, which praised the "young, fearless players… fluid grace and confidence."
Upcoming projects include a collaborative commissioning project with the Montreal-based percussion quartet Architek, a several-week run of "The Power of Emotion" with TELE-Violet Theater, the "Iceland in New York" festival at Scandinavia House with Errata Collective and NYC-based quartet loadbang, and a Canadian tour featuring ten world premieres.