---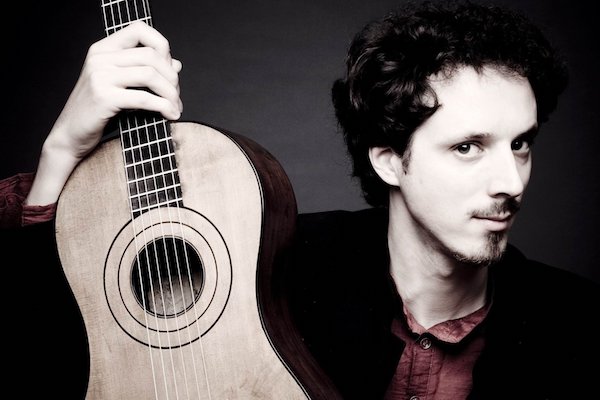 Izhar Elias
(Amsterdam, 1977) is one of the most sought-after specialists in early music, chamber music and new music for guitar.
He has given concerts, lectures, and masterclasses, and been the soloist in concertos with renowned orchestras, in Europe, Russia, south-east Asia, Australia and the USA. He won the prestigious Dutch Music Prize in 2011, the highest musical award given by the Dutch government.
Through extensive research, he has been able to recreate a musical language of the Baroque, Classic and Romantic periods using original instruments and historical methods.
He has also premiered over 50 works and mixes different artistic disciplines in his collaborations with choreographers, experimental film makers and theatre directors. In 2014 he premiered the double concerto Schattenspiel, for electric guitar, classical guitar and big symphony orchestra, together with the composer and heavy metal guitarist Florian Magnus Maier in the Amsterdam Concertgebouw.
Izhar Elias' impressive collection of CD releases have earned him worldwide critical acclaim. To name a few of his albums: Rossini's opera Semiramide transcribed by Mauro Giuliani (guitar solo, Brilliant Classics), Hommage à Debussy (guitar solo, Brilliant Classics), Big Eye movies and music (guitar, recorder and movies, Phenom Records), Paisiello in Vienna (guitar, mandolin and fortepiano, Brilliant Classic), Carrousel (guitar and clarinet, Sound Liaison), Sharkiya (guitar, mandolin and harpsichord, IMI).
Recently the album Guitar Vibes has been released (Brilliant Classics), with works for guitar and strings, celebrating the universality of the guitar. Belgian magazine Stretto called the album "a remarkably original and very very special CD".
Izhar Elias is surrounded by many world class musicians. A few of his remarkable collaborations: Together with guitarist Fernando Cordas Izhar Elias specializes in performing early 19th century duo's on historical instruments. He has a unique duo with Georgian clarinet virtuoso Levan Tskhadadze. He is member of trio Cordevento (with Erik Bosgraaf – recorder and Alessandro Pianu – harpsichord), which revives the virtuoso music from the 17th century, a repertoire often on the border of art and popular music. Cordevento has performed in many of Europe's most prestigious concert halls and early music festivals, such as the Konzerthaus (Vienna), Concertgebouw (Amsterdam), Palais des Beaux-Arts (Brussels), Konzerthaus (Berlin), Concertgebouw (Bruges), and the Utrecht Early Music Festival.
Elias has studied with Ton Terra, the Groningen Guitar Duo, Zoran Dukic, Kees Hendrikse and Carlo Barone (19th century performance practice).The performance practice of the baroque guitar he learned from a.o. William Carter, Adrián Rodriguez van der Spoel and Lex Eisenhardt.