---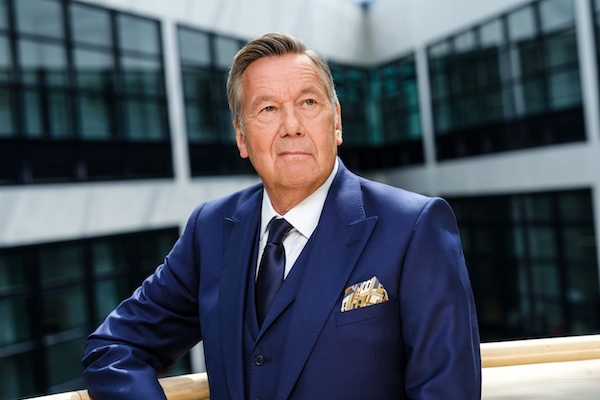 Roland Kaiser
Born in Berlin in 1952, Roland Kaiser has been celebrated on German stages for almost five decades. His fan base now spans three generations, and his best-known hits include "Santa Maria", "Dich zu lieben", "Joana", "Extreme" and his duet with Maite Kelly, "Warum hast du nicht nein gesagt? (09/2014), which became a YouTube hit with an incredible 120 million clicks. His records - which have already sold over 100 million copies - are regularly awarded gold and platinum and his live tours, whether open air or arena, are always sold out before the scheduled dates. His concerts at the Waldbühne Berlin are among the absolute highlights of every open air summer, crowned each year by his KAISERMANIA concerts in Dresden, which have not only achieved incredible cult status for over 15 years, but are now also sold out in absolute record time. In October 2021, his autobiography "Sonnenseite" landed directly at No. 1 on the Spiegel bestseller list in non-fiction. Small detours into the world of film - such as his guest role in the Münster Tatort "Summ, Summ, Summ" (2013) - or even his presence as the host of the Dresden SemperOperaball (since 2019) underline the fact: Roland Kaiser is THE successful artist of German pop.
Born in 1952 and raised in Berlin, Ronald Keiler first completed a commercial apprenticeship and then managed the advertising department of a Berlin car dealership. Producer Thomas Meisel discovered him as a singer.
Roland Kaiser's extensive repertoire reads like a musical journey through time of the German pop history of the 70s, 80s and 90s. He was on the ZDF Hit Parade alone 67 times, making him the performer with the most appearances.
In 1974, Kaiser released his first single, "Was ist wohl aus ihr geworden?" - without making any noteworthy impression. The unforgettable hits followed later. In 1976 he had his first sales success with "Frei, das heißt allein". Roland Kaiser released his first Top 10 hit "Sieben Fässer Wein" (Seven Barrels of Wine) in 1977, followed by hit after hit: "Amore Mio", "Schach Matt", "Santa Maria", "Lieb mich ein letztes Mal" (Love Me One Last Time), "Dich zu lieben" (To Love You), "Joana", "Midnight Lady", "Ich glaub es geht schon wieder los" (I Think It's Starting Again), "Manchmal möchte ich schon mit dir" (Sometimes I Want to Go With You), "Wind auf der Haut und Lisa" (Wind on Your Skin and Lisa), "Wohin gehst du? ", "Alles was du willst", "Extreme", "Im 5. Element", "Warum hast du nicht nein gesagt", and many more.
Germany's most successful pop singer of the early 80s also wrote lyrics for well-known colleagues such as Peter Maffay, Milva, Nana Mouskouri and Karat. ...