---
Iberian & Klavier Piano Duo
---
Biography Iberian & Klavier Piano Duo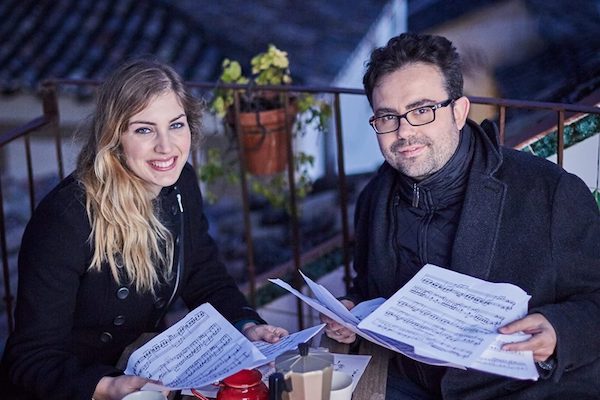 Iberian & Klavier
piano duo is undoubtedly one of the most exclusive and international piano duos today. Since their inception in 2009 this duo has performed recitals of four-hand piano and piano duo, with and without orchestra, in prestigious venues and festivals in the UK, France, Portugal, Italy, United States and much of Spain, always to great critical and commercial acclaim.
On 18th June 2015 I&K was presented by the Gabarrón Foundation at Carnegie Hall in New York to commemorate the 60th anniversary of Spain's membership of the UN. The international press described the concert as an extraordinary explosion of contemporary piano.
Their repertoire is polystylistic and very much committed to the dissemination of Spanish, Latin American and contemporary music (with more than 10 world premières, some of them written especially for the duo), without overlooking European academicism. They also collaborate regularly with other artists and in arts such as dance.
In April 2014 they launched their first recording project, "Café 1930". In February 2016 I&K released their second album on their own label "ibe musik", entitled "Bon Voyage", a tribute to E. Granados, with music by Bach, Mozart, Schubert and Granados. Recorded with engineer Georg Burdicek in the Vienna Konzerthaus, and subsequently presented at the National Auditorium of Music in Madrid.
For the 2016-17 season the duo continued to play internationally with recitals and performances with orchestras in Europe, Asia, Latin America and the United States. The duo is regularly invited to give master classes in France and Italy, something they also did in the US in 2016.
Since 2016 Iberian & Klavier have been a cultural ambassador for the Gabarron Foundation NY, Iberia Classics artists and Hinves Pianos artists.
Iberian & Klavier piano duo achieves a genuine brilliance in its performances, going beyond the exact conjunction of the sounds, crossing the line of the sensory, and reaching moments of endless expressive dialogue..."