---
Corrado Rustici and Peppino D'Agostino
---
Biography Corrado Rustici and Peppino D'Agostino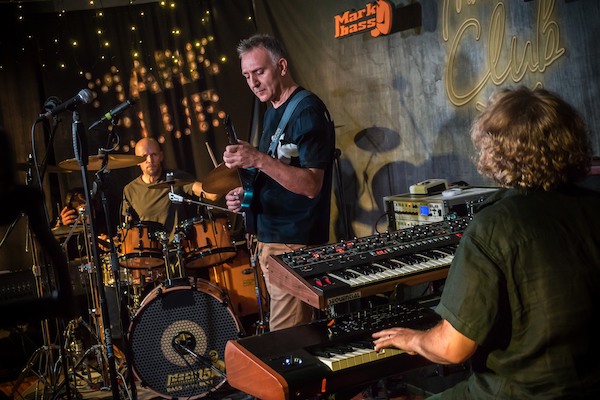 Corrado Rustici
"No matter which musical context defines your artistic truth. "The Multiamp will give meaning and clarity to the notes that flow from your heart to your fingers."
Corrado Rustici has been involved with some of the most successful albums made over the past twenty-five years. A body of work that has surpassed 40 million in unit sales.
As a producer he has worked with such talents as Andrea Bocelli, Clarence Clemmons, Claudio Baglioni, Elisa, Eric Clapton, Francesco De Gregori, Francesco Renga, Jeff Beck, Jimmy Smith, Johnny Lee Hooker, Luciano Pavarotti, Luciano Ligabue, Negramaro, Paul Young, PFM, Rita, Sheila E, Sinead O'Connor, Stevie Ray Vaughn, Stewart Copeland, Zucchero Fornaciari.
As a musician he has also worked with Allan Holdsworth, Aretha Franklin, Elton John, George Benson, George Michael, Herbie Hancock, Michael Manring, Miles Davis, Narada Michael Walden, Paul Mc Candless, Phil Collins, Steve Smith, Whitney Houston, Zakir Hussein.
Yet, while his own name is a household word in Europe and he is listed in The Black Book, (Solid State Logic's tribute to legendary producers) in America, he continues to work in relative anonymity.
"No matter which musical context defines your artistic truth.", says Corrado, "The Multiamp will give meaning and clarity to the notes that flow from your heart to your fingers."
Peppino D'Agostino
A young Sicilian artist left Italy over 30 years ago, with the dream of "playing with the greatest guitarists". Peppino has achieved his dream and he's now firmly planted in the "who's who" of the guitar world.
Peppino D'Agostino emerged on the acoustic guitar scene in the early 80's as a leading member of the second wave of the great fingerstylists that helped redefine the instrument in the '90s. His remarkable technique, penchant for open tunings, and percussive effects are the basis of his unique compositional style which has been inspiring musicians and audiences alike for decades. Add to that his natural warmth, playfulness, and broad musical tastes and you have the recipe for what he calls "minestrone music". His virtuosity and his emotional charge have also had a significant influence on the younger generation of fingerstyle guitarists. D'Agostino continues to evolve and grow in ways that would have been hard to predict when he first showcased his melodic yet emotionally intense style on the recordings Acoustic Spirit, Close to the Heart, and Every Step of the Way which was named one of the top three acoustic guitar albums of all time by Acoustic Guitar magazine readers.
D'Agostino has performed in more than 30 countries, at prestigious international festivals and has played in some of the world's most important theaters. He has shared the stage with Tommy Emmanuel, Leo Kottke, Laurindo Almeida, Sergio Assad, Larry Carlton, and Eric Johnson, to name a few. His solo recordings include high quality labels such as Favored Nations, Mesa / Bluemoon, and Acoustic Music Records. Recognized as "the guitarist's guitarist" by Acoustic Guitar magazine and described as "a giant of the acoustic guitar" by the San Diego Reader, D'Agostino was voted Best Acoustic Guitarist by readers of Guitar Player magazine. An active member of the Pacific Guitar Ensemble, Peppino has collaborated and recorded with the classical guitarist David Tanenbaum (chair of the classical guitar at the Conservatory of San Francisco), Jeff Campitelli (considered one of the 100 greatest drummers of all time by Rolling Stone magazine) and the legendary Paraguayan harpist and violinist Carlos Reyes, among many others. D'Agostino's composition "Stammi Vicino," written with electric guitarist Stef Burns and Italian rock star Vasco Rossi, reached number one in the iTunes rock charts in Italy.
D'Agostino's simultaneous immersion in the classical guitar and rock worlds, has culminated in his most recent solo recording, Penumbra, a mix of sophisticated yet melodic compositions that are technically complex. Released by Mesa/Bluemoon, Penumbra includes two compositions written for D'Agostino by Latin Grammy Award winner and classical guitar legend Sergio Assad as well as original compositions by three great contemporary classical guitarists: Roland Dyens, Maurizio Colonna and Gyan Riley. You could arguably say that D'Agostino is the missing link between the Classical and the Acoustic guitar.
Recently Peppino had his very first sold out tour in China and a soundtrack composed for the world renowned Monterey Bay Aquarium in California.
In addition to performing, D'Agostino also makes time to teach. He enjoys meeting with individual students as well as providing group instruction and vacation learning packages like the Acoustic Guitar Cruises, Creative Vacances in La Moreau, France, or teaching with legendary guitarist Martin Taylor. The leading online instruction company Truefire has released a series of videos in which D'Agostino explains his influential guitar techniques and approach to composition. Peppino, when not performing or teaching, also has fun writing musical licks for new versions of games such as Sims – a product of Electronic Arts, or Dragons of Atlantis for Kabam.
Peppino likes to compare his musical approach to the culinary art of his native Italy: "If you want to prepare a good, succulent dish you have to know how to mix the various ingredients and, most important, have knowledge of the right amounts. Similarly, in musical composition you must be able to properly combine melody, harmony, rhythm and percussive effects with discretion and elegance."
People never know what to expect at his concerts. Peppino's repertoire is always changing, adapting to the rapport he establishes with his audience. His live performances, a combination of beautiful, complex, up tempo original instrumentals, memorable arrangements and engaging songs are beautifully addictive.
Peppino never disappoints, opening new musical doors with his loved and award winning Seagull signature model guitar. His hands constantly searching, experimenting, and his original music and songs taking his audiences to ever-expanding heights.