---
Orkesta Mendoza & Carrie Rodriguez
---
Biography Orkesta Mendoza & Carrie Rodriguez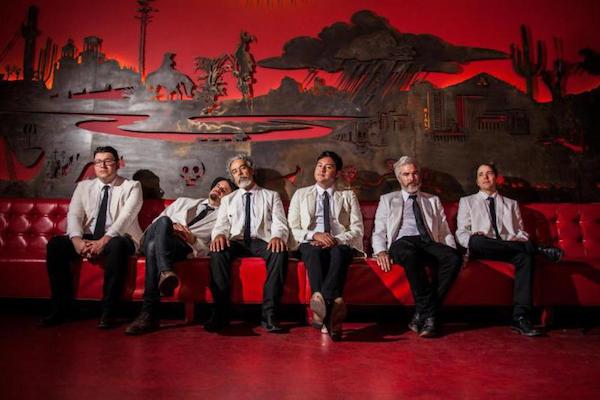 Orkesta Mendoza
Sergio Mendoza is one of the great innovators of the Arizona music scene. He's a composer, arranger, producer and programmer who plays keyboards, guitar, percussion and horns, and works with the fine American band Calexico. He may be based in Tucson, but his inspiration comes from south of a border that is not blocked by any walls. With Orkesta Mendoza he sets out to update and enliven the Latin big band tradition, mixing influences from Mexico and across Latin America with electronica, strings and unexpected bursts of western pop. He has a sometimes brash, widescreen style that would have impressed Phil Spector, but there is impressive variety in his exuberant approach. So he starts with stomping, brassy dance songs, slows down a little for a grand, piano-backed ballad and then changes direction again for Mapache, with its witty reference to 60s instrumental pop. Classy and enormous fun.
CARRIE RODRIGUEZ (Music & Lyrics)
a singer-songwriter from Austin, Texas, finds beauty in the cross-pollination of diverse traditions. A passionate performer, she melds fiery fiddle playing, electrifying vocals and a fresh interpretation of new and classic songs with an "Ameri-Chicana" attitude. Her most recent release, the critically-acclaimed bilingual album, "Lola," was named as one of NPR's top 50 albums of the year. Carrie has performed on stages across North America and Europe for the last decade, as well as on programs such as Austin City Limits, The Tonight Show, A Prairie Home Companion, and NPR's Tiny Desk Concerts. In the words of author Brené Brown, "She's the trifecta for me - beautiful singer, soulful songwriter, and kick-ass fiddler."
SERGIO MENDOZA (Music Arrangements)
is a producer, arranger, composer, multi instrumentalists and Latin music pioneer. Just like jazz legend Charles Mingus Mendoza was born in the border town of Nogales, Arizona. He is also the founder and leader of Orkesta Mendoza, a band which he formed in Tucson, Arizona in 2009. Through his work with Orkesta Mendoza, two time Grammy Nominated band Calexico, Devotchka, Mexrrissey and Mexican Institute of Sound, Mendoza has traveled and toured all over the world from Europe, UK, New Zealand, Australia, Canada to South America. As band leader and musician Sergio has performed a total of four times in Latin America's most important music festival 'Vive Latino'. Through his production work with Los Angeles Azules (Mexico's #1 selling group)and Mexican producer Camilo Lara, Mendoza has produced and arranged songs for artist such as Natalia Lafourcade, Miguel Bose, Belinda just to name a few. His band Orkesta Mendoza is planning to release their third full length album 'Curandero', in April 2020.
MARCOS ROSANO (Music Arrangements)
Born in Tucson, AZ, Marco Rosano is an accomplished woodwind player, and a versatile multi-instrumentalist and composer. Marco is a long tern member of the band, Orkesta Mendoza, and was a founding member of the popular Tucson based band, Crawdaddy-O. In addition to playing in many local bands, he has composed music for award winning films of Alex Italics, and was an active member of the experimental composition group, Chamberlab. Macro has recorded with national and International Artists including Calexico, Depedro, KT Tunstall, as well as many others, and has performed as a musician in productions of Chicago, Anything Goes and Westside Story. He continues to maintain an active career as a composer, musician, performer and arranger, bringing his diverse set of creative skills to many different areas of the world of music.
SERGIO MEJIA (Choreographer)
has served as a Creative Director and Choreographer for television and live events around the world. Sergio served as a Creative Director and head of Choreography for 3 Disney Channel International hit television shows including "Violetta", "Soy Luna" and currently "Bia", as well as heading their international world tours. Sergio has also created, directed and choreographed several shows for Universal Studios Japan which included an IAAPA Award nomination. Sergio has also worked with Alejandro Fernandez, Christina Aguilera, Walt Disney, Dreamworks, Nickelodeon, Latin Billboard Awards, CBS, MTV, VH-1 and Celebrity Cruises.
FERNANDA SANTOS (Creative Consultant)
is an award-winning author and journalist with a long reporting career, including 12 years at The New York Times. An immigrant from Brazil, Santos has reported in three languages (Spanish, Portuguese and English) on immigration, the U.S.-Mexico border, race relations, public policy and criminal justice, among other topics. Her first book The Fire Line: The Story of the Granite Mountain Hotshots, won the Western Writers of America 2017 Spur Award for Best First Nonfiction Book and was one of two finalists in the Contemporary Nonfiction category. She is a professor of practice at Arizona State University's Walter Cronkite School of Journalism and Mass Communication, a board member of the Arizona Latino Media Association and vice president of The Sauce Foundation, which raises money for journalism scholarships and pancreatic cancer research.
TONY VALDOVINOS (Consulting Producer)
was born in the state of Colima, Mexico and was brought to the U.S. when he was two years old. At the age of 18, Tony wanted to enlist in the U.S. Marines after 9/11 to serve the country he loved only to learn of his undocumented immigration status. Like many other DREAMers, Valdovinos grew up American and did not know of his undocumented status. His true and inspiring life story became the inspiration behind Americano! He is now the CEO of La Machine, a consulting firm that specializes in field operations to help local and national clients. His clients and efforts include winning minimum wage ballot initiative campaign, Bernie Sanders' 2016 Presidential campaign for Arizona, the campaign to elect Representative Ruben Gallego into the U.S. House of Representatives and recently ran Kate Gallego's 2018 Mayoral campaign. He has been recognized by the Phoenix Business Journal, the Arizona Hispanic Chamber of Commerce and Forbes for his outstanding achievements in his respective field.
Ken Davenport (Executive Producer)
is a two-time Tony Award winning producer and writer. Davenport is the founder of Davenport Theatrical Enterprises (DTE). He has created and produced numerous shows the past 15 years. Davenport has produced more than a dozen Broadway shoes including the Tony Award-winning Best Musical Kinky Boots, the first Broadway revival of Godspell, Altar Boyz, Macbeth, Once on This Island and Deaf West Theatre's Spring Awakening.