---
Philharmonia Orchestra & Vladimir Ashkenazy
---
Biography Philharmonia Orchestra & Vladimir Ashkenazy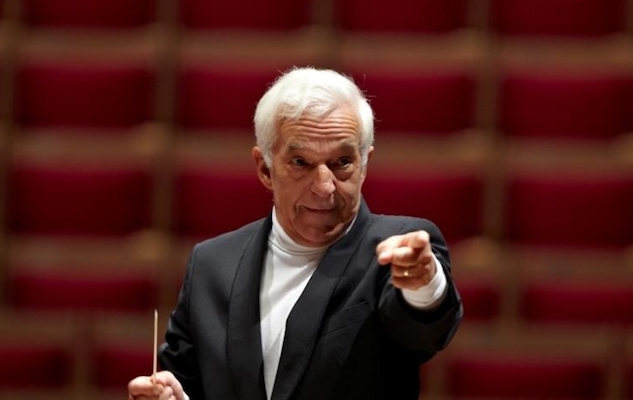 The Philharmonia Orchestra
is one of the world's great orchestras. Acknowledged as the UK's foremost musical pioneer, with an extraordinary recording legacy, the Philharmonia leads the field for its quality of playing, and for its innovative approach to audience development, residencies, music education and the use of new technologies in reaching a global audience. Together with its relationships with the world's most sought-after artists, most importantly its Principal Conductor and Artistic Advisor Esa-Pekka Salonen, the Philharmonia Orchestra is at the heart of British musical life. Today, the Philhar­mo­nia has the greatest claim of any orchestra to be the UK's National Orchestra. It is committed to presenting the same quality, live music-making in venues throughout the country as it brings to London and the great concert halls of the world. In 2013/14 the Orchestra is performing more than 160 concerts, as well as presenting live digital events and recording scores for films, CDs and computer games. Under Esa-Pekka Salonen a series of flagship, visionary projects – City of Dreams: Vienna 1900–1935 (2009), Bill Viola's Tristan und Isolde (2010), Infernal Dance: Inside the World of Béla Bartók (2011) and the recent celebration of Witold Lutosławski's cen­tenary, Woven Words – have been critically acclaimed.
For almost 20 years now the Orchestra's work has been underpinned by its much admired UK and International Residency Programme, which began in 1995 with the launch of its residencies at the Bedford Corn Exchange and London's Southbank Centre. During 2013/14 the Orchestra not only performs more than 35 concerts at Southbank Centre's Royal Festival Hall, but also celebrates its 17th year as Resident Orchestra of De Montfort Hall in Leicester and its 13th year as Orchestra in Partnership at The Anvil in Basingstoke; and enters the third year of its residencies at the new Marlowe Theatre in Canterbury and the Three Choirs Festival. The Orchestra's extensive touring schedule this season also includes concerts in Russia, Austria, Switzerland, Italy, Germany, France and Spain with Esa-Pekka Salonen and a two week residency at the Théâtre des Champs-Elysées in Paris performing Poulenc's Les Dialogues des Carmélites under Jérémie Rhorer.
Vladimir Ashkenazy
One of the few artists to combine a successful career as a pianist and conductor, Russian-born Vladimir Ashkenazy inherited his musical gift from both sides of his family; his father David Ashkenazy was a professional light music pianist and his mother Evstolia (née Plotnova) was daughter of a chorus master in the Russian Orthodox church. Ashkenazy first came to prominence on the world stage in the 1955 Chopin Competition in Warsaw and as first prize-winner of the Queen Elisabeth Competition in Brussels in 1956. Since then he has built an extraordinary career, not only as one of the most outstanding pianists of the 20th century, but as an artist whose creative life encompasses a vast range of activities and continues to offer inspiration to music-lovers across the world.
Conducting has formed the larger part of Ashkenazy's activities for the past 30 years. In addition to his performances with the Philharmonia in London and around the UK each season, and in countless tours with them worldwide, he has also developed landmark projects such as Prokofiev and Shostakovich Under Stalin (a project which he also took to Cologne, New York, Vienna and Moscow) and Rachmaninoff Revisited (which was also presented in Paris). Last season Ashkenazy and the Philharmonia undertook a European tour with soloists Evgeny Kissin and Vadim Repin. In September 2014, he leads the orchestra in a ground-breaking tour of Latin America with soloists Nelson Freire and Esther Yoo, including concerts in Mexico City, Lima, Bogotá, São Paulo and Rio de Janeiro.
Ashkenazy is also Music Director of the European Union Youth Orchestra, with whom he tours each year, and Conductor Laureate of both the Iceland and NHK Symphony orchestras. He has previously held posts as Principal Conductor and Artistic Advisor to the Sydney Symphony Orchestra (2009-13), and Chief Conductor of the Czech Philharmonic Orchestra and Music Director of NHK Symphony Orchestra. He maintains strong links with other major orchestras including The Cleveland Orchestra (where he was formerly Principal Guest Conductor) and Deutsches Symphonie-Orchester Berlin (Chief Conductor and Music Director 1988-96). He regularly makes guest appearances with many other major orchestras around the world.
Ashkenazy maintains his devotion to the piano, these days mostly in the recording studio where he continues to build his extraordinarily comprehensive recording catalogue. This includes the Grammy award-winning Shostakovich Preludes and Fugues, Rautavaara's Piano Concerto No.3 (a work which he commissioned), Bach's Wohltemperierte Klavier, Rachmaninov Transcriptions and Beethoven's Diabelli Variations. Spring 2013 saw the release of 'Ashkenazy: 50 Years on Decca' - a 50-CD box-set celebrating his long-standing relationship with the label. In 2014, Decca released a milestone collection of Ashkenazy's vast catalogue of Rachmaninov's piano music, which also includes all of his recordings as a conductor of the composer's orchestral music.
Beyond his performing schedule, Vladimir Ashkenazy has also been involved in many TV projects, inspired by his passionate drive to ensure that serious music retains a platform in the mainstream media and is available to as broad an audience as possible. He has collaborated extensively with legendary documentary-maker Christopher Nupen, and has been involved in programmes such as Music After Mao (filmed in Shanghai in 1979), and Ashkenazy in Moscow, which followed his first return to Russia since leaving the USSR in the 1960s. More recently he has developed educational programmes with NHK TV including the 1999 Superteachers, working with inner-city London school children, and in 2003-4 a documentary based around his project Prokofiev and Shostakovich Under Stalin.