---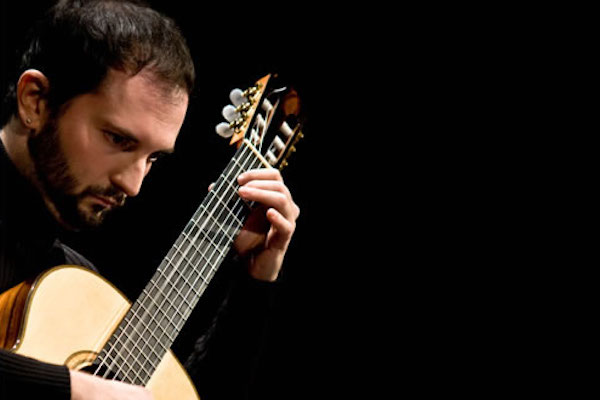 Enea Leone
born in Milan in 1978, approached the guitar at a very young age, under his father's guidance.
He later studied with Lena Kokkaliari until his admission to the Conservatory "G. Verdi" of Milan under the tuition of Ruggero Chiesa and Paolo Chierici, where he graduated with flying colours in 1998. He then attended a post graduation two year course achieving the highest marks, and subsequently improved his training further with Emanuele Segre, Alirio Diaz and Oscar Ghiglia, obtaining a scolarship and certificate at the Accademia Musicale Chigiana of Siena in 2002, 2003 and 2004. In 2005, he gained the "Solistendiplom" at the Musik-Akademie of Basel, again with Oscar Ghiglia.
Since 1990 he has made his name as a soloist in some of the most important national and international competitions, such as Stresa, Franz Schubert, Mondovi, Lodi, Gargnano, Pittalunga, and won the International Tournament of Music (TIM) in 2002. He also performed in many concerts in Italy ("Pomeriggi Musicali", "Associazione Amici del Consevatorio G. Verdi", "Amici del Loggione del Teatro alla Scala") and abroad (Germany, France, Switzerland, Austria, Romania and Greece), both as a soloist and in chamber music ensemble or orchestra ("Aranjuez" Concert with the Cantelli orchestra of Milan).
Since 2000 he has been cooperating with the musical association "Harmonia School of Music" of Gessate (MI) where he is Artistic Director and Professor of the annual Masterclass, and has held numerous Masterclasses of guitar during several musical events: "La magia del borgo, chitarra e altro..." in Brisighella (Imola) since 2006, Mondovi' competition - Roburent (Cuneo) since 2007, "Suoni del Legno" City of Todi since 2008, and "Badesi in Musica" (Sardinia) since 2011 .
At the moment he is Professor of guitar at the Conservatory "Pierluigi da Palestrina" of Cagliari and at the Conservatory "Torrefranca" of Vibo Valentia.
In 2003 he recorded a Cd for M.A.P. entirely dedicated to Astor Piazzolla, alternating solo and chamber music pieces. In 2007 he published "Eleven", a record distributed by Nicolosi Production (a label that numbers Sting, Frank Gambale and Billy Cobham among its artists) containing Maestro Ennio Morricone's music transcribed for solo guitar by C. Marchione. Some pieces from Eleven were then included in a collection dedicated to Maestro Morricone by publiher Carish.
2011 has marked the release of "Souvenir", a Cd completely dedicated to romantic music (Coste-Regondi) containing two world firsts and welcomed with outstanding reviews by the specialist press: "...in "Souvenir" Enea Leone is up there with those artists and works which, from the musical and strictly executional point of view, would make anyone shudder, showing excellent interpretative skills and an impeccable technique... (artistic and technical judgement: 5 stars, "Amadeus" magazine)
"...Enea Leone demonstrates his ability to catch the listener's attention right from the first bars: his ductile, soft and round sound is the perfect exterior manifestation of an absorbed, almost dreamy behaviour... a commendable ability, led by a sensibility that makes him attentive to the musical content of each subject... Leone proves his impeccability from any point of view..." (artistic and technical judgement: 5 stars, "Musica" magazine).
"...his technique enables Leone to achieve speed and exact pronunciation of all the notes... his virtuosity enhances the essential elements for commendable interpretation of the romantic repertory: phrasing, stolen timing, suspended and hold notes, continuity of the melody, clearness of modulation..." ("Il Fronimo" magazine)
"...Enea's interpretations are particularly convincing for their wide timbral palette and the large use of dynamics, thanks to which the music flows maintaining its emotional tension... congratulations to Enea Leone for a work performed with zeal and devotion, a work for which we can olny be thankful..." (voted Cd of the month, 5 stars, "Seicorde" magazine)
"..."Souvenir" contains some well known tunes as Reverie and Introduzione e Capriccio, but seldom executed in such an interesting way... Enea Leone shows excellent skills in the interpretation of romantic repertory and the highest virtuosity..." ("Diverdi" magazine - Spain)
"...the passion of the excellent Enea Leone always makes the execution of Coste and Regondi's works very interesting..." ("Gendai Guitar" magazine - Japan).
According to his old mentor Oscar Ghiglia, Enea Leone is "a very talented guitarist and teacher: gifted with unlimited technical competence and exceptional stage presence, he is able to transmit his passion and knowledge to his students in the most efficient way".