---
Iakovos Pappas & Augustin Lusson
---
Biography Iakovos Pappas & Augustin Lusson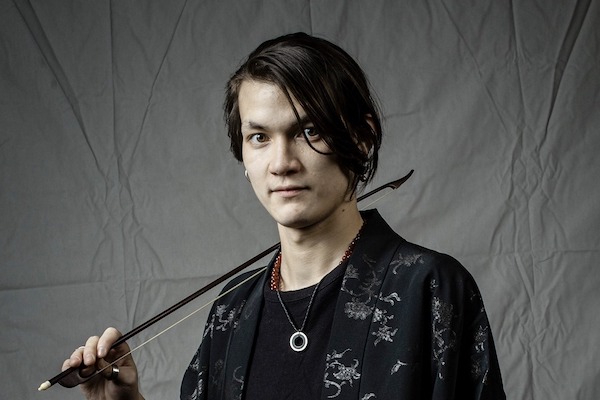 Iakovos Pappas
The Greek-born French-based harpsichordist and conductor, Iakovos Pappas, studied the harpsichord with Anne-Marie Paillard Beckensteiner and Bob van Asperen.
Iakovos Pappas' pronounced taste for vocal music led to his interest in rhetoric and declamation, the indispensable means of reaching a proper understanding of the music of the 17th and 18th centuries. Thanks to this experience he is one of the few people in France capable of teaching sung declamation. As a continuo player he very quickly began to work with almost all the French Baroque ensembles, and with such well-known singers as Rachel Yakar, Sandrine Piau, Véronique Gens.
Iakovos Pappas was a chef de chant at the Centre de Musique Baroque de Versailles from 1993 to 1997. In 1992 he founded the vocal and instrumental ensemble Almazis, with which he strives to put his research into practice. His close collaboration with a number of theatre directors has resulted in such productions as Zémire et Azor of André Modeste Grétry, L'Isle des Foux of Egidio Duni, Les Amants Magnifiques of Lully-Molière, Il combattimento di Tancredi e Clorinda of Monteverdi), and the Histoires Sacrées of Marc-Antoine Charpentier.
The ensemble 'Almazis-Iakovos Pappas' has appeared at many festivals, among them Ambronay, Pontoise, St Guilhem-du-Désert, Tarentaise, Oppède, Simiane La Rotonde, the Printemps des Arts at Nantes, Versailles, La Chabotterie, the Festival delle Nazioni, and the Festival of Sacred Music of Salamanca.
The discography of Iakovos Pappas is diverse. Of particular note are his recordings of the complete harpsichord pieces of Pancrace Royer, harpsichord sonatas by Giovanni Battista Platti, the transcription of Antonio Vivaldi's Sonatas Op. 1 harpsichord pieces by Gaspard Le Roux and harpsichord pieces of Jean-François Dandrieu.
Augustin Lusson
Defined as a tightrope soloist, Augustin Lusson is one of the most singular baroque violinist of his generation. Noticed at the age of 18 by the violinist and conductor Sigiswald Kuijken, he followed him in 2016 on a Japan/Netherlands tour with La Petite Bande.
He is the co-founder and artistic director of The Beggar's ensemble ; a baroque ensemble whose intention is to revive the English instrumental repertoire of the 18th century. The first recording of the ensemble dedicated to the composer Richard Jones is a great success (Diapason d'or, Coup de coeur Classica).
He as recorded for Flora, Son an Ero, Alpha Classics, Erato, Maguelone.
Dedicated to self-production, Augustin decides in 2020 to set up his own recording label Bathos records in which he work as a musician, audio engineer, graphic designer or producer.
He collaborated with baroque ensembles like Almazis (I.Pappas), Ricercar Consort (P. Pierlot), Le Concert Spirituel (H. Niquet) Les musiciens de Saint-Julien (F. Lazarevich), Le poème harmonique (V. Dumestre), Le Banquet Céleste or La Petite Bande (S. Kuijken) with which he travels through France and the world.
Augustin started his classical violin studies at the age of 4 with Brigitte Barat in Poitiers, Patrick Bismuth in Versailles and finally Odile Édouard at the national conservatory in Lyon. Having a youth surrounded by early music, he naturally turned to historically informed performance in addition to his interest for traditional, experimental music or even in sound recording. ​
This diversity in the practice of the violin led him to set up with the guitar player Tom Namias a very personnal project called DSF with which he will release an album in 2021. He has also founded the french folk music duo Parpaing with the double bass player Antonin Pauquet with whom he released an album entitled Port du casque obligatoire. He has also collaborated with the avant-garde jazz group Ghost Rythm.
His musical and artistic commitment was rewarded with the Second Prize at the 1st International Baroque Music Competition of Normandy at the Chapelle Corneille as well as the WDR 3 prize at the HIF Biber Competition in 2016. In 2018, he won the 1st prize, the audience Prize and the NPO Radio Prize with The Beggar's Ensemble at the Utrecht International Early Music Competition (Van Wassenaer). ​
Laureate of the Jumpstart Jr foundation in Amsterdam, Augustin benefits from the loan of an exceptional instrument for a period of 10 years. Augustin is teaching at the Conservatory of Fresnes.