---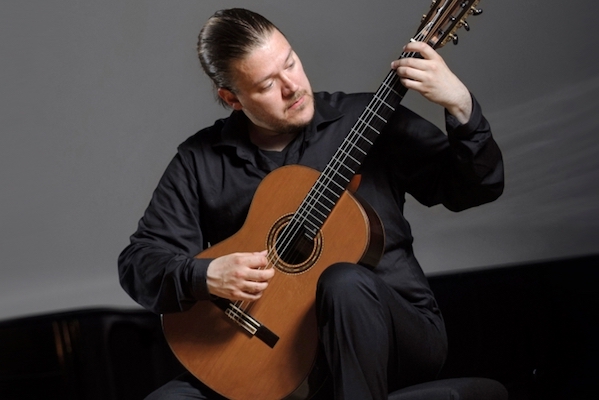 Otto Tolonen
Otto Tolonen is one of the most successful Finnish classical guitarists. During the years 1995-2009 he won prizes in 20 international competitions from Tokyo to San Francisco and from Australia to Finland´s Jyväskylä. His achievements include first prizes in the Andrés Segovia Competition in Herradura, Spain and in the Markneukirchen instrumental competition in Germany, which is currently considered as the most demanding competition by the programme. In 2009 he was awarded the second prize both in Tokyo and GFA (USA) competitions.
The repertoire of Otto Tolonen spans from the renaissance vihuela and lute works to contemporary music. For past few years he has extensively focused on solo and chamber music of the 20th and 21st centuries. He has won international acclaim for his performances of guitar works by Hans Werner Henze and is a sought-after interpreter of Henze's music. In 2014 he will record Henze´s monumental Royal Winter Music for solo guitar. Tolonen has also worked a lot on French guitar music from 20th century and published his widely acclaimed first solo album tiento français (Alba) in April 2013.
Close to his heart are also works by Finnish composers. His repertoire includes works by Kaija Saariaho, Erik Bergman, Jouni Kaipainen, Riikka Talvitie, Esa-Pekka Salonen, Adam Vilagi and Jarkko Hartikainen. He has commissioned and premiered works both in Finland and abroad. His second solo album Toccata - Finnish Guitar Music was published in November 2013 (SibaRecords).
Tolonen has performed in the United States, Brazil, Argentina and especially all around Europe. As a teacher he has given master classes in Finland, Germany, Italy, United States and Brazil. In Finland Tolonen teaches at Sibelius Academy and at the Espoo Music Institute.
Otto Tolonen studied guitar with Andrzej Wilkus at the Espoo Music Institute. He continued his studies at the Sibelius Academy (Helsinki) as a student of Timo Korhonen and Jukka Savijoki and got his soloist diploma from the Sibelius Academy with the maximum points in 2005. Tolonen has also studied in Germany with Thomas Müller-Pering and Jürgen Ruck and at Accademia Musicale Chigiana Siena (Italy) with Oscar Ghiglia, where he was awarded a diploma of honour (Diploma di Merito) in three consecutive years. At the moment he is pursuing artistic doctoral degree at the Sibelius Academy.
Tolonen belongs also to a group called Tjango!. The passion for Latin American and French music, tango and gypsy jazz makes the performance of this young and courageous ensemble strong and charismatic. Tjango! released their first album containing original compositions in 2014. Otto Tolonen gives also concerts together with violinist Linda Hedlund. Their first recording containing works by Schubert, Bartok and Piazzolla was published in 2011 by Austrian Classic Concert Records.
Otto Tolonen plays cedar top/brazilian rosewood guitar made by Keijo Korelin (Finland) and performs on D´Addario strings exclusively.