---
New York Philharmonic & Jaap van Zweden
---
Biography New York Philharmonic & Jaap van Zweden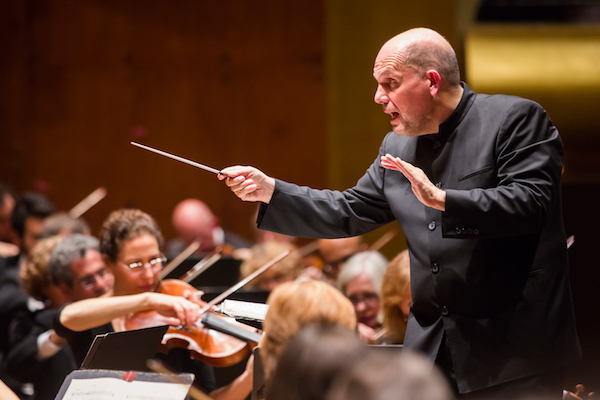 New York Philharmonic
The New York Philharmonic plays a leading cultural role in New York City, the United States, and the world. Each season the Orchestra connects with up to 50 million music lovers through live concerts in New York and around the world, international broadcasts, recordings, education programs, and the New York Philharmonic Leon Levy Digital Archives. The 2018–19 season marked Jaap van Zweden's first as Music Director. The Philharmonic has commissioned and / or premiered works by leading composers from every era since its founding in 1842, including Dvořák's New World Symphony, John Adams's Pulitzer Prize–winning On the Transmigration of Souls, and Wynton Marsalis's The Jungle (Symphony No. 4). This commitment continued in 2018–19, when Jaap van Zweden led the Philharmonic in the World Premieres of commissions by Ashley Fure, Conrad Tao, Louis Andriessen, Julia Wolfe, and David Lang. A resource for its community and the world, the Philharmonic complements its annual free citywide Concerts in the Parks, Presented by Didi and Oscar Schafer, with Philharmonic Free Fridays, its famed Young People's Concerts, and the Shanghai Orchestra Academy and Partnership. The oldest American symphony orchestra and one of the oldest in the world, the New York Philharmonic has made more than 2,000 recordings since 1917 and produced its first-ever Facebook Live concert broadcast in 2016.
Jaap van Zweden
With the arrival last season of Jaap van Zweden as Music Director of the New York Philharmonic, a new era began. Having concluded a highly acclaimed and revelatory inaugural season, Jaap van Zweden and the musicians of the New York Philharmonic unite for a new 2019-20 season of more surprises and adventurous experiences. As an international presence on three continents over the past decade, he also continues as Music Director of the Hong Kong Philharmonic, a post he has held since 2012. Guest engagements this season include the Chicago Symphony, Cleveland Orchestra, Netherlands Radio Philharmonic, Shanghai Symphony and Amsterdam's Royal Concertgebouw Orchestra. Van Zweden has appeared as guest conductor with many other leading orchestras around the globe, among them the Orchestre de Paris, Leipzig Gewandhausorchester, Los Angeles Philharmonic, Vienna and Berlin Philharmonics, and the London Symphony Orchestra.
In this his second season as Music Director of the New York Philharmonic, Jaap van Zweden fuses past and present, representing today's composers and the new-music landscape while reflecting on relevant historic achievements. He conducts repertoire ranging from seven World Premieres (including opening week with a Philip Glass commission and the season-concluding hotspots festival with works by Nico Muhly and Sarah Kirkland Snider, as well as three other works by women composers for Project 19) to symphonic cornerstones (including Mahler both in New York and on a European tour in 2020, when the Philharmonic becomes the first-ever American orchestra to appear at the Mahler Festival in Amsterdam). Other season highlights include a fully staged production of Bluebeard's Castle and Erwartung. He conducts his first Young People's Concert and once again invites his fellow New Yorkers to Phil the Hall. Added to his repertoire of Beethoven, Tchaikovsky, Shostakovich and Schoenberg will be Björk, Steve Reich and John Adams.
Jaap van Zweden has made numerous acclaimed recordings, the most recent of which are live New York Philharmonic performances of Stravinsky's Le Sacre du printemps and Debussy's La Mer, continuing the Philharmonic's partnership with Universal Music Group's Decca Gold label. In 2018 with the Hong Kong Philharmonic, he completed a four-year project conducting the first-ever performances in Hong Kong of Wagner's Der Ring des Nibelungen, which have been recorded and released on Naxos Records as individual recordings as well as a complete set. His highly praised performances of Lohengrin, Die Meistersinger and Parsifal, the latter of which earned Maestro van Zweden the prestigious Edison Award for Best Opera Recording in 2012, are available on CD/DVD.
Born in Amsterdam, Jaap van Zweden was appointed at age nineteen as the youngest-ever concertmaster of the Royal Concertgebouw Orchestra. He began his conducting career nearly twenty years later in 1996. He remains Honorary Chief Conductor of the Netherlands Radio Philharmonic where he served as Chief Conductor from 2005-2013, served as Chief Conductor of the Royal Flanders Orchestra from 2008-11, and was Music Director from 2008-2018 of the Dallas Symphony Orchestra where he currently holds the title Conductor Laureate. Van Zweden was named Musical America's 2012 Conductor of the Year and was the subject of an October 2018 CBS 60 Minutes profile.
In 1997, Jaap van Zweden and his wife Aaltje established the Papageno Foundation, the objective being to support families of children with autism. Now, over 20 years later, the Foundation has grown into a multi-faceted organization which, through various initiatives and activities, focuses on the development of children and young adults with autism. The Foundation provides in-home music therapy to children through a national network of qualified music therapists in the Netherlands; opened the Papageno House in August 2015 (with Her Majesty Queen Maxima in attendance) for young adults with autism to live, work and participate in the community; created a research center at the Papageno House for early diagnosis and treatment of autism and for analyzing the effects of music therapy on autism; develops funding opportunities to support autism programs; and launched the app, TEAMPapageno, which allows children with autism to communicate with each other through music composition.