---
Biography Yiannis Estathopoulos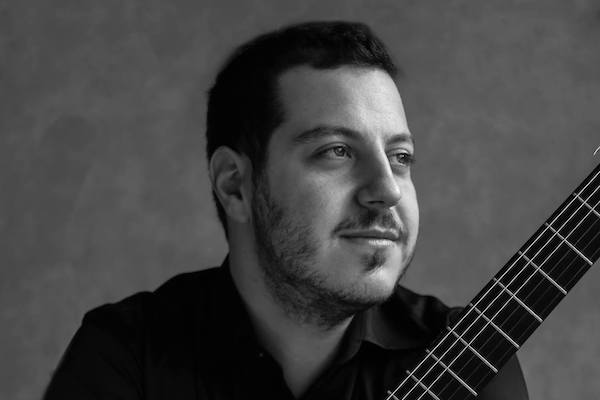 Yiannis Estathopoulos
Greek guitarist Yiannis Efstathopoulos (Dráma, 1987) graduated with Highest Distinction from the University of Makedonia-Music Science and Arts with prof. Elena Papandreou, State Conservatory of Thessaloniki with prof. Thanos Mitsalas, Academia Chigiana with maestro Oscar Ghiglia and Royal Conservatory of Brussels with prof. Antigoni Goni. Within the masterclasses special place take those with Rafael Andia in Paris and Carles Trepat in the course "Emilio Pujol" Catedra Cervera in Spain. Regarding the early plucked instruments, he studied in the Consevatoire Royal de Bruxelles with Nicolas Achten and currently baroque guitar with Xavier-Diaz Latorre.
Winner of several competitions, he has given recitals and chamber music concerts in Greece, Italy, Spain, France, Belgium and the Netherlands in concert halls such as Palais des Beaux Arts, Flagey(Brussels), Palacio Chigi(Siena) and Megaron Concert Hall(Thessaloniki). In addition he has collaborated with groups such as "Balkan project" in Brussels, "Omicron Ensemble" in Athens and "Lira Orfeo Miguel Llobet" in Barcelona.
Apart from his concert activity, Yiannis is a Phd candidate of the Free University of Brussels/Royal Conservatory of Brussels. His lecture-recitals bring in light forgotten Spanish works that have been presented in major guitar conferences such as "IGRC-University of Surrey"-UK, "The instrument of change-Melbourne Conservatory of Music"-Australia and published in international magazines.
Since 2014 he works as an assistant in the Royal Conservatory of Brussels, in the Spanish "Instituto Cervantes" of Brussels and he is performing on a "Santos Hernandez" model made by Christopher Dean on gut and silk strings.