---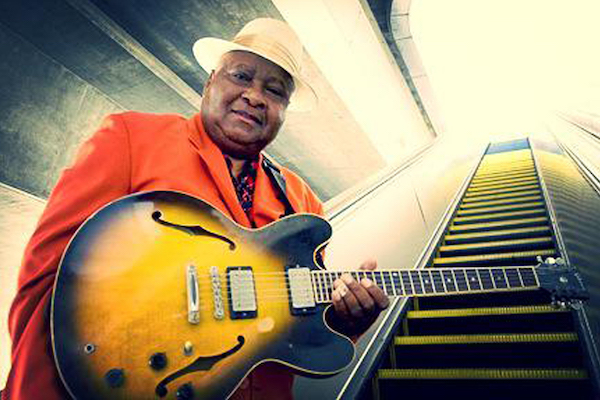 Arthur Adams
was born in a small town in Medon, Tennessee; twelve miles from Jackson, Tennessee. Jackson is eighty-four miles north of Memphis, Tennessee. Arthur attended Tennessee State University for one year, then, joined Jimmy Beck's Band in the early sixties. He traveled throughout the south and moved to Los Angeles, California in the late sixties where he began his recording and writing career. His first album "It's Private Tonight" is on Blue Thumb records. "Home Brew" and "Midnight Serenade" are both on Fantasy records. "Back on Track" is on Blind Pig records, and "Soul of the Blues" is on PMRC records.
Arthur has played and recorded with B.B. King, wrote the song "Mean and Evil" and "Something Up My Sleeve" for B.B. King. He also wrote the song "Love and Peace" for Quincy Jones' grammy award-winning Walking In Space album, "Somebody Is Gonna Miss Me" for Sam Cooke on the Twistin the 'Nite Away album, "Truck Load of Loving" for Albert King, played guitar on the Nick of Time album for Bonnie Raitt, Jimmy Smith's album Root Down, Jerry Garcia's Garcia, the Crusaders' Street Life (as well as Pass The Plate, Hollywood and almost all of their 70s output), Johnnie Guitar Watson, Dr. John and many more (including Charles Kynard's Woga, Gene Ammons' Free Again, David Axelrod's Marchin', Bobby Bryant's Swahili Strut, Phil Upchurch's Darkness, Darkness, Letta Mbulu's Letta, Cal Tjader's Demasiado Caliente and Lowell Fulsom's seminal Tramp to name but a few).
Arthur appears in the movie "Town & Country", starring Warren Beatty and Goldie Hawn where played and sang the song "I Can't Stand the Rain". Arthur's freight train guitar and soul-steeped vocals, combined with his prolific predilection for writing great material (often in conjunction with award-winning composer Will Jennings), are all brilliantly showcased on his Blind Pig debut Back On Track, his first album in two decades. The set features two sparkling duets ("Got You Next To Me" and "The Long Haul") pairing Adams with his principal stylistic influence, the great B.B. King, and his regal presence is quite an honor for his long time friend Arthur.