---
Joshua Redman & Brooklyn Rider
---
Biography Joshua Redman & Brooklyn Rider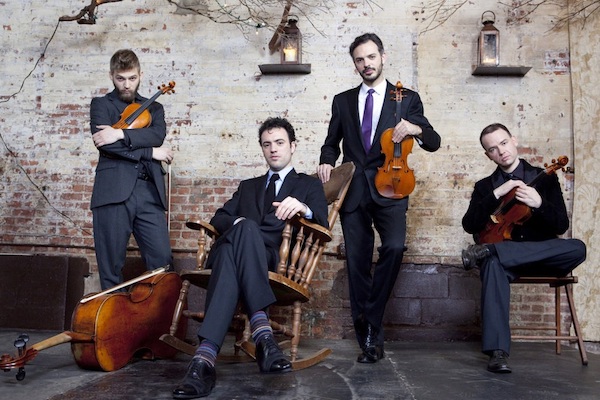 Joshua Redman
One of the most esteemed and charismatic artists of our time, the ceaselessly innovative saxophonist Joshua Redman has become a legend in his own right. As JamBase says, 'When the conversation ensues about who is carrying on the great tradition of jazz musicianship today'¦if Joshua Redman's name does not come up, the conversation is not worth having.' Critics and fans alike are blown away by Redman's passionate live performances and acclaimed recordings. In The Joshua Redman Quartet, Redman evokes a sound that can be challenging, provocative, and forward-looking, but also hard-swinging, melodic, and soulful '" music with a joyous and celebratory spirit. A new Quartet album titled Come What May '" the first since 2001's Passage of Time '" will release in Spring 2019. From McCoy Tyner to Brad Mehldau, The Bad Plus, and Brooklyn Rider, Redman has collaborated with a diverse and prestigious list of musicians during his career, all the while emerging as a modern jazz icon. JazzTimes says it best: Joshua Redman is 'unparalleled among horn players today.'
Brooklyn Rider
Hailed as "the future of chamber music" (Strings), the veteran string quartet Brooklyn Rider presents eclectic repertoire and gripping performances that continue to draw rave reviews from classical, world, and rock critics alike. NPR credits Brooklyn Rider with "recreating the 300-year-old form of string quartet as a vital and creative 21st-century ensemble."
Brooklyn Rider will debut their Healing Modes project this season which presents Beethoven's Opus 132 in its entirety alongside five compact new commissions which explore the subject of healing from a wide range of historical and cultures perspectives. Composers include Reena Esmail, Gabriela Lena Frank, Matana Roberts and recent Pulitzer Prize winners Caroline Shaw and Du Yun.
In fall 2018, Brooklyn Rider released Dreamers on Sony Music Masterworks with celebrated Mexican jazz vocalist Magos Herrera. The recording includes gems of the Ibero-American songbook as well as pieces written to texts by Octavio Paz, Rubén Darío, and Federico García Lorca — all reimagined by arrangers including Jaques Morelenbaum, Gonzalo Grau, Diego Schissi, Guillermo Klein and Brooklyn Rider's own Colin Jacobsen.
To start the 2017/18 season, Brooklyn Rider released Spontaneous Symbols on Johnny Gandelsman's In a Circle Records label. The album featured new quartet music by Tyondai Braxton, Evan Ziporyn, Paula Matthusen, Kyle Sanna, and Brooklyn Rider violinist Colin Jacobsen. Works from that recording were also featured in live performance for Some of a Thousand Words, the ensemble's recent collaboration with choreographer Brian Brooks and former New York City Ballet prima ballerina Wendy Whelan. An intimate series of duets and solos in which the quartet's live onstage music is a dynamic and central creative component, Some of a Thousand Words was featured at the 2016 Jacob's Pillow Dance Festival, before two U.S. tours, including a week-long run at New York City's Joyce Theater.
In 2016 Brooklyn Rider released an album entitled so many things on Naïve Records with Swedish mezzo-soprano Anne Sofie von Otter, comprising music by Colin Jacobsen, Caroline Shaw, John Adams, Nico Muhly, Björk, Sting, Kate Bush and Elvis Costello, among others. The group toured material from the album and more with von Otter in the U.S. and Europe, including stops at Carnegie Hall and the Opernhaus Zürich.
Additionally, Brooklyn Rider performed Philip Glass's String Quartet #7, furthering a relationship with the iconic American composer which began with 2011's much-praised Brooklyn Rider Plays Philip Glass and will continue with the upcoming album release of Glass's recent quartets on the composer's Orange Mountain Music label.
In 2015, the group celebrated its tenth anniversary with the groundbreaking multi-disciplinary project Brooklyn Rider Almanac, for which it recorded and toured 15 specially commissioned works, each inspired by a different artistic muse. Other recording projects include the quartet's eclectic debut recording in 2008, Passport, followed by Dominant Curve in 2010, Seven Steps in 2012, and A Walking Fire in 2013. In 2016, they released The Fiction Issue with singer-songwriter Gabriel Kahane, with the title track a Kahane composition that was premiered in 2012 at Carnegie Hall by Kahane, Brooklyn Rider and Shara Worden. A long-standing relationship between Brooklyn Rider and Iranian kamancheh player Kayhan Kalhor resulted in the much-praised 2008 recording, Silent City.
Two new albums by Brooklyn Rider will be released this autumn, featuring instrumentalists who are at the forefront of their respective genre: jazz saxophonist Joshua Redman and Irish fiddle master Martin Hayes (The Butterfly).
Scott Colley
stature as a leading bassist in the field of improvised music is well known, and easily measured. He's been called "one of the leading bassists of our postbop era, and a composer-bandleader of quietly serious resolve" by The New York Times, while musical colleagues, like saxophonist Joshua Redman, praise him for being "one of the most musical bassists playing today. To me, he seems to have…this natural, intuitive, empathic sense of how to bring the most out of the other musicians and the music he's playing."
Colley, a three time Grammy nominee, has performed on over 200 recordings, eight of those as bandleader and composer. He is a first-call sideman, as renowned for his role in groups led by well-known headliners—John Scofield, Herbie Hancock, Chris Potter, many others—as he is for being part of all-star projects like "Still Dreaming" with Joshua Redman, Ron Miles, and Brian Blade; and "Steel House" with Edward Simon and Brian Blade.
Significantly, Colley is a leader of note, having assembled and composed music for a number of his own ensembles of top-level talent. His new recording Seven benefits from the combined prowess of Colley alongside trumpeter Jonathan Finlayson, keyboardist/singer Kevin Hays, and drummer Nate Smith. The recording serves as an earnest, effective example of the personal and the musical becoming one, and is dedicated to a number of important mentors who have passed away recently, including Andrew Hill, Michael Brecker, Jim Hall, Charlie Haden, Fred Tinsley and Colley's father.
"This last decade has been a big shift for me personally, and has made me appreciate the importance of being present in the moment, in life, as well as in music," says Colley. "These moments happen only once. I believe that because I'm more aware of this fact, I've come to a deeper understanding of my various experiences—how I've arrived at this point in my career, and my life." ...
Satoshi Takeishi
drummer, percussionist, and arranger is a native of Mito, Japan. He studied music at Berklee College of Music in Boston, Massachusetts. While at Berklee he developed an interest in the music of South America and went to live in Colombia following the invitation of a friend. He spent four years there and forged many musical and personal relationships. One of the projects he worked on while in Colombia was 'Macumbia' with composer/arranger Francisco Zumaque in which traditional, jazz and classical music were combined. With this group he performed with the Bogota symphony orchestra to do a series of concerts honoring the music of the most popular composer in Colombia, Lucho Bermudes. In 1986 he returned to Miami, U.S. where he began working as an arranger/producer as well as a performer.
In 1987 he produced 'Morning Ride' for jazz flutist Nestor Torres on Polygram Records. His interest expanded to the rhythms and melodies of the Middle East where he studied and performed with Armenian-American oud master Joe Zeytoonian. Since moving to New York in 1991 he has performed and recorded in vast variety of genre, from world music, jazz, contemporary classical music to experimental electronic music with musicians such as Ray Barretto, Carlos 'Patato' Valdes, Eliane Elias, Marc Johnson, Eddie Gomez, Randy Brecker, Dave Liebman, Anthony Braxton, Mark Murphy, Herbie Mann, Paul Winter Consort, Rabih Abu Khalil, Erik Friedlander, Ned Rothenberg, MIchael Attias, Shoko Nagai, Paul Giger, Toshiko Akiyoshi Big Band, Ying String Quartet, Metamorphosen Chamber Orchestra, Dhafer Youssef, Lalo Schifrin and Pablo Ziegler to name a few. He continues to explore multi-cultural, electronics and improvisational music with local musicians and composers in New York.