---
Niklas Liepe & NDR Radiophilharmonie
---
Biography Niklas Liepe & NDR Radiophilharmonie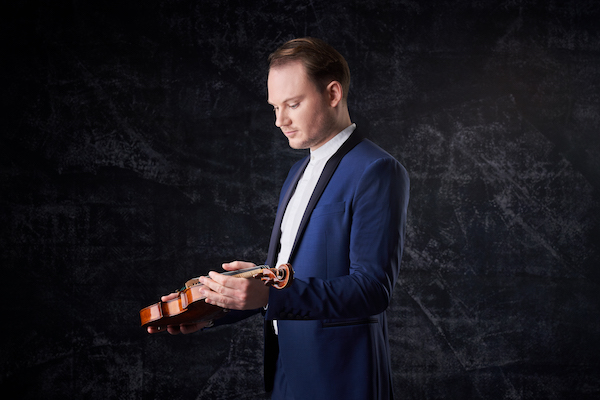 Niklas Liepe
One of those highly talented young soloists who goes his own way, regardless. One of those artists constantly coming up with new ideas, launching projects that take real courage, because both the concept and the artistic standards boarder on the brazen.
With his Paganini Project, the Hamburg-based violinist Niklas Liepe attracted international attention and sparkling reviews during the past year. He commissioned some 20 composers and arrangers to rearrange Niccolò Paganini's mind-bogglingly difficultcaprices for solo violin to be played with orchestral accompaniment – each of the pieces in its own unique style. Foxtrot and tango, jazz and reverberant romanticism go hand in hand in these amusing, irreverent new versions, all of which leave the original violin solo part unaltered. In 2017 Niklas Liepe and his brother founded the "Liepe & Co. Festival" at a steel warehouse near Hannover's South Train Station. Here, too, he tests the limits of classical music anew.
During the 2019/2020 season, Niklas Liepe will be appearing in Europe and Asia with the NDR Radio Philharmonic Orchestra and the Polish Radio Orchestra, performing works by F. Mendelssohn-Bartholdy, Paganini, F. Say and C. Saint-Säens. Debut performances will take him to the Hamburg Elbphilharmonie, the TauberPhilharmonie in Weikersheim, the Glocke in Bremen, the HitzackerSummer Music Festival and the Lower Saxony Music Festival.
In addition, he will be appearing at the Berlin Philharmonic and will be teaching at the Villa Musica in Rheinland-Pfalz.
Liepe's second CD project, #GoldbergReflections, together with conductor Jamie Phillips and the NDR Radio Philharmonic Orchestra, is scheduled for release in the fall of 2020.
Niklas Liepe has performed with such artists as GidonKremer, Yuri Bashmet, Fazil Say, Christoph Eschenbach and Andras Schiff.
He has appeared as a soloist with the Frankfurter Opern- und Museumsorchester, the Bratislava Slovakian Radio Symphony Orchestra, the Kaohsiung City Symphony Orchestra, the Rheinland-Pfalz State Orchestra and the German Radio Philharmonic of Saarbrücken/Kaiserslautern, among others, with such conductors as Garry Walker, Hartmut Haenchen, Christoph Eschenbach and Gregor Bühl.
Niklas Liepe has received awards from the Northern German Broadcasting Corporation, the Braunschweig Classix Festival, the Danzig Festival in Poland, the Kocian Violin Competition in the Czech Republic, as well as double awards from the International HenrykWieniawski Violin Competition in Poland and the 2017 German Music Competition. He studied at the Hannover Music University with Prof. Krzysztof Wegrzyn, at the Cologne Music University with Prof. Zakhar Bron and with Prof. Ana Chumachenco and Prof. Mihaela Martin at the Kronsberg Academy.