---
K.Polwart, J.Fowlis, S.Keita, K.Drever, K.Andrew, R.Newton, B.Porter, J.Molyneux
---
Biography K.Polwart, J.Fowlis, S.Keita, K.Drever, K.Andrew, R.Newton, B.Porter, J.Molyneux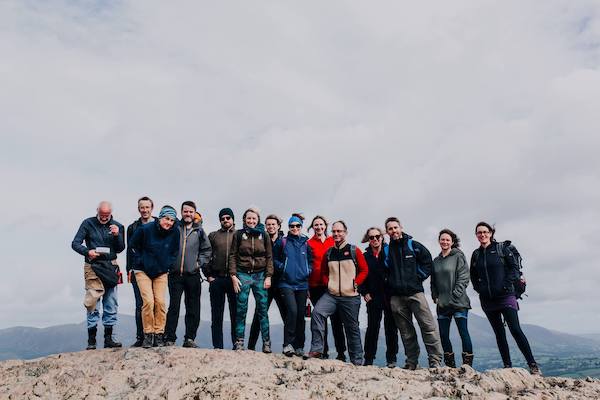 Karine Polwart
Robert Macfarlane picked out Karine's script for her award winning show 'Wind Resistance' for The Guardian's 'Best Books of 2017'. The appreciation of each other's work is mutual and, naturally, we were eager for her to be a part of Spell Songs and overjoyed when she accepted our invitation.
Karine Polwart is a multi-award-winning songwriter and musician, a theatre maker, storyteller, essayist, and published writer. She also performs traditional songs and writes to commission for theatre, film, animation, and international thematic collaborative projects.
Six-times winner at The BBC Radio 2 Folk Awards, including twice for Best Original Song, her fifth solo album 'Traces' (produced by Iain Cook of Chvrches) was shortlisted for both the Scottish Album of the Year (SAY) Award and BBC Radio 2 Folk Awards 'Album of the Year', and the Guardian chose it as best international folk-roots release of 2012. Her debut solo album 'Faultlines' won 'Best Album' at the BBC Radio 2 Folk Awards back in 2005, following six years of touring as a traditional Scots singer with Malinky and The Battlefield Band.
In 2016, in association with The Royal Lyceum Theatre and Edinburgh International Festival, Karine wrote, musically directed, and performed a sell-out, three-week run of 'Wind Resistance', her critically acclaimed debut work for theatre. A poetic meditation on midwifery, ecology, sanctuary, and solidarity, it combines elements of memoir, essay, myth, sound art and song. Wind Resistance won the 'Best Music & Sound Award' at the CATS (Critics' Awards for Theatre in Scotland) 2017, and Karine was also shortlisted for the 'Best Actor' in the Sunday Herald Culture Awards.
New album 'A Pocket Of Wind Resistance' ("warm, wise, compelling" The Observer 5*****) written in collaboration with sound-designer Pippa Murphy, is the musical accompaniment to the theatre show and was selected as BEST ALBUM 2017 by Songlines Magazine and BBC Radio 3's Late Junction.
Julie Fowlis
often sings in the Gaelic tradition and is deeply influenced by her early upbringing in the Outer Hebridean island of North Uist. Her crystalline and intoxicating voice fills this project with genuine beauty and her Gaelic heritage brings another layer of language and experience into the Spell Songs ensemble.
Nominated as 'Folk Singer of the Year' at the 2018 BBC Radio 2 Folk Awards, and 'Best Artist' at the Songlines World Music Awards, Julie is a warm and engaging live performer who has graced stages around the world, from village halls in the Highlands to stages in New York, The Philharmonie de Paris and Shakespeare's Globe in London. Recent invitations to perform have included a return to world-class Festival of Voice in Cardiff, the World Festival of Sacred Music in Fez, Morocco, to collaborate with the BBC Concert Orchestra in the Royal Albert Hall for the Proms and to support Scottish icons 'Runrig' to an audience of 50,000 during their farewell concert weekend in August 2018.
Since of the release of her otherworldy album 'alterum' in 2017, she has been in demand - touring with the world-class Transatlantic Sessions, sell-out shows in London and throughout the UK, and is currently working on a major new 14-18 commission with celebrated Highland musician Duncan Chisholm, commemorating 100 years since the 'Iolaire' tragedy.
An artist with a genuine curiosity to explore other traditions and natural ability to cross genres, Julie has collaborated, recorded and performed with artists such as violin virtuoso Nicola Benedetti, and acclaimed singers Aled Jones, Grammy-Award winning James Taylor and Mary Chapin Carpenter. Her passion for folk culture, song and music is exemplified in her collaborations with the celebrated Québécois band Le Vent du Nord, with whom she regularly performs, Galician singer Rosa Cedrón, Welsh singer Julie Murphy and her continued musical friendship with Irish singer and musician, Muireann Nic Amhlaoibh.
Seckou Keita
Seckou's solo work reveals his exceptional skill on the Kora and his collaborations leap over cultural barriers and discover unforeseen affinities. Seckou has seven generations of the Kora tradition in his family and is counted among the most influential Kora players of his generation. As you can see he is in himself a source of great inspiration and we are overjoyed that he is a member of Spell Songs.
Seckou Keita has arguably become the most influential and inspiring Kora player of his generation, an exceptional and charismatic musician and a modern global citizen, with seven centuries of tradition and heritage expressed through his music.
Described as a 'griot (praise singer), composer, djembe master, virtuoso and pioneer', Seckou Keita is a rare type of musician, seated in tradition whilst constantly pushing the boundaries of his art.
A true master of the kora - a 22 stringed West African harp - Seckou, from the Casamance art of the ancient kingdom of Gabou in Southern Senegal, was a childhood prodigy, born of a line of griots and kings. Cissokho, his mother's family name, gave life to his talent; Keita, his father's, gave him royal blood.
Seckou has graced the international stage since 1996, earning worldwide acclaim for his kora playing; appearing with a host of respected artists including Salif Keita, Paul Weller, Bassekou Kouyate, Damon Alban and the Orchestra of Syri an Musicians, Youssou N'Dour, Miriam Makeba and Neil Finn; and recording with artists such as Cuban jazz pianist Omar Sosa. His collaboration with Welsh harpist Catrin Finch, resulted in the award-winning album 'Clychau Dibon', and their latest album Soar (2018) has garnered them 4 and 5 star reviews from press and critics worldwide.
Seckou's latest solo album 22 Strings won Songlines magazine's Best Album for Africa and Middle East in 2016. This incredibly personal collection of songs tell us of the musician's travelling from the countries of his childhood, a lifetime that, as Seckou says, has seen him 'taking the kora from Gabou to another world'. Along that journey Seckou gives us the kora in its purest guise, a wondrous instrument that can soothe the bloodlust of warriors and take the human spirit to a place of deep meditation, stillness and beauty.
Kris Drever
is one of Scotland's finest and most prolific songwriters. He is a fiercely talented guitarist rated among folk's best and a folk singer whose voice is rich with both clarity and resonance. He is a member of the award winning folk trio Lau who are famed for blurring the boundaries of musical genres through their traditional, yet improvisational playing style. Kris' presence in Spell Songs is highly valued and gladly welcomed.
To simply call Kris Drever 'a folksinger' would be like saying that LAU, the acclaimed band in which he also sings and plays, is 'a Scottish folk trio'. Both true descriptions but reductive ones that only hint at the progressive joys contained in the music of each.
Drever's voice and guitar now form a part of the backbone of today's contemporary roots and folk scene. Hugely admired as a solo artist, collaborator, and member of folk superstars Lau, he is a phenomenal and prolific artist. Drever has already played alongside Jack Bruce, Bela Fleck, Tinariwen, Joan As Police Woman, Jerry Douglas, Danny Thompson, Tim O'Brien, Sarah Jarosz, Shawn Colvin, Phil Cunningham, Rosanne Cash, Roddy Woomble, Eddi Reader, Adem, Kate Rusby, Julie Fowlis, Karine Polwart and many more.
His latest album If Wishes Were Horses (Reveal Records) was widely acclaimed and Kris won BBC Radio 2 Folk Awards for Best Singer 2017 and Best Original Song. In early 2019 Lau released their album Midnight and Closedown which gained 5 star reviews accross the board.
Kerry Andrew
An astonishingly perceptive musician, composer, songwriter, multi-instrumentalist, and author, Kerry Andrew was approached by Robert Macfarlane to read aloud one of his spells. In fact she responded by producing a piece of sound art and visuals for Wren spell. It was when we saw this at Hay's Winter Festival in December 2017 that we were inspired to pursue our already emerging idea of a musical companion piece to The Lost Words. Her love of nature and folklore combined with her innate musicality are key reasons why we are delighted that she also accepted our invitation to join Spell Songs.
Kerry Andrew is a London-based composer, performer, writer and broadcaster. She has a PhD in Composition from the University of York and has won four British Composer Awards. As a composer, she specialises in experimental vocal and choral music, music-theatre and community music. She performs with the award-winning Juice Vocal Ensemble and with her alt-folk band You Are Wolf, with whom she released her second album 'Keld', to excellent press in March 2018. You are Wolf's debut album Hawk the Hunting Gone (2014) explored British birds and folklore. Her debut novel, Swansong, was published by Jonathan Cape in January 2018. Robert Macfarlane writes of Swansong - "Swansong is the real thing……The voice jags at you, and the plot grips: this is a brilliant novel by a writer - and musician - of frankly alarming talent."
Andrew's 'No Place Like,' was written for the BBC Ten Pieces scheme, and received BBC Proms performances in both 2017 and 2018. She has written large scale pieces for young and non-professional ensembles including a work simultaneously performed by 25 community ensembles around the UK for the Landmark Trust.
Andrew was a British Council/PRS for Music Foundation Musician in Residence in China in Spring 2016, spending five weeks in the Henan Province in 2016. She made collaborative new rock/traditional-inspired songs based on foxes in folklore.
Rachel Newton
was a member of one of our previous folk music collaborations, The Elizabethan Session and we are thrilled that she can join us once again for Spell Songs. An exceptional harpist, singer and songwriter, her generous creativity reverberates through her collaborations and her sensitivity to word and music shines through her solo work.
Singer and harpist Rachel Newton was named the 2017 BBC Radio 2 Folk Musician of the Year and the Scots Trad Music Award Instrumentalist of the Year 2016. Her third solo album Here's My Heart Come Take It was shortlisted for the Scottish Album of the Year (SAY) Award as one of Scotland's top ten outstanding albums and was described as 'a beauty' in the Observer. Alongside her burgeoning solo career, Rachel is a much in demand collaborator. A founding member of The Shee and BBC Radio 2 Folk Award 2017 Best Group The Furrow Collective, she has also been involved in various collaborative projects such as The Elizabethan Session.
Beth Porter
To add depth and range to the ensemble we invited Beth Porter, a superb cellist and songwriter, to be a part of Spell Songs. We were drawn to her numerous musical collaborations from a variety of different musical genres and of course her prolific ability to use literature as her source of inspiration.
Beth is a well-known cellist on the UK folk and acoustic music scene and is a prolific songwriter. She plays and sings with Eliza Carthy and the Wayward Band, Beth Porter and the Availables, Red Carousel (String Quartet) and is one half of The Bookshop Band with her husband Ben Please. All the songs of The Bookshop Band are inspired by books, many of them stemming from author events at Mr B's Emporium of Reading Delights in Bath. They have written songs inspired by the works of Philip Pullman, Patrick Ness, Joanne Harris and Rachel Joyce to name but a few and have been commissioned by the V&A, Edinburgh Book Festival, Pompidou Centre and National Portrait Gallery. Beth has played and recorded with many artists including Peter Gabriel, Newton Faulkner, The Heavy, Jackie Oates, The Proclaimers and Petula Clark and has appeared on over eighty albums!
She is known for her versatility, sensitivity, reliability and ability to improvise/compose beautiful, intuitive and supportive cello lines for songwriters, folk, rock and pop music. She writes equally on the cello and baritone ukulele and finds new and interesting ways to create music. Her own songwriting and singing has an unmistakeable Britishness to it and her songs have been compared to The Beatles, The Kinks, The Incredible String Band, Radiohead and Kate Bush! She is now based in Dumfries and Galloway in South West Scotland.
Jim Molyneux
It is not only Jim Molyneux's prodigious talent in so many instruments and his experience as a producer that made him so important for this collaboration, he also has an ear for a variety of different musical genres from classical and folk through to jazz and hip hop. It was fascinating to see how he drew upon all these talents and experiences to enrich the music of Spell Songs.
Jim Molyneux is a multi-instrumentalist, vocalist and composer/producer hailing from Littleborough, near Manchester. He studied at Chethams School of Music for five years before moving on to the Royal Northern College of Music, where he graduated in 2013.
In 2008, aged 17, Jim made it to the highly acclaimed Grand Final of the BBC Young Musician of the Year, after beating off national competition to triumph in the percussion section. The Grand Final was televised on BBC2 to 1.1 million viewers.
Ten years on, Jim is widely in demand as a drum-kit player, keys player, accordionist and vocalist, as well as a songwriter. He features in various different projects on the contemporary folk circuit, including 4Square, The Fair Rain and Aizle, and he also plays regularly with Janet Devlin, Tom Clarke (The Enemy), as well as his own jazz/hip hop outfit Glowrogues.