---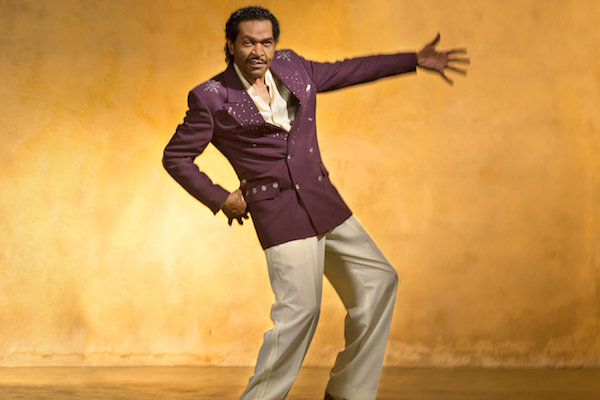 Bobby Rush
...2017 GRAMMY winning blues legend, Blues Hall of Famer, 12x Blues Music Award winner, B.B. King Entertainer of the Year, and Rolling Stone magazine named King of the Chitlin' Circuit
Naming your album after a song entitled "Porcupine Meat" may seem a little unusual unless you're Bobby Rush, who earned his first gold record in 1971 with a hit entitled "Chicken Heads." He elaborates on his recent composition: "If a lady won't treat me right, but she doesn't want anyone else to have me, that is hard to digest." Hence the lyric, "too fat to eat, too lean to throw away." Porcupine Meat is Rush's debut release for Rounder Records, and one of the best recordings of his astonishing 60-plus year career. Released in late 2016 the album went on to garner a Grammy Award for Best Traditional Blues Album after a debut at #1 on the Living Blues radio chart and on Billboard Blues.
Rush estimates that he has cut over 370 songs since he first began making music. He has been honored with four total Grammy nominations, as well as 46 nominations and 12 awards from the Blues Foundation, and a 2006 induction into the Blues Hall of Fame.
In 2015 Omnivore Recordings released his 50-year retrospective box set Chicken Heads: A 50-Year History of Bobby Rush which went on to win a Blues Music Award and Living Blues Award for Best Historical Release, be featured in press from the New York Times to High Times. Nearly 100 tracks from his storied career are finally collected in this unprecedented set. Including his Checker/Chess, Galaxy, and Jewel sides through Philadelphia International, Malaco/Waldoxy, LaJam, and Urgent cuts, as well as material from his own Thirty Tigers distributed label, Deep Rush Records, Chicken Heads tells the story of Bobby Rush: unfiltered, unedited and unbelievable. With almost five hours of music on four CDs, Chicken Heads traces his career from 1964's "Someday" through the title track, from 1979 collaborations with Gamble & Huff to tracks from 2004's FolkFunk.
The 32-page, full-color booklet is filled with photos, ephemera, liner notes from Bill Dahl and testimonials from friends and fans including Mavis Staples, Keb' Mo', Elvin Bishop, Denise LaSalle, Leon Huff, Al Bell, and many more. With mastering and restoration by Grammy winner Michael Graves, Bobby's vintage recordings have never sounded better.
As annotator Dahl comments at the opening of his essay: "Blues never get funkier than when Bobby Rush swaggers up to the mic and lets fly with his homespun truisms. He's always in motion, always smiling, always on fire as his skintight band cooks up irresistible elastic grooves behind him."
Rush is not your typical octogenarian. At age 84, he exudes the energy of a 20-year-old, and is on the road for over 200 dates a year. His hectic tour schedule has earned him the affectionate title "King of the Chitlin' Circuit," by Rolling Stone Magazine. Rush has traveled the globe and has performed in such faraway places as Japan and Beirut. In 2007, he earned the distinction of being the first blues artist to play at the Great Wall of China. His renowned stage act features his famed shake dancers, who personify his funky blues and the ribald humor that he has cultivated during the course of his storied career.
Born Emmet Ellis, Jr. in Homer, Louisiana, he adopted the stage name Bobby Rush out of respect for his father, a pastor. According to Rush, his parents never talked about the blues being the devil's music. "My daddy never told me to sing the blues, but he also didn't tell me to not sing the blues. I took that as a green light."
Rush built his first guitar when he was a youngster. "I didn't know where to buy one, even if I had the money. I was a country boy," he says. After seeing a picture of a guitar in a magazine, he decided to make one by attaching the top wire of a broom to a wall and fretting it with a bottle. He also got some harmonica lessons from his father He eventually acquired a real guitar, and started playing in juke joints as a teenager, when his family briefly relocated to Little Rock, Arkansas. The fake moustache Rush wore made club owners believe he was old enough to gain entry into their establishments. While he was living in Little Rock, Rush's band, which featured Elmore James, had a residency at a nightspot called Jackrabbit.
During the mid-1950s, Rush relocated to Chicago to pursue his musical career and make a better life for himself. It was there that he started to work with Earl Hooker, Luther Allison, and Freddie King. sat in with many of his musical heroes, such as Howlin' Wolf, Muddy Waters, Jimmy Reed, Willie Dixon, and Little Walter. Rush eventually began leading his own band in the 1960s. He also started to craft his own distinct style of funky blues, and recorded a succession of singles for a various small labels. It wasn't until the early 1970's that Rush finally scored a hit with "Chicken Heads." More recordings followed, including an album for Kenny Gamble and Leon Huff's Philadelphia International Label, which went on to be listed in the Top 10 blues albums of the 1970s by Rolling Stone.
Rush relocated one final time to Jackson, Mississippi in the early 1980s. He was tired of the cold up north, and he realized that setting up his base of operations directly in the center of the South would make it easier to perform in nearby cities on weekends. More indie label recordings followed. Songs like "Sue, A Man Can Give (But He Sure Can't Take It)," "What's Good For The Goose Is Good For The Gander Too," and" I Ain't Studdin' You" became regional jukebox favorites in juke joints throughout the region, and many of those songs are still fan favorites that are an integral part of his live repertoire.
Since 2003, Rush has self-released the majority of his work (including the critically acclaimed Folk Funk album) on his Deep Rush label, but recently, he came to the realization that having a bigger record company behind him would be beneficial. "I outgrew myself," said Rush. "I need someone to help in doing the things I can't do. When you are wearing all the hats, you can't be everywhere at once."
Enter esteemed producer and two-time Grammy winner Scott Billington, Rounder Records' longtime VP of A&R. Billington first met Rush at a Recording Academy meeting 25 years ago, and they became fast friends. He has wanted to work with Rush ever since. "He is the most vital bluesman of his generation," said Billington. He continues, "There are many people who still don't know Bobby Rush, even though he is a hero in the parallel universe of the Chitlin' Circuit—fans stop him on the street in Memphis and Helena and Little Rock."
Porcupine Meat will not only please Rush's older fans, but is likely to win over many new ones. Billington reflects, "We wanted to come up with something fresh, while staying 100% true to Bobby."
The album was recorded in New Orleans, and Rush was pleased and proud to be given the opportunity to make an album in his home state for the very first time. His impassioned vocals and in-the-pocket harmonica playing are among the best performances of his career. Unlike most of his recent releases, these sessions only feature real instruments and no synthesizers. All of the rhythm tracks were cut live in the studio, often edited down from jams that on several occasions ran close to ten minutes. Recorded with an all-star band of New Orleans-based musicians, the album also features guest appearances by Dave Alvin, Joe Bonamassa, Keb' Mo', and Vasti Jackson.
Rush continues with his late-career resurgence with accolades that have ranged from a feature in Martin Scorcese's The Blues docuseries on PBS to an appearance on The Tonight Show Starring Jimmy Fallon alongside Dan Aykroyd, feature in documentary film Take Me to the River alongside Terrence Howard, Snoop Dogg, Mavis Staples, Booker T. Jones, and Charlie Musselwhite, and garnering the highest Blues Music Award honor of B.B. King Entertainer of the Year. His songs have been featured in TV shows and films including HBO's Ballers and major motion picture Black Snake Moan starring Samuel L. Jackson. The song "Funk o' de Funk" from his Grammy winning album was remixed by DJ duo SMLE and garnered a Grammy nomination in 2017.
Bobby Rush is the greatest bluesman currently performing. His latest studio album Porcupine Meat is a testament to his brilliance, which presents him at his very best, and doesn't try to be anything that he is not. "I just try to record good music and stories," he humbly states. With this recording, he has more than accomplished his goal, and has produced one of the finest contemporary blues albums in recent times.