---
Pavel Gomziakov & Andrei Korobeinikov
---
Biography Pavel Gomziakov & Andrei Korobeinikov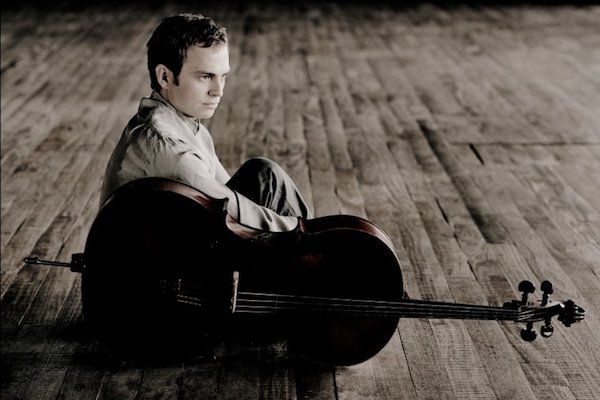 Pavel Gomziakov
Born in the city of Tchaikovsky's birth in the Ural region of Russia, Pavel Gomziakov began his cello studies at the age of nine. At the age of fourteen he moved to Moscow where he studied at the Gnessin School and then at the Moscow State Conservatory with Dmitri Miller. He continued his studies with Natalia Schakhovskaya at the Escuela Superior de Musica Reina Sofia, Madrid. He later graduated from the "cycle de perfectionnement" in the class of Philippe Muller at the Paris National Conservatory.
Pavel Gomziakov made his highly acclaimed US debut with the Chicago Symphony Orchestra conducted by Trevor Pinnock in April 2010 which resulted in an immediate re-engagement for a second appearance in June 2012.
Mr. Gomziakov performs throughout Europe, South America, and Japan. Recent and upcoming engagements include appearances with the Finnish Chamber Orchestra (with Jukka-Pekka Saraste), the Orchestre National du Capitole de Toulouse (with Tugan Sokhiev), the Russian National Orchestra, the Seattle Symphony Orchestra, the Gulbenkian Orchestra, I Pomeriggi Musicali Milano, the Polish Baltic Philharmonic, the Orquestra Metropolitana de Lisboa, the Südwestdeutsche Philharmonie Konstanz, the Orchestre d'Avignon, and the National Philharmonic of Russia. In the past seasons, he has been guest soloist with the New Japan Philharmonic, London Chamber Orchestra, Orchestre National de Montpellier, Kansai Philharmonic Orchestra, Orchestre National de Lille, led by conductors such as Jesus Lopez Cobos, Christopher Warren-Green, Trevor Pinnock and many others. He has also performed at the White Nights Festival in Saint Petersburg at Valery Gergiev's invitation. Other festival appearances include the Povoa de Varzim, Menton, and Colmar festivals.
Mr. Gomziakov is also a sought-after chamber music partner. He was noticed by pianist Maria Joao Pires and together they have performed throughout Europe, the Far East, and South America at such venues as Théâtre des Champs-Elysées in Paris, Victoria Hall in Geneva, Teatro Real in Madrid, the Köln Philharmonie, the Konzerthaus in Vienna, the CCB in Lisbon, and Sumida Tryphony Hall in Tokyo. Their recording of late works by Chopin for Deutsche Grammophon, released in 2009, received a Grammy Award nomination.
In addition to working with Maria Joao Pires, he regularly collaborates with artists such as Augustin Dumay, Louis Lortie, Andreï Korobeinikov, Vanessa Wagner, Anastasya Terenkova performing at venues such as the Concertgebouw in Amsterdam.
In the season 2017-2018, we can note, among other projects, several concerts with the Orquestra Metropolitana de Lisboa whom he will be "Artist in residence" together with composer Magnus Lindberg (he will perform his Concerto n°2), a new invitation of the Südwestdeutsche Philharmonie Konstanz for a serie of concerts, and he will also play concerts with the Kansai Philharmonic Orchestra, Orchestre de Tours, Orchestre Symphonique de Québec, Orchestre Philharmonique Royal de Liège, ...
His latest recording of Haydn Cello Concertos was released on May 20th, 2016 for the Onyx label. Thanks to the generous loan of the Museo Nacional da Musica in Lisbon, for this recording, Mr. Gomziakov played on the 1725 "Chevillard King of Portugal" Stradivarius cello formerly belonging to the Portuguese royal family. He also recorded Saint-Saëns' Cello Concerto No. 1 and "La Muse et le Poète" with the Kansai Philharmonic Orchestra and Augustin Dumay for the Onyx label, released in 2012. His performance of Schumann's Cello Concerto with Orchestre de Chambre de Wallonie and Augustin Dumay as conductor, was filmed for Arte and broadcast on television in Belgium, France and Germany in 2008.
Andre Korobeinikov
After winning more than 20 international prizes, Andreï Korobeinikov was awarded the First Prize of the Scriabin International Piano Competition in 2004, and a year later, the Second & Audience Prize at the Los Angeles' Rachmaninoff International Piano Competition.
An unusually atypical artist, he offers fascinating recital programmes in which poetry and literature meet music.
Since his first recital at the age of 8, Andreï Korobeinikov has performed on some of the greatest international stages, such as the Amsterdam Concertgebouw, Théâtre des Champs-Elysées in Paris, La Scala in Milan, Suntory & Hamarikyu Asahi Halls in Tokyo, Berlin Konzerthaus, Moscow Conservatory, Washington Performing Arts Center, Saint Petersburg Philharmonia, Zurich Tonhalle, Auditorium du Louvre, Auditorium de Radio France in Paris and London Wigmore Hall.
He is also regularly invited to Festivals such as La Roque d'Anthéron, Radio France Montpellier, Menton, Gstaad, and La Folle Journée which takes place in Nantes, Tokyo & Warsaw.
Andreï Korobeinikov performs regularly with the Dresden Philharmonic, the Saint Petersburg and Moscow Philharmonic orchestras, St Gallen Symphony, the Bremer Philharmoniker the Ural and Radio France Philharmonic ; the symphony orchestras of Lahti, Hamburg, Vienna, NHK, the Philharmonia Orchestra, the Berlin Konzerthaus as well as the Tchaïkovsky Symphony Orchestra, the Orchestre National de France, Moscow Tchaikovsky Symphony and the Budapest Festival Orchestra. He has played under the baton of Yuri Temirkanov, Ivan Fisher, Vladimir Fedoseyev, Vladimir Ashkenazy, Okko Kamu, Antoni Wit, Alain Altinoglu, Dmitri Liss, Alexander Vedernikov and Pinchas Steinberg.
He plays chamber music with cellists Alexander Kniazev and Johannes Moser, as well as violinists Dmitri Makhtin and Vadim Repin, and the Borodin Quartet.
Andreï Korobeinikov recorded all Scriabin's works for solo piano Complete Etudes, Shostakovich's Piano Concertos n°1 and n°2 with the Lahti Symphony Orchestra and Okko Kamu for the Mirare label, as well as an album dedicated to Brahms with cellist Alexander Kniazev, with the Bayerischer Rundfunk. His recording received multiple awards more than once (Diapason d'Or, Choc Classica…). His most recent recording with Johannes Moser of Rachmaninov and Prokofiev's Works for Cello and Piano on Pentatone Records also received a Diapason d'Or.
Born in 1986 in Russia, Andreï Korobeinikov had his first piano lessons at the age of 5 and entered Andreï Diev's class at the Moscow Conservatory in 2001. He graduated with the "Best Musician of the Decade" special distinction. The year after, he attended the Royal College of Music in London.
Andreï expresses his multiple talents in different spheres: at the age of 17, he obtained his Law Degree at Moscow's Law University and published several works, including the one on intellectual property. At the same time, he composed poetry and music, and learned Esperanto.
Highlights of the current season include recitals in Munich and Dachau, in Amiens and at the Théâtre des Champs-Elysées in Paris, at the Liszt Academy in Budapest, at the Mariinsky Theatre in St. Petersburg, and chamber music concerts in Belgium with Johannes Moser (cellist) and Dmitri Makhtin (violin), and a duo recital with the violinist Vadim Repin in Aix-en-Provence. He will also perform in Salzburg with the Tchaikovsky Symphony Orchestra with Maestro Vladimir Fedoseyev, and with the Orchestre du Capitole de Toulouse with Andris Poga in Toulouse.