---
Biography Janusz Wawrowski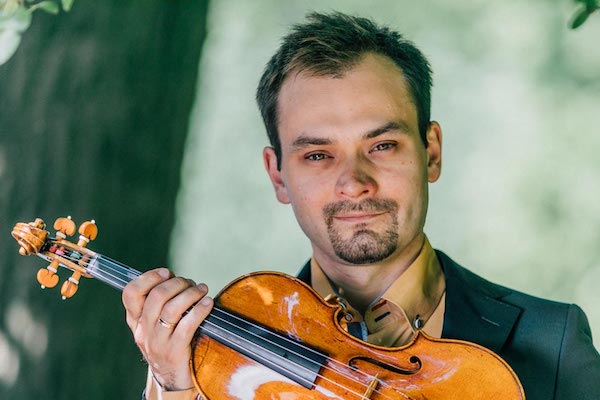 Janusz Wawrowski
is considered one of the most outstanding polish violinists of his generation. He appeared as a soloist in Berlin Philharmonic, Musikverein in Vienna, Lithuanian National Philharmonic, Tchaikovsky Conservatory Hall in Moscow, De Doelen in Rotterdam, Tel Aviv Music Center, Seoul Arts Center and Teatro Teresa Carreῆo in Caracas and was invited to plenty of renowned music festivals – Chopin and His Europe in Warsaw, Salzburger Festspiele, Hemsing Festival, Polish Music Festival in Cracow, Bebersee Festival and International Chamber Music Festival, Ede. Composers Norbert Paley, Tomasz Opałka, Marcin Markowicz and Albena Petrovic dedicated their violin works to him.
In recognition of his artistic achievements, Janusz Wawrowski was awarded Decoration of Honour "Meritorious for Polish Culture" by the Ministry of Culture and National Heritage. Two of his albums won the Polish Phonography Award "Fryderyk", in 2017 and 2019.
Born in Konin, Poland, graduated the Fryderyk Chopin University of Music in Warsaw where he currently teaches. He was mastering his skills with prof. Mirosław Ławrynowicz, Yair Kless and Salvatore Accardo. As a young student he was impressing audiences by performing all 24 Capriccios by Nicolo Paganini during one performance, which is a very unique ability among violin players up until this day.
Currently Janusz Wawrowski is being invited to most prestigious concert halls in Poland, including National Philharmonic Hall in Warsaw, Polish Radio National Symphony Orchestra, Szczecin Philharmonic, National Music Forum in Wroclaw, National Opera House in Warsaw, Lodz Philharmonic, Cracow Philharmonic and others. Since 2018 he performed solo with Stuttgarther Philharmoniker and Orchestra of National Theater in Prague, he also played a number of chamber music concerts in Poland, Japan, South Korea, Luxembourg, Canada, France, Great Britain and China. In January 2020 he will take part in the National Music Forum USA tour under Giancarlo Guerrero, next to Piotr Anderszewski and Midori Goto. He will also appear in Wigmore Hall together with Linus Roth.
Wawrowski had a pleasure of collaborating with extraordinary conductors: Conrad van Alphen, Łukasz Borowicz, Gabriel Chmura, Mykola Diadiura, Agnieszka Duczmal, Jacek Kaspszyk, Jerzy Maksymiuk, Tomáš Netopil, Juozas Domarkas, Daniel Raiskin, Ramon Gamba and Antoni Wit. He premiered violin concerti by Tomasz Opałka, Dariusz Przybylski (World premieres), Max Richter and Sukhi Kang (Polish premieres). He also recorded Jan A.P. Kaczmarek's music for films 'Evening' and 'Get low'.
Janusz Wawrowski is an exclusive artist of Warner Classics. In 2014 he collaborated with pianist Jose Gallardo on a release entitled "Aurora" with music of Karol Szymanowski, Witold Lutosławski, Maurice Ravel and Eugène Ysaÿe. The album quickly gained recognition of a professional press worldwide – Strings Magazine, Strad, Pizzicato and the Huffington Post.
The success of 2007 release by CD Accord - "Paganini Capriccios" - led to its re-edition by Warner in April 2016. In the fall of the same year "Sequenza" was released, with solo works of Luciano Berio, Krzysztof Penderecki and Eugène Ysaÿe among others. It received 4* in British "The Guardian". The CD was awarded 'Fryderyk' and Janusz received an invitation to play live at BBC3.
In 2017 the first symphonic album "Brillante" with Stuttgarther Philharmoniker under Daniel Raiskin premiered, with the 2nd Violin Concerto of Karol Szymanowski and "Scottish Fantasy" by Max Bruch. "Hidden Violin", collaboration with Jose Gallardo, is the newest release by Wawrowski. Filled entirely with music written by Polish composers is an artist's way to celebrate both the 100th anniversary of Poland's independence and receiving an incredible instrument he always dreamt of.
Since 2018 Janusz Wawrowski, courtesy Roman Ziemian and Stephan Morgenstern, is playing an Antonio Stradivari violin from 1685 named "Polonia".