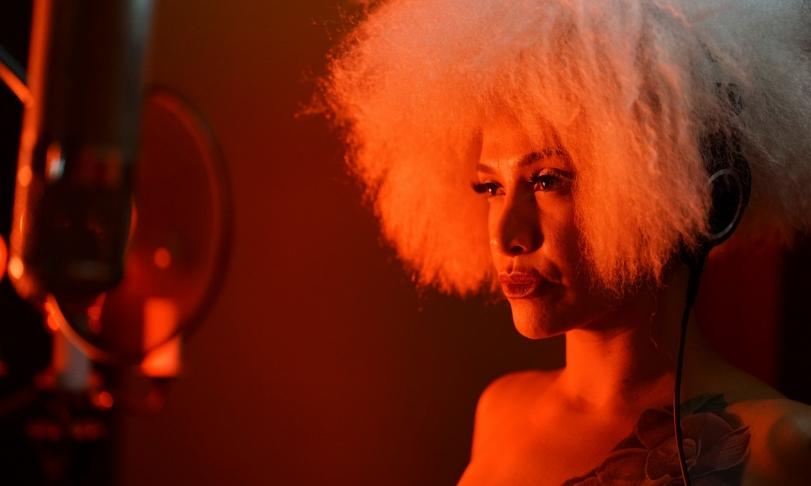 Female singers with expressive, individually formed voices are not uncommon in the USA. Jazz in particular has always thrived on these great ladies, most of whom are of African-American origin. And then there are the exceptional singers whose voices have made jazz history, such as the civil rights activist Nina Simone, Billie Holiday and Sarah Vaughan, to name just a few. Clearly on her way to joining the squad of exceptional singers is the young soul jazz singer Marley Munroe, who, under her stage name Blackbird, covers songs from the sixties by her great predecessors Nina Simone, Tim Hardin, Irma Thomas and others on her debut album Black Acid Soul, in addition to her own songs. The ease and persuasiveness of her voice come naturally, as she has been singing in front of audiences since childhood.
Black Acid Soul was recorded at Sunset Sound in "Prince's Studio" (III). The singer was accompanied by a quintet of accomplished musicians who playfully succeed in reviving the sound world of the sixties for this album. Right from the start, the singer succeeds in triggering goosebumps on the listener with her Nina Simone cover version of "Blackbird" through luxurious sound, especially since she succeeds in believably conveying the pain inherent in the song with a warm voice. The whole thing seems so real and natural that one forgets what a sophisticated technique is behind such a performance. The cover version of Reuben Bell's "It's Not That Easy" announces the great art of this singer to restrain her voice and thus to create an almost uncanny tension. "Nobody's Sweetheart" shows how Blackbird can convey heartbreak to great effect. In this song, she dyes her voice in dark velvet, doing it justice to the unforgettable Cassandra Wilson. In the cover version of Sam Cooke's "Lost And Looking" her voice carefully approaches the melody and finally floats along following its course as light as a feather.
Rounding out the album are "Fix It" and "Five Feet Tall." The former is an elegant piano ballad inspired by the classic instrumental "Peace Piece" by Bill Evans, and sounds like a standard from the Great American Songbook, sung by a singer who has instantly succeeded in making a great album with Black Acid Soul.
As for "Black Acid Soul," closing the album, it speaks of Hot Buttered Soul-era Isaac Hayes. Explaining how the song became the title and then, again, the vibe, Lady Blackbird says: "We used to hashtag #blackacidsoul, as our sub-genre of music. It just encompassed everything we were doing. It cemented all those ideas and genres in this made-up shit!"
One can be curious to see what our this highly talented songbird named Blackbird will sing in the future.
Lady Blackbird