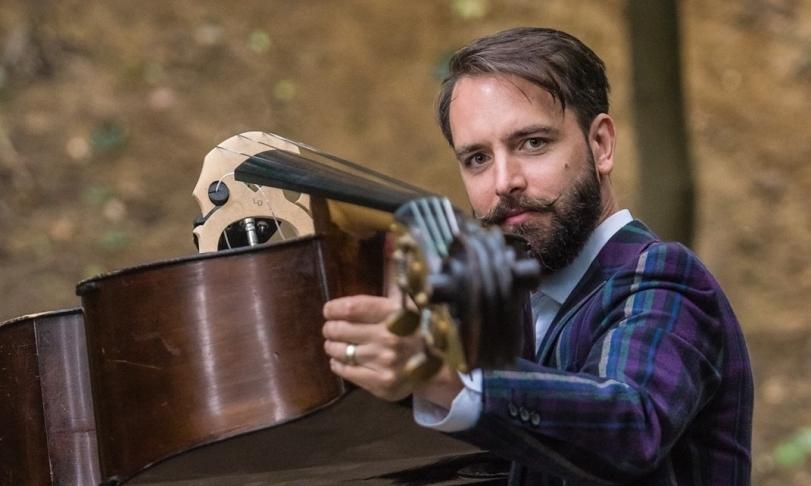 Why does Matt Ridley call his latest album Antidote, in German "Gegengift"? The classical and jazz bassist, who has also made a name for himself as a composer, offered an explanation in a recent interview given to Jazzwise Magazine "Part of the reason I called it 'The Antidote' was to prove the jazz skeptics wrong. The people who say, 'Jazz is very competent, but where's the melody?' Most historical jazz has amazing melodies, but contemporary jazz has a lot of melodies that are maybe edgy and not singable. I scratch my head about those kinds of melodies, too. I want to be inspired by the melody of the piece I'm playing, not just whether it's a good vehicle for improvising." In other words, Matt Ridley sees his new album as an answer to the question of the importance of melody for contemporary jazz. It can also be very melodic, if the composer in question stands up for it.
The Antidote appears as Matt Ridley's third album, recorded in the fall of 2019, before Lockdown, and follows his two releases for Whirlwind Recordings, Thymos (2013) and Metta (2016), which were influenced by Middle Eastern music, folky chamber jazz, and other Latin influences. Matt Ridley was a sought-after sideman on bass before Pandemic, but has also quietly established himself as a composer and leader.
For his first album on Ubuntu, Matt Ridley presents his current quintet, bringing together musicians who are all active and in high demand on the London jazz scene. As bandleader and double bassist, he performs with Ant Law on guitar, saxophonist Alex Hitchcock, pianist Tom Hewson and drummer Marc Michel. Both Hitchcock and Hewson are bandleaders in their own right, having made their mark on the jazz scene with their own recordings.
The Antidote is a jazz rock album, though not one in the 1970s tradition of focusing on riffs and licks. At times it recalls contemporary ECM recordings by Terje Rypdal and Miroslav Vitouš in that it also offers a very listenable fusion of electric instruments and elegant composition. Of the music on The Antidote, Matt Ridley says: "This album is my humble attempt to create music that reconciles the differences between us all. Rather than creating a 'jazz album,' my intention has always been to bring together aspects of all the music and culture I've experienced in my time on planet Earth, while respecting and honoring the jazz tradition."
The first half of the album consists of four independent compositions that give the five musicians plenty of room to develop and improvise, including Yardeville with whom Matt Ridley has performed on many occasions. After a reflective version of "Infant Eyes" by Wayne Shorter, the only composition not by Ridley, the second half of the album is a twenty-three-minute suite in four parts, one of which cites the Netflix series Stranger Things, which perhaps shares with Ridley's music the sense of impending doom beneath a deceptively calm surface.
The interplay between the quintet's musicians on The Antidote is consistently first-rate, and the compositions gathered on this album fulfill the need for contemporary jazz music that actively addresses the issues of our time; moreover, the album provides a decidedly positive answer to the question of the importance of melody to contemporary jazz.
Matt Ridley, double bass
Alex Hitchcock, saxophones
Ant Law, guitar
Tom Hewson, piano
Marc Michel, drums