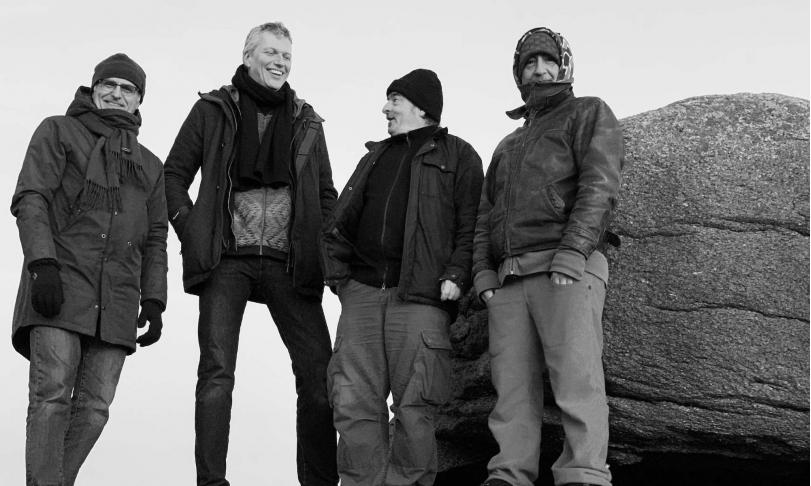 Since the early eighties Michel Benita has left his footprint as a double bass player in the jazz scene of the French capital. Since then he has been heard there with and in various bands in jazz clubs and concert halls. He reached a high point of his fame as the first bassist of the Orchestre National de Jazz, based in Paris. He recorded his first own album River Silver with his band Ethics in 2015. Michel Benita recorded his second album, Looking At Sounds, which is also his first album on the ECM label, in his capacity as bassist and laptop-supported sound producer with a newly formed quartet formation with the Swiss flugelhorn player Matthieu Michel, the French drummer Philippe Garcia, and the Belgian keyboard player Jozef Dumoulin.
The jazz and folk pieces on Looking At Sounds are largely by Michel Benita. They prove to be highly attractive, especially since the musicians of the quartet do not see and act primarily as soloists, but as a team in which the individual musicians jointly shape the content of the pieces. The special color of the quartet is provided by the powerful flugelhorn, which is carefully integrated into the sound of the quartet without dominating the contributions of the other musicians. Last but not least, the keyboard in the shape of a Fender Rhodes provides, in a rather unusual way for this instrument, for the integration of the individual sounds into a very special group sound, which allows the beautiful melodies of the individual pieces to come into their own.
Looking at Sounds succeeds in a convincing way to combine acoustic and electronic sounds to an organic overall sound. The pieces are each based on a lively bass line on which the magnificently and extensively sung melody of the pieces is based. A particularly convincing example of this is Antônio Carlos Jobim's piece Inutil Paisagem, whose melody is presented in a variety of ways, integrated into a finely woven texture. The double bass and drums play the role of structuring the texture in such a way that it remains stable as such in the space, even when the melody and its coloration are altered.
With full devotion the quartet around Michel Benita celebrates the music on Looking At Sounds in a relaxed, always refreshing manner on a technically consistently high level. When listening to this album, there is nothing to stop you from indulging in its musical flow. Despite the relaxed atmosphere, there is never a moment of boredom on Looking At Sounds, because the sounds of the pieces are presented by Michel Benita's quartet in a highly professional and diversified way.
Michel Benita, double bass, laptop
Matthieu Michel, fluegelhorn
Jozef Dumoulin, Fender Rhodes, electronics
Philippe Garcia, drums, electronics