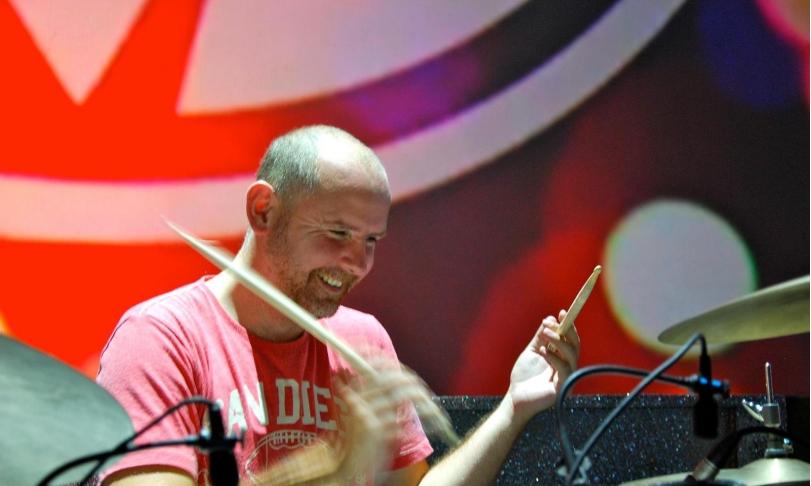 London-based drummer and composer Elliott Henshaw, who has appeared on over 50 albums and numerous film and television productions, is equally at home in the jazz world as he is in the fusion world, which is where his latest album, Who'd Have Guest, is set. As a session musician, he has collaborated with a number of famous musicians, including Shirley Bassey and Bob Mintzer. With Simon Niblock he shares the leadership of the 18-piece band Spice Fusion, which has released 2 albums Trying Too Hard and Trying Hard 2 to date. In 2005, Elliot Henshaw formed The Elliott Henshaw Band, performing in quintet formation, recruited from experienced session musicians and contributing to the new album Who'd Have Guest, along with a larger number of guest musicians. Five of the tracks on this album were written by Eliott Henshaw and two by James Pusey, the band's guitarist. Guest musicians Miranda Wilford and Noel Sullivan and saxophonist and composer Andy Scott contributed the remaining tracks.
In the opener, "Tea And Toast," the horn section of Walsh / Traves / Niblock provides a punchy backdrop against which a relaxed, fusion-like mood develops with the sounds of electric piano and the distinctive sound of Bob Mintzer's tenor saxophone after a circling keyboard motif. Trumpeter Bryan Corbett responsibly co-designs "Direct Input" as a guest soloist, which is based on a funky groove of the electric piano, motivated by the trumpet to add sharp accents in the style of Freddie Hubbard. In contrast, "Along Came Milly" follows a few degrees cooler presented by the soprano saxophone. Miranda Wilford is the soloist on the song "Monte Carlo," which takes the listener back to funk realms with a bit of rapping appearing here and there.
The song "JP" by Elliott Henshaw, intoned by the soprano saxophone and underscored with strings, is followed by the song "Hiding To Nothing", intoned by the soprano saxophone in rugged funk style and underscored with string sound, whose idyll is interrupted by a rock-led guitar. Continuing on the funk and soul path is "Faithless," a soulfully sung, power-packed piece in which the saxophone and guitar provide strong accents. The last two tracks are by saxophonist and composer Andy Scott. "Red Barett" lives from its high funk content on which Mark Cox puts an imaginative chart. The final track, "Scotty The Brave", feeds off emphatically staged contributions from saxophonist Willescroft and pianist Steele.
Who'd Have Guest proves to be an unobtrusive album, with the emphasis on the groove and fun that the musicians obviously had during its production. It's safe to assume that listeners of this fusion album, infected by its fun factor, will be able to forget all the rigors of the present, at least for the album's running time. What more could you want.
Elliott Henshaw Band:
Elliott Henshaw, drums, percussion
Andrew McKinney, bass
Matt Steele, keyboards
James Pusey, guitar
Simon Willescroft, saxophone
Guest Appearances:
Dave Weckl, drums (track 11)
Simon Goulding, bass (track 11)
Gwilym Simcock, piano (track 3)
Richard Beadle, piano (track 8)
Chris Traves, Hammond Organ (tracks 7, 6)
John Wheatcroft, guitar (track 1)
Mike Outram, guitar (track 6)
Tommy Emmerton, guitar (track 7)
Simon Lind, guitar (track 9)
Mark Cox, guitar (track 10)
Miranda Wilford, vocals (track 4)
Noel Sullivan, vocals (track 7)
Tom Walsh, trumpet (track 1, 3, 4, 5, 7)
Bryan Corbett, trumpet (track 2)
Chris Traves, trombone (tracks 1, 3, 4, 5, 7)
Bob Mintzer, saxophone (track 1)
Simon Niblock, saxophone (tracks 1, 3, 4, 5, 7)
Fiona Asbury, saxophone (track 5)
Sammy Mayne, saxophone (track 5)
Chris Aldridge, saxophone (tracks 1, 3, 5)
Chris Traves, percussion (tracks 1, 3, 4, 5, 7)
Pete Billington, strings (tracks 1, 3, 5, 10)
Mel Wickens, strings (tracks 1, 3, 5, 10)
Pete Whitfield, strings (track 8)