---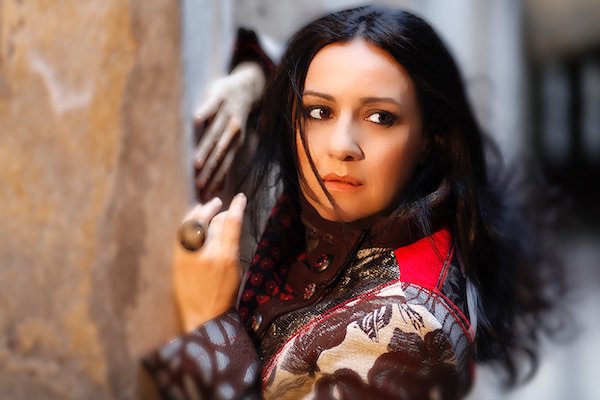 Roxana Amed
Argentina's Roxana Amed is a dusky, virtuosic singer songwriter whose music blends South American folk traditions with sophisticated rock and post-bop jazz.
A postgraduate in Spanish literature and film school student, she has earned acclaim for her albums with fellow Argentine multi-instrumentalist and former Pat Metheny bandmember Pedro Aznar including 2004's Limbo and 2006's Entremundos. More albums followed, in 2010's Cinemateca Finlandesa, a duo album with pianist Adrián Iaies (Latin GRAMMY® nominee), Inocencia in 2011, followed by 2013's La Sombra de Su Sombra, with pianist Frank Carlberg featuring the poems of Alejandra Pizarnik.
Since relocating to Miami in 2013, Amed has worked with a bevy of globally minded luminaries including Guillermo Klein, Emilio Solla, Leo Genovese, Frank Carlberg, and vocalists Christine Correa and Sofia Rei, among others.
In 2017 was commissioned, with Brazilian pianist André Mehmari, to pay tribute to the legendary Astor Piazzolla at the Buenos Aires International Jazz Festival. She earned a scholarship to pursue her master's degree in vocal jazz graduating in 2018 with a performance award. Along with being embraced by American audiences, she remains connected to her home country. Amed is a recipient of the Carlos Gardel Award for Argentine Music and the Martin Fierro Award for best song in a TV production.
In 2019, she returned with Instantáneas, an album of live-in-studio performances including her rendition of Joni Mitchell's Blue. Amed, exclusive author for Sony Music Publishing, has written for different artists in various genres. For ten years she has led a memorable vocal workshop for hundreds of jazz vocalists at the Buenos Aires International Jazz Festival and she is currently teaching as a professor at the Frost School of Music at the University of Miami and Miami Dade College, as well as in her private studio, working on her training method for popular music singers.
In 2021, she released Ontology, which featured her group with pianist Martin Bejerano and found her interpreting songs by Wayne Shorter, Alberto Ginastera, Miles Davis, and own repertoire.
In August 2021 she is awarded the "New Jazz Works" grant supported by the Doris Duke Charitable Foundation through Chamber Music America to write new music to be performed and recorded in 2022 and on September 28th, 2021, her album Ontology receives two Latin GRAMMY® Awards nominations for Best Latin Jazz/Jazz Album and Best Arrangement categories.