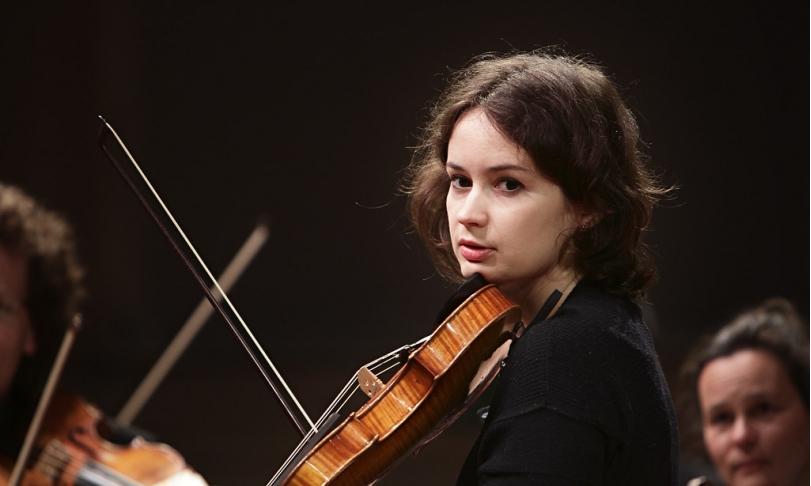 Vivaldi with the Italian early music specialists Il Giardino Armonico is nothing new in itself. However, this album dedicated to Vivaldi is special because of the short interludes written by Italian composers especially for the five Vivaldi concerts on this album, which reflect Vivaldi's work for our time. These interludes are complemented by a little Bartok and a small piece of sample recording. The latter is a vocal exercise that was unintentionally captured and recorded by the microphones. It is a key to how certain concert movements on this album could be articulated so quickly, rhythmically awake and well without any musical compromise. Giovanni Antonini, the long-time director of Il Giardino Armonico comments on why the rehearsal recording made it onto this Vivaldi album: "It is actually a rhythm exercise during a rehearsal for Aureliano Cattaneo's Estroso (the following title), which was recorded by the sound engineer without our knowledge. It is more precisely a "stylistic exercise" because the recording is created by our voices without having a fixed meaning, because the sounds are simply made up of consonants and vowels. It reminds me vaguely of the "bolo bob" of Indian music and at the same time of adventures by György Ligeti".
Even though the newly composed interludes are necessarily less impressive than the Vivaldi pieces on this album, they manage to reflect his music. Of particular note is "Dilanio Avvinto" by Marco Stroppa, which is very much in the spirit of Vivaldi, as being something of an exhibition fight between a bird and a bee for violin and recorder. The other interludes deconstruct and break up Vivaldi's compositions on this album, which are played with the greatest possible virtuosity, sometimes at almost unreal tempos, and do not skimp on surprises, such as unusually varied original rhythms and harmonies, vocal contributions and the surprising use of a wind machine in "La tempesta di mare".
To the crazy musical fireworks, which Il Giardino Armonico under Giovanni Antonini performed on "What's Next Vivaldi? burning down, is joined by the violin of Patricia Kopatchinskaja, who is nothing less than a barefoot bundle of energy, and comments on this Vivaldi album and her relationship with Il Giardino Armonico and Giovanni Antonini as follows: "This recording invites Vivaldi into a time laboratory, involves him in a dialogue with today's creative voices from Italy, who play for him as time traveler where today's horizons stretch: We have seduced five younger Italian composers to experiment with responding to Vivaldi's music in miniatures. A mixture of old and new, ships full of exotic fabrics and spices, smells of fairy tales, Orient, storm and gunpowder. The discovery of Il Giardino Armonico came as a real shock to me as a young student, like a drug. Its daring, bizarre tonal language, its articulation and ornaments, which breathe the freshness of new music, remind me of the folk music of my parents. My radical way of listening is confirmed in this way of making music: Irrespective of time and style, it is essential not to owe music anything, nut to live it genuinely and dangerously with all senses. To be allowed to play and record with these individuals and their congenial director Giovanni Antonini has been one of my most adventurous dreams ever since".
The fact that these dreams have come true with What's Next Vivaldi? is a clear benefit for all those followers of the great Italian composer who are open to the new and who can call this album a true treasure to own.
Patricia Kopatchinskaja, violin
Il Giardino Armonico
Giovanni Antonini, conductor