---
Album info
Album including Album cover
I`m sorry!
Dear HIGHRESAUDIO Visitor,
due to territorial constraints and also different releases dates in each country you currently can`t purchase this album. We are updating our release dates twice a week. So, please feel free to check from time-to-time, if the album is available for your country.
We suggest, that you bookmark the album and use our Short List function.
Thank you for your understanding and patience.
Yours sincerely, HIGHRESAUDIO
1

Invocation

10:51

2

Prelude to Bach

04:14

3

Dance of the Elders

05:57

4

Liebeslied

07:41

5

Folksong

04:56

6

Cantus Bradus

04:52

7

Amelia

07:05

Total Runtime

45:36
Info for Dance of the Elders

Wolfgang Muthspiel and his working trio with Scott Colley on bass and Brian Blade on drums reaches a new creative peak on Dance of the Elders. The album is the group's follow-up to the much-lauded Angular Blues, which The Times called a "quietly impressive album" that highlights "Muthspiel's fluidly melodic playing style". Here Wolfgang's successful stride continues, with his unique compositional signature on the one hand and particularly vibrant exchanges with his trio colleagues on the other. The guitarist's own writing and approach to jazz is heavily folk-induced but equally inspired by classical music – both aspects are presented clearly throughout the album. Brian's floating percussive injections and Scott's nimble counterpoint on bass complement the guitarist's acoustic and electric playing in fluid interplay over intricate polyrhythms and adventurous harmonic landscapes.
"Whatever the technique or the instrument, Muthspiel's deep love for and expert command of jazz shines through on both the originals and standards (…), as does his chemistry with Blade and Colley.", Jazztimes wrote in 2021, to which Wolfgang Muthspiel answered: "We have developed an enormous trust in each other". His musical familiarity with partners Colley and Blade has only increased since – Dance of the Elders was recorded after extensive touring throughout Europe, the US and Japan, in February 2022. And the guitarist's opinion in regard to his bandmates hasn't changed: "I'm constantly learning from Brian and Scott. It's always exciting to bring new music to them and see how they approach it, because it's never what I'd expect. The remembrance of their sound while I compose is an inspiration for the music I end up coming up with."
The trio's seamless chemistry and spontaneous sense of creation has rarely been as obvious as on the album's opener "Invocation" – a meditative, two-part composition that gracefully sets the mood of the album over ten minutes of restrained but deeply felt three-way conversation. Wolfgang recalls how it was producer Manfred Eicher's decision to place the song at the beginning of the album. Wolfgang: "There's the process of Manfred hearing the music and feeling the place of each piece – he tells a compelling story through the sequence, and his choices always surprise me, in the best possible way."
The spontaneous studio improvisation "Prelude to Bach" – a shrouded statement of textures – ends with a solo guitar rendition of Bach's chorale "O Sacred Head, Now Wounded", which Wolfgang didn't prepare for the session, but pulled out of thin air in the spur of the moment. Its gentle pace and traditional harmonic articulation stands in contrast to the title track's spirited rhythmic twists, folkloric time signatures and uncommon chord voicings. Like "Cantus Bradus", "Dance of the Elders" works as a polyrhythmic playground for Colley and Blade to stretch their mathematical muscles, though at the same time both songs are driven by exhaustive melodic development. Wolfgang wrote "Cantus Bradus" with Brad Mehldau in mind, who contributed to the guitarist's celebrated quintet recordings Rising Grace (2016) and Where The River Goes (2018). It relies on traits Wolfgang has observed repeatedly in Mehldau's music and which he describes as "a bunch of chromatic lines descending to a certain tonal center. On their way these lines create rather unusual chords and tensions, but they end up in a bluesy center. It's a development I hear a lot in Brad's songs and in his soloing."
Kurt Weil's "Liebeslied" was introduced to Wolfgang by trumpeter and educator Herb Pomeroy, whose student-big band at Berklee College of Music was "the band you wanted to be in", as Wolfgang says. He plays on electric guitar here, spinning fluid bop-lines around Colley and Blade's rhythmic counterpoint. The other composition that wasn't written by Wolfgang here is Joni Mitchell's "Amelia" – a ballad the singer-songwriter legend recorded with guitarist Larry Carlton in 1976 and again in 1979, this time with Pat Metheny. Wolfgang, Brian and Scott's interpretation doesn't veer too far from the original and instead takes advantage of what was already there – Brian Blade has in the past frequently collaborated with Mitchell and understands her music profoundly.
For "Folk Song" Wolfgang drew inspiration from none other than Keith Jarrett. "I had a vague idea of Keith's music when coming up with this one, especially his vamp improvisations from the Belonging-era," explains the guitarist. "You can always tell how harmonically inventive someone is when they play around one chord for a long stretch. Everything Keith implies with his upper lines, his middle voices, shows you all the chords he could play but then only teases at. I love that about Keith."
Dance of the Elders was mixed and completed at Studios La Buissonne in March 2023 by Manfred Eicher with Wolfgang Muthspiel and Gérard de Haro.
Wolfgang Muthspiel, guitars
Scott Colley, double bass
Brian Blade, drums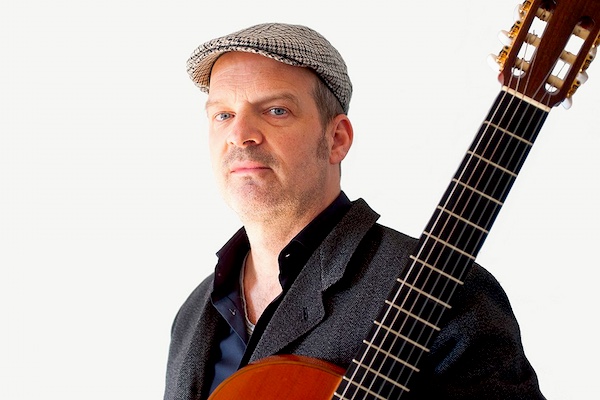 Wolfgang Muthspiel
The guitarist Wolfgang Muthspiel, born in 1965, lives in Vienna and is considered to be one of the most influential guitarists of his generation. After his classical training on the violin, he discovered his love for the guitar at the age of 15. His interest in his own as well as in improvised music finally led him to jazz. After his studies with Mick Goodrick at the New England Conservatory and later at Berklee College of Music in Boston, he toured for two years with the Gary Burton quintet and earned himself an excellent reputation in the Jazz scene. From the mid 90s, he lived and worked in the Jazz capital, New York. During this time, he daringly took sensitive excursions into the world of pop music with Rebekka Bakken, while pursuing the electronic project Muthspiel/Muthspiel with his brother. As a sought-after sideman, he has played for Trilok Gurtu, Dhafer Youssef, Youssou N'Dour, Maria Joao, Dave Liebmann, Peter Erskine, Paul Motian, Bob Berg, Gary Peacock, Don Alias, Larry Grenadier, John Patitucci, Dieter Ilg, the Vienna Art Orchestra and many others.
In the year 2000, he founded the label "Material Records" which, up to the present, has released numerous recordings of international artists. Following the European tour with his new quartet ,2008, and the duo-project "Friendly Travellers" in collaboration with the drummer Brian Blade ,2008, Wolfgang Muthspiel increasingly dedicated himself to the trio "MGT" (Muthspiel-Grigoryan-Towner) with whom, after several concert tours, a highly-acclaimed debut album "From a dream" was released. Additionally, he composed for various ensembles such as the Klangform Vienna and, in Haydn year 2009, a production commissioned by the Esterhàzy foundation. He produces recordings of young musicians and he heads the class for guitarists at the Musikhochschule Basel FHNW.
The "Wolfgang Muthspiel Trio", the "Drumfree Trio", the critically acclaimed "Wolfgang Muthspiel Quintet" as well as his constantly evolving solo performance can be found among his current projects.
In June 2012, the recording of the "Vienna Naked" project, a song programme which Muthspiel composed for guitar and vocals, was released. Muthspiel debuted with "MGT" on the album "Travel Guide" in 2013 on the reputable Munich label ECM. In 2014, his debut as Bandleader with ECM followed. The trio- recording "Driftwood" with Brian Blade and Larry Grenadier triggered extensive media coverage and in the year 2014, Muthspiel was given his own cycle in the Vienna Konzerthaus. Another vocal recording followed in 2015 with the project "Vienna World", during the course of which he played concerts and recorded with 18 musicians in Rio de Janiero, Buenos Aires, New York, Sweden and Vienna.
In autumn 2016, "Rising Grace" was released on ECM records. This quintet recording, with Brad Mehldau, Ambrose Akinmusire, Brian Blade and Larry Grenadier, graced many Best lists in 2016, received five stars of five from Downbeat Magazine and provided the "Wolfgang Muthspiel Quintet" with a number of sold-out concerts worldwide. Among Wolfgang Muthspiel's numerous awards are the Hans Koller prize for "Musician of the Year" and the award for "European Jazz Musician of the Year 2003". What's more, the Musicians Magazine" elected him among the "top ten guitarists in the world".

This album contains no booklet.