---
Album info
Album including Album cover
Johann Nepomuk Hummel (1778 - 1837): Piano Concerto No. 2 in A Minor, Op. 85:

1

Piano Concerto No. 2 in A Minor, Op. 85: I. Allegro moderato

16:27

2

Piano Concerto No. 2 in A Minor, Op. 85: II. Larghetto

04:30

3

Piano Concerto No. 2 in A Minor, Op. 85: III. Rondo. Allegro moderato

12:22

Carl Maria von Weber (1786 - 1826): Concert Piece in F Minor, Op. 79:

4

Concert Piece in F Minor, Op. 79: Larghetto affetuoso - Allegro passionato

09:48

5

Concert Piece in F Minor, Op. 79: Adagio - Tempo di Marcia - Presto giojoso

07:32

Felix Mendelssohn (1809 - 1847): Capriccio brillant, Op. 22:

6

Capriccio brillant, Op. 22: Andante

02:30

7

Capriccio brillant, Op. 22: Allegro con fuoco

09:02

Total Runtime

01:02:11
Info for Hummel - Weber - Mendelssohn

Matthias Kirschnereit and the hr-Sinfonieorchester under Michael Sanderling have compiled a compelling, captivating programme of music from the last days of the Classical era, on the cusp of the Romantic. This "half-way house" – in the best possible sense – accommodates the compositions of Johann Nepomuk Hummel, Carl Maria von Weber and Felix Mendelssohn. On his latest album, the soloist makes the boldness of this musical venture audible: "I was attracted by the fact that these rare jewels were created at a time of change, of new horizons."
With over 40 CD releases to his credit, the German pianist cannot be praised too highly for his inventiveness and initiative in exploring unfamiliar terrain. It was this spirit of discovery that led him to a fascinating programme centred on Hummel's Piano Concerto in A minor op. 85, flanked by Weber's Konzertstück in F minor op. 79 and Mendelssohn's Capriccio brillant in B minor op. 22: all of them works whose fabric pulses with inner relationships, allusions and cross-references, united too by the fact that they are rarely to be heard on the concert platform. "There is so much thrilling music that has fallen from favour. I was looking for a new combination," reflects Matthias Kirschnereit. Michael Sanderling is a conductor he has often worked with, and in this case Sanderling was his first choice: "These works, which represent just as great a challenge for the orchestra, require a high degree of precision, virtuosity and elegant musical discourse."
The album opens with the A minor piano concerto by Mozart pupil Hummel, whose "expansive, symphonically conceived orchestral exposition is still thoroughly indebted to the model of such works as Beethoven's Third Piano Concerto, only to shift – in the style of the Romantic soloist vehicle exemplified by Chopin's concertos – to the piano as the centre of attention," explains Kirschnereit. Hummel's op. 85 must surely have been modelled on Frédéric Chopin's First Piano Concerto: "The bel-canto-like, elegant coloraturas of the first two movements reference Chopin's inventive piano style. We know that Robert Schumann engaged intensively with this concerto; furthermore, his only piano concerto is also in A minor, its intermezzo-ish middle movement in Hummel's key of F major ... Hummel was a superstar of his time, a charismatic, generous individual – and he supported Beethoven financially from time to time." Carl Maria von Weber finished his F minor concert piece for piano and orchestra on June 18, 1821, on the morning of the triumphant premiere of his opera 'Der Freischütz' in Berlin. "His 'Freischütz' is omnipresent," says Matthias Kirschnereit. "I keep hearing Agathe's arias, scenes in the Wolf's Glen, jubilant choruses! The work is in advance of its time, it is all of a piece and yet like a free fantasia." And so to Felix Mendelssohn: "Weber's Konzertstück again serves as the model for his Capriccio brillant. He played it often, it was part of his core repertoire. Like the Weber concert piece, it is inspired by nature: I imagine scenes from 'A Midsummer Night's Dream' or his 'Walpurgisnacht'. Joy and jubilation, despair and inner turmoil find expression in both composers with extremely fast tempos: youthful genius, bold bravado!"
The teamwork with Sanderling and the symphony orchestra of Hesse Radio can only be described as an act of providence. "This session rounded off the Corona year with an exhilarating highlight." And so may this music, which conjured up the spirit of a new era with defiant optimism two centuries ago, give us too a future to look forward to in our own times.
Matthias Kirschnereit, piano
Radio-Sinfonie-Orchester Frankfurt
Michael Sanderling, conductor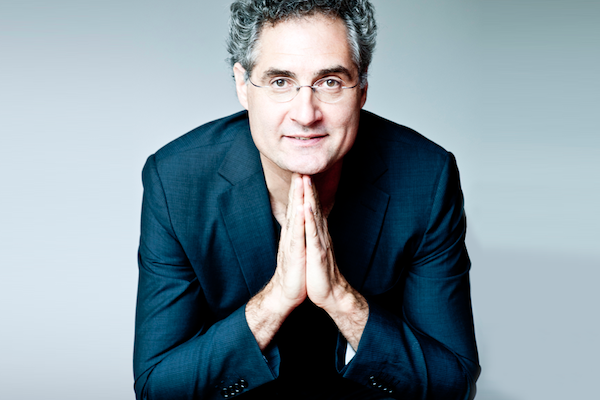 Matthias Kirschnereit
has the most beautiful approach to music one can imagine. He is constantly in search of the wealth of feeling, the vital pulse and the concomitant human aspects of the music he performs. And, after abundant analysis and extensive study of the repertoire, he nonetheless ultimately pursues that path "quite intuitively", as he says. The Frankfurter Allgemeine Zeitung wrote: "He is an expressive musician par excellence, who continues the specifically German art of playing the piano." Indeed, the line of his teachers leads through Renate Kretschmar-Fischer, Conrad Hansen, Edwin Fischer and Martin Krause directly to Franz Liszt.
He therefore adheres mainly to the German-Austrian Romantic tradition of Schumann and Mendelssohn, Schubert and Brahms, but his repertoire notably includes Mozart as well as Chopin and Rakhmaninov. That is the world in which Matthias Kirschnereit has excelled. His 25 CD recordings have regularly been heaped with praise. The reviewer in the Neue Zürcher Zeitung wrote of the new recordings of all Mozart's concertos in 2006: "Matthias Kirschnereit is the discovery of the Mozart jubilee year". The English magazine Gramophone described him as "a sensitive and thoughtful pianist" reviewing his Schumann recording "Scenen". His world premiere recording of Mendelssohn's Third Piano Concerto won him an ECHO-Klassik award in 2009.
In spite of the fame which Matthias Kirschnereit has long enjoyed on his extensive tours of many countries, he never behaves like a spoilt star. Ultimately, all he wants is to convey to his audience just "a little of these wonderful, inspired musical achievements." He does that in recitals and in orchestral concerts with the likes of the St Petersburg Philharmonic, the Bamberg Symphony Orchestra and the Tonhalle Orchestra of Zurich. He has also been an enthusiastic chamber musician for a long time, performing most recently with musicians like the violinist Christian Tetzlaff, the clarinettist Sharon Kam and the cellist Adrian Brendel and with the Vogler, Minguet and Szymanowski quartets.
Coming so far was not all a matter of course, in view of Matthias Kirschnereit's unusual biography. He was already fourteen when he first took up formal piano studies at the Detmold Academy of Music – an age at which others already have their first piano competitions behind them. "I jumped onto the very last train for a career as a pianist." Matthias Kirschnereit had lived for five years in Namibia – where formal pianistic training was not possible.
He was nine years old when his family moved to Africa in 1971. The contrast with the romantic deciduous forest region around Lake Plön in his native Schleswig-Holstein could not have been greater. Although the young Matthias Kirschnereit soon became fascinated with the altogether different culture, he gradually realized that he would only be able to realize his great dream of a career as a pianist back in Germany. With the consent of his parents he returned alone in 1976 and became a junior student with Renate Kretschmar-Fischer in Detmold. "At the beginning I was shocked when I saw and heard what others in my age group could already play." In order to make up for lost time and concentrate only on music, he actually left the school at the age of sixteen. He remembers all too well the parting words of an indignant teacher: "We know people like him; he'll end up as a piano teacher in Barntrup." [Translator's note: a tiny provincial town not far from Detmold]
But the teacher was mistaken. Matthias Kirschnereit repeatedly won prizes at competitions like the Concours Géza Anda in Zurich. Among his mentors were Murray Perahia, Claudio Arrau, Bruno Leonardo Gelber and Sándor Végh. He gives 50-60 concerts each year and has held a professorship at the Rostock Academy of Music and Theatre since 1997. He is now able to realize his ideal of passing on what he has learnt and experienced to coming generations of musicians. In his spare time he takes an interest in painting, football and Italian cooking. He and his family now live in Hamburg.

This album contains no booklet.