---
Album info
Album including Album cover
I`m sorry!
Dear HIGHRESAUDIO Visitor,
due to territorial constraints and also different releases dates in each country you currently can`t purchase this album. We are updating our release dates twice a week. So, please feel free to check from time-to-time, if the album is available for your country.
We suggest, that you bookmark the album and use our Short List function.
Thank you for your understanding and patience.
Yours sincerely, HIGHRESAUDIO
1

In The Ground

04:30

2

Carolina Lorelei

03:30

3

Better Than I Used To

04:17

4

I Wanna Leave America

03:12

5

Existential Crisis

03:14

6

Wish I Didn't Have Any Problems

03:06

7

Without Walls

02:43

8

Sometimes Love Takes So Long

03:40

9

Vacant Lover

03:40

10

Here Lie The Bones Of My Favorite Car

02:39

11

Nuthin's Fair

03:28

12

American Boy

06:04

Total Runtime

44:03
Info for Illiterate Light

"We wanted to see if there was another way to live in this world," says Jeff Gorman, one half of the breakout Virginia duo Illiterate Light. "We wanted to throw ourselves out into the wild and see if there was another way to tour and make music."
With their self-titled major label debut, Illiterate Light have managed to do just that, stretching boundaries and upending expectations with a captivating blend of soaring indie rock, swirling psychedelia, and atmospheric folk. Recorded with producers Adrian Olsen (Foxygen, Natalie Prass) and Vance Powell (Jack White, Kings Of Leon, Chris Stapleton), the record captures the band's remarkable live setup—Gorman simultaneously plays guitar with his hands and synth bass with his feet, while his musical partner, Jake Cochran, plays a standup drum kit—and the scintillating energy that's fueled their journey from a small-town organic farm to the star-studded roster of Atlantic Records.
"Jeff and I first met at college in Harrisonburg, VA," explains Cochran. "At the time, we were both searching for community and connection outside of the sort of sheltered, suburban environments we'd grown up in, and we found each other."
The pair discovered a slew of shared passions (together they volunteered at a local community center, earned Permaculture Design Certifications, cycled endless miles, and apprenticed on an organic farm), and in 2010, they launched their first band, building up a devoted local following through house shows and DIY gigs. After graduation, Cochran and Gorman were presented with an opportunity to take over the organic farm where they'd apprenticed, and so the duo embarked on an unlikely journey combining their interests in art and agriculture.
"We wanted to see if we could balance them both," says Cochran, "so for two years, we'd have these crazy long days where we'd be up at 5am taking care of the farm and getting ready for markets and then out until 2am playing music all over the place. The only way we were able to make it work was by virtue of the blissful, youthful energy that comes from feeling like you're a part of something important. We loved both sides of that life, but at a certain point, we had to admit that were much better musicians than farmers."
During this experimental season, Cochran and Gorman would tour the region on their bikes, sometimes joined by as many as two-dozen other cyclists and artists. Dubbing themselves the Petrol Free Jubilee Carnival Tour, the participants would set out without a cent, figuring out how to survive each day on the road as it arrived.
"We'd play anything from coffee houses to street corners to rock clubs to off the grid intentional communities, and we'd run the shows with a bicycle-powered generator," says Gorman. "Sometimes we'd dumpster dive for food, sometimes we'd meet folks on backcountry farm roads who'd feed us and let us camp on their property. More than anything, those tours taught us to trust each other and feel comfortable stepping outside of the box. The joy of that type of radical community was life changing."
Almost immediately after leaving the farm to focus on music, Cochran and Gorman's first band disintegrated, so they re-launched as a duo, dubbing themselves Illiterate Light in a nod to Wilco's "Theologians." Building off what they'd learned from their cycling days, the pair simplified their strategy, living out of a Subaru-turned-tour bus as they honed in on a distinctive sound and identity over three years of relentless touring. Press was quick to take notice, with NPR hailing the music as "a perfect addition to your summertime playlist," and the band earned dates supporting the likes of Shakey Graves, Rayland Baxter, and Mt. Joy. After signing with Atlantic in 2019, they landed an invitation to open Rainbow Kitten Surprise's extensive fall tour and nabbed high-profile festival slots at Bonnaroo, Lollapalooza, and Newport Folk.
"Everything we learned about being a band we learned from touring," says Cochran. "Every opportunity came from getting on the road and playing as much as possible."
When it finally came time to record their debut, Cochran and Gorman wanted to find a way to bottle the raw, kinetic energy of that live show and capture it in the studio.
"Up until that point, we'd always tried to record like a 'normal' rock band," Cochran says, "but we realized that our live setup is so unique and so important to our identity that we had to bring that into the studio with us. The fact that I play the drums while standing up affects the parts I play, and the fact that Jeff has a bass pedal he plays with his foot affects the notes he chooses, so the only way to really capture what we do is to track with Jeff and I playing live together in the same room."
Calling to mind everything from Neil Young and My Morning Jacket to Band of Horses and Fleet Foxes, the resulting album is blissful and ecstatic, with raw electric guitars, propulsive drums, and shimmering harmonies. The arrangements draw on a less-is-more ethos, always managing to feel lush and full while still maintaining an airy lightness. Effervescent lead single "Better Than I Used To" is a prime example, with spacious verses that blossom into infectious, harmony-rich choruses fueled by the dopamine rush of infatuation. The loping "In The Ground," meanwhile, seemingly defies gravity with distorted guitar runs that twist and turn as if caught in the wind, and the addictive "Carolina Lorelei" repeatedly builds up and breaks back down around a towering, hypnotic vocal hook.
"'Carolina Lorelei' was an attempt to unpack this quasi-mystical moment I had with my girlfriend," explains Gorman, who generally takes the lead when it comes to writing and singing. "I was out chopping wood one day, and as she walked towards me, I could feel her beauty just radiating outwards. I felt this sense of all time disappearing as I melted into the moment."
"Capturing the moment is really important to us as a band," says Cochran, who collaborates closely with Gorman on the writing and editing. "We like to find ways to stitch love and hope and fear and anxiety together in our songs, because we recognize that life isn't neatly segmented into happy and sad. We're most interested in the moments when you feel everything all at once."
That push and pull of conflicting emotion turns up frequently on the album. "Vacant Lover" builds from a whisper to a roar as it grapples with distance and desire, while the trippy "Sometimes Love Takes So Long" makes peace with the full spectrum of joy and pain inherent in any relationship, and the yearning "I Wanna Leave America" and fiery "American Boy" blur the lines between the personal and political.
"I've got friends who are conservatives and liberals and anarchists and everything in between, and the common thread is that everybody's fed up with the way things are working right now," reflects Gorman. "I really love the people and the culture of this country, and these songs are about waking up to that love and taking on the things that need to change."
These days, Cochran and Gorman are crisscrossing America more than ever before, sharing that love with audiences everywhere they go. And while they may have had to choose between their farm and their music, at the end of the day, their motivation for both endeavors was always the same: to build a community. The farm may have been lovely, but with a debut album this good, it's clear that Illiterate Light made the right choice.
Illiterate Light:
Jeff Gorman, vocals, guitar, synth pedals
Jake Cochran, drums, vocals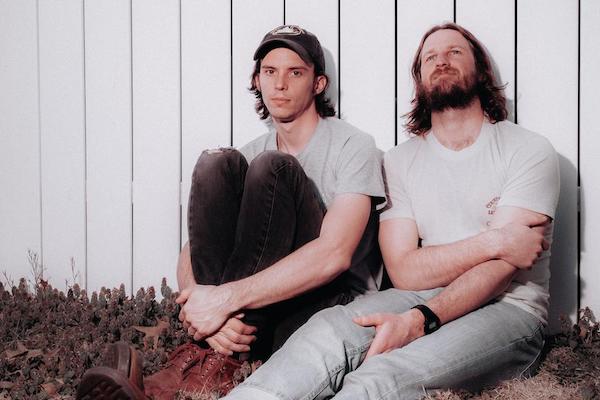 Illiterate Light
Formed in the summer of 2015, Illiterate Light transcend expectations of typical rock music through their limitations as a duo. Jeff Gorman elevates his gritty guitar melodies and honest lyricism by stomping out thunderous synth bass with his feet as Jake Cochran layers lush vocal harmony and explodes with body convulsing energy around his minimalist standing drum kit. Gorman and Cochran's incessant writing, commanding live performance, and constant touring promise a bright future as they finish their debut album with Vance Powell (Jack White, Kings of Leon, Chris Stapleton) and Adrian Olsen (Foxygen, Natalie Prass). "Better Than I Used To" is the first taste of what's to come from Illiterate Light.
Spanning the better part of a decade, the creative evolution between Gorman and Cochran is far from ordinary. The duo has run an organic farm in the Shenandoah Valley, toured the mid-Atlantic in bands by bicycle, and lived in small communities while pursuing modes of alternative education. Their eclectic background is mirrored in their sound and lyricism, floating between postmodern confusion and vibrant optimism. Though shaped by the DIY music scene of their hometown Harrisonburg VA, the duo has grown immensely through immersion in the thriving communities of both Richmond, VA and Nashville, TN.

This album contains no booklet.