---
Album info
Album including Album cover
Giovanni Battista Pergolesi (1710 - 1736): Stabat Mater, P. 77:

1

Stabat Mater, P. 77: I. Stabat Mater dolorosa

04:34

2

Stabat Mater, P. 77: II. Cujus animam gementem

02:09

3

Stabat Mater, P. 77: III. O quam tristis et afflicta

02:23

4

Stabat Mater, P. 77: IV. Quae moerebat et dolebat

02:10

5

Stabat Mater, P. 77: V. Quis est homo, qui non fleret

03:06

6

Stabat Mater, P. 77: VI. Vidit suum dulcem natum

03:39

7

Stabat Mater, P. 77: VII. Eja, Mater, fons amois

02:26

8

Stabat Mater, P. 77: VIII. Fac, ut ardeat cor meum

02:13

9

Stabat Mater, P. 77: IX. Sancta Mater, istud agas

06:08

10

Stabat Mater, P. 77: X. Fac, ut portem Christi moetem

03:41

11

Stabat Mater, P. 77: XI. Inflammatus et accensus

02:15

12

Stabat Mater, P. 77: XII. Quando corpus morietur

04:48

Antonio Caldara (1670 - 1736): Maddalena ai piedi di Cristo:

13

Maddalena ai piedi di Cristo: Per il mar del pianto mio

05:03

14

Maddalena ai piedi di Cristo: Pompe inutili

07:29

15

Maddalena ai piedi di Cristo: Voglio piangere

04:40

Total Runtime

56:44
Info for Giovanni Battista Pergolesi: Stabat Mater, P. 77

On this recording of Boccherini's Arie da Concerto, the Belgian ensemble Capriola di Gioia defies the stubborn stereotyping of Boccherini as the gallant master of unsurpassable but insignificant melodies. Close listening to this marvellous music reveals a genius with a profound understanding of human psychology, and a rich harmonic palette to paint the smallest affective nuances. In these arias, Boccherini is rehabilitated as a true heir of Händel, a worthy contemporary to Haydn, and an early precursor of the belcanto of Bellini.
Amaryllis Dieltiens, soprano
Clint van der Linden, counter-tenor
Capriola di Gioia

Bart Naessens, conductor
Catherine Jones, violoncello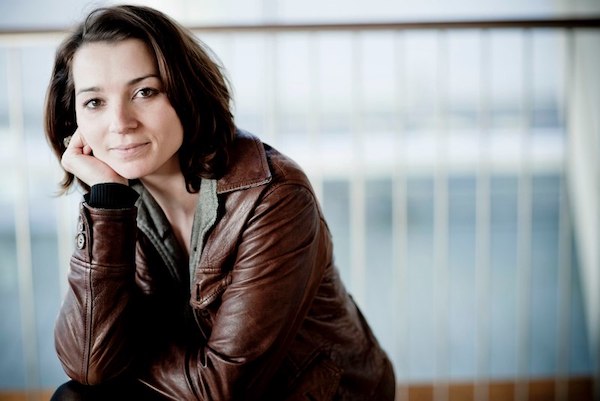 Amaryllis Dieltiens
studied voice with Lieve Vanhaverbeke and Margreet Honig, graduating from the Amsterdam Conservatory in February 2004. She continued her studies at the Dutch "Nieuwe Opera-Akademie" and attended master classes with Maria Kristina Kiehr, Barbara Schlick, and Konrad Junghänel, among others. From 1999–2006 she was a member of the Capella Currende and the Currende Consort under Erik Van Nevel, also participating in several CD recordings with these ensembles. Recently, Amaryllis Dieltiens has collaborated with conductors such as Richard Egarr, Jos Van Veldhoven and Erik Van Nevel in the opera and oratorio repertoires. With Bart Naessens, she founded the ensemble Capriola Di Gioia to perform 17th-century and Baroque repertoire for which they share a passion in a very personal and expressive way.
Clint van der Linden
Born in South Africa, Clint van der Linde started singing at the Drakensberg Boys Choir School aged ten. In 1996 he was offered an International Scholarship to spend a year at Eton College during which he was offered the Queen Mother, the Queen Elizabeth Scholarship for a four year B-Mus degree at the RCM, London. After completing his BMus in 2001, he was offered a Martin Harris Scholarship to complete his Post Graduate Diploma. During his studies Clint had master classes with Anthony Rolf J ohnson, Roger Vignoles, Sarah Walker, Michael Chance and James Bowman. Clint has performed in concert halls throughout Europe, the US, Australia and Japan, in venues such as Carnegie Hall (US), the Lincoln Centre (US), Tanglewood (US) The Suntory Hall (Japan), Het Concertgebouw Amsterdam, Bozar (Brussels), the Queen Elizabeth Hall, London, St Martins in the Fields and the Crown Hall in Jerusalem, in festivals such as the Edinburgh Festival, the Bach Festpiele in Leipzig, the Handel Festspiele in Halle, the Bad Kissinger Sommer Festspiele and the Ludwigsburger Festspiele and the Mostly Mozart festival in New York. Staged performances including theatres across the United Kingdom, La Monnaie, Brussels, the Royal Opera House in Copenhagen and Bielefeld Opera. With groups and Orchestras such as The Academy of Ancient Music, The Göttingen Festspiele Orchestra, Il Fondamento, the Hanover Band, the Israel Camerata, the King`s Consort, the London Handel Orchestra, Le Musiche Nove, the Orchestra of the Age of Enlightenment, the Royal Philharmonic Orchestra, the Salzburg Camerata, Stuttgart Baroque Orchestra, Southern Sinfonia, Melbourne Symphony Orchestra, Philharmonia Baroque(US) and Bach Collegium Japan. Conductors include Frieder Bernius, Stephen Cleobury, Lawrence Cummings, Paul Dombrecht, Nicholas McGegan, Wolfgang Katchner, Gerhard Korsten, Nicholas Kraemer, Stephen Layton, Sir Roger Norrington, Kazushi Ono, Peter Schreier, Masaaki Suzuki, and Jan Willem de Vriend. His operatic roles include Oberon A Midsummer Night`s Dream, title roles in Handel`s Flavio, Ottone, and Lotario, Tolomeo, Rinaldo, Orlando, Cavalli's Jasone. Other Handel roles are Andronico, Tamerlano, Judas in the Brockes Passion, and Arsemenes, Xerxes, Dardanus Amadigi, Narciso and Ottone Agrippina. Non-Handel roles include Fernando in Conti's Don Chischotte in Sierra Morena, the Gardian of the Threshold in Richard Strauss' Die Frau Ohne Schatten. Recent and upcoming engagements include a.o. Farnace in Mozart's Mitridate, Re di Ponto at the Nationaltheater Mannheim and Apollo in Britten's Death in Venice (Bielefeld).

This album contains no booklet.