---
Album info
Album including Album cover Booklet (PDF)
1

Tales of Utopia

05:37

2

Entrance to the Great City

03:06

3

King's Dream Part I

03:36

4

Views of Road in Crimson Red

05:19

5

Three Sisters

06:30

6

The Advisor

03:41

7

King's Dream Part II

04:30

8

The Market

03:32

9

Wave

05:19

10

Wedding Song

05:28

Total Runtime

46:38
Info for Tales of Utopia

Again there is the catchy groove and the distinct melodicism that define the typical Shalosh sound. Again there is this three-piece compactness, which is already in the Hebrew "three" significant band name. "An Israeli power trio. Heavy jazz!", the German Rolling Stone and the Times critic heard a "promise". In Deutschlandfunk, there was talk of "jazz in the fast lane", once again reaching "young jazz fans all over Europe". Each of the three musicians, who live close to each other in Tel Aviv, feeds their musical preferences of jazz, classical music, grunge, rock, techno or folk into the common organism, which condenses the elements into an exciting mixture. In inspiring concerts around the globe, this has been further refined without under-challenging the audience. This music aims equally at heart, intellect and legs.
It could have continued like this, but much has changed since 2020's Broken Balance. "It's a different world," says Gadi Stern, "you can hear that on the new album. Back then everything was fine, almost nothing was missing. Now there's a sense of the end of the world." So they put their music, which has always been a story-telling in sounds, into larger contexts. To do this, they thought up a story based on material from the Old Testament and the Odyssey. With their rhapsodic mix of Christian and Greek mythology, they found a connection of world cultures and a common thread for their album.
A young hero travels into the unknown. Unknown, however, is not only the outer world, but also one's own inner self. But every journey is also accompanied by self-assurance, which makes one stronger. "Tales of Utopia" is about how utopian thinking is based on the preoccupation with one's own self, on concentration and meditation as an antidote to information overkill.
Shalosh formulate their music as a refuge. In a crisis-ridden world, they want to give strength and comfort, inspire imagination and provide support against pandemics, tanks and slogans. As in a station drama, they create images of reaching the big city with its flood of new impressions in which the hero has to find his way, of being overwhelmed by stimuli at the market with smells, colours and movements, of dramatically leaving the metropolis at sunset, of the lurching boat on the ocean, of the three sisters on the island who take care of the hero, their voices intertwining. The king's dreams are bifurcated in all the turbulence and stimulated by a bad advisor, until it all comes to a happy ending in a Moroccan-inspired wedding song, with the band of friends gathering in one room for a party of hand-clapping and singing."
The framework of this ever-valid story is provided by the memorable Shalosh sound, into which they fitted the stories as if they were in a large painting, adapting the chronology of events to the musical flow. What was different this time was the recording process. Without headphones and amps, the three of them recorded their song-like and maelstrom-like stories close to each other, as if under live conditions. It sounded rougher and more direct, because the room was charged with dynamics. What was important was what the lyrics triggered musically. "Inside the room, we could escape the troubles of the world," recalls drummer Matan Assayag. "For three or four hours we focused on the music and formulated our utopia. That way we could block out the daily pressures. That's the meaning behind the title. The previous album reflected the world outside, this one is about inner harmony."
"Tales of Utopia" documents a search for poise and peacefulness. Gadi and Matan have recently become fathers. This positive energy has also flowed in. "Art makes the world better," they describe their intentions, "we want to bring beauty into the world and create a feeling that people can be happy with themselves. They have to learn that again and find a position next to the flood of information so that more and more doesn't mean less and less. Our children were the best teachers in this because they are fascinated by small things. That's how you can overcome the destructive."
There is more than the ubiquitous pragmatism. This gripping and colourful music invites you to be enchanted and to focus on the beauty all around. To this end, it relies on a human factor that does not strive for perfection, but for contemplative freshness, friction surfaces and vitality.
strong> Gadi Stern, piano
strong> David Michaeli, bass
strong> Matan Assayag, drums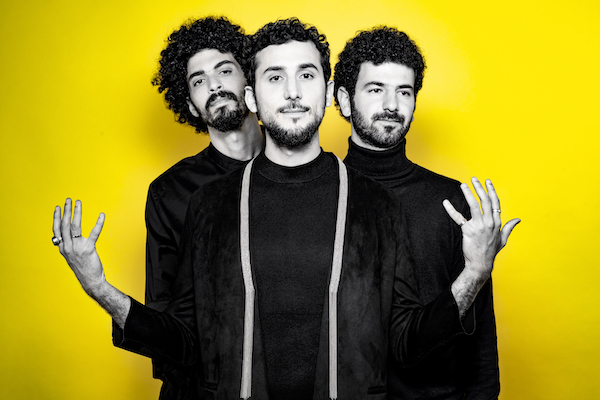 SHALOSH
Eine Jazzband, die eigentlich eine Rockband ist. Und umgekehrt. Gadi Stern, der Pianist, und Matan Assayag, der Drummer, kennen sich seit dem Kindergarten und haben schon auf dem Gymnasium in Israel gemeinsam Musik gemacht. Zusammen mit Bassist David Michaeli sind sie Shalosh, hebräisch für "drei". Furios verbinden sie verschiedene Stile: die Lautstärke des Rock und die Tanzbarkeit elektronischer Musik trifft auf die Sensibilität studierter Jazz-Musiker.
Shalosh sind kein Trio, das nur einen Leader hat. Man merkt ihnen ein blindes Verständnis an, wie es nur möglich ist bei Jungs, die seit ihrem 16. Lebensjahr zusammen Songs schreiben. Die Band beschreibt das mit einem Satz, den man am besten unübersetzt lässt: "Shalosh is not just a band, it's an idea."
Sieben Jahre lang lebte Gadi Stern in New York City. Der Israeli, Jahrgang 1987, wuchs in der Stadt als Musiker, doch Songs schrieb er zu der Zeit kaum – ihm fehlte der Austausch mit einer festen Band. Die drei Freunde blieben über die Jahre hinweg in Kontakt und stellten fest, dass das Zusammenspiel mit niemandem sonst so gut funktioniert.
Noch bevor Gadi zurück nach Tel Aviv gezogen war, nahmen Shalosh, die für Nirvana, Brahms, Thelonious Monk und das US-Trio The Bad Plus schwärmen, ihr Debüt auf. "The Bell Garden" wurde 2014 von der internationalen Presse gefeiert, ein Journalist hörte gar eine "junge Carole King mit Ben Folds am Klavier jammen". 2017 folgte ihr zweites Album "Rules of Oppression".
Shalosh geben im Studio und auf der Bühne stets alles, körperlich wie emotional. Das furiose Piano-Spiel von Gadi Stern wird durch die perkussive Wucht der Drums von Matan Assayag verstärkt, während Bassist David Michaeli die Groove-Basis legt. Dramatische Arpeggios, eingängige Melodien und mächtige Power-Akkorde: Shalosh machen weder Jazz noch Rock. Sie selbst nennen es "Acoustic Progressive Music". Es ist einfach fabelhaft aufregende Musik, wie man sie sonst nirgends zu hören bekommen wird.

Booklet for Tales of Utopia