---
Album info
Album including Album cover
1

Always Do

03:12

2

Coming Home

03:22

3

I Haven't Said I Love You in a While

03:53

4

Ruby, Are You Mad at Your Man?

03:01

5

What Have I Been Saying?

03:48

6

Jerusalem Ridge

03:39

7

The Sweet Ones

03:09

8

Blacktop Boy

03:41

9

You Too

03:44

10

Fishers Hornpipe

03:41

11

Old Black Creek

03:38

12

Fiddler Going Home

04:59

Total Runtime

43:47
Info for Coming Home

Multi Grammy and CMA Award-winning fiddler and composer Mark O Connor returns to progressive bluegrass and country music with the O Connor Band and their debut album, Coming Home. O Connor embarked on a prolific career as an American Classical music composer, hot swing violinist and legendary bluegrass fiddler collaborating with the likes of Alison Krauss, Vince Gill, Earl Scruggs, James Taylor, Wynton Marsalis and Yo-Yo Ma. The New York Times has described O Connor s career as 'one of the most spectacular journeys in recent American music.' In the O Connor Band, Mark is joined by his wife Maggie (MA, Peabody Institute of Music) on violin and harmony vocals, his son Forrest (former Tennessee State Mandolin Champion) on mandolin and lead vocals, and Forrest s fiancée, Kate Lee (frequent performer on the CMA Awards), on violin and lead vocals. Coming Home is a perfect balance of contemporary songcraft by Forrest and Kate and intricate instrumentals featuring the band s triple fiddle lineup. The O Connor Band is rounded out by national flatpick champion Joe Smart on guitar and University of Miami DMA candidate Geoff Saunders on bass and banjo. Co-producer and Grammy-winner Gregg Field says, 'At the heart of any album is the songwriting. Kate and Forrest have seductively crafted alluring stories and colorful characters in their songs, some biographical and each one sounding like a new standard.'
Mark O'Connor Band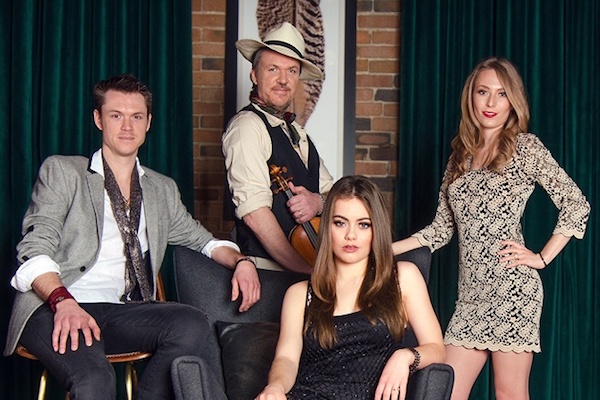 Mark O'Connor Band
very first performance took place at the legendary Walnut Valley Festival in Winfield, Kansas in 2015. In 2017 – less than a year and a half later – they took home the GRAMMY Award for Best Bluegrass Album for their debut recording, Coming Home.
In a whirlwind two years, the band has also performed at the GRAMMY Awards Premiere Ceremony, received standing ovations at the Grand Ole Opry, reached the No. 1 spot on Billboard's Top Bluegrass Albums chart, and invited to open for the Zac Brown Band's 2018 summer tour. They have put together a show unlike any other, one that blends country and pop sensibilities with Americana rawness, bluegrass drive, and chamber music sophistication, one that has begun winning over audiences at festivals (AmericanaFest, GreyFox, IBMA, RockyGrass), clubs (Jazz Alley, Dakota Jazz Club), and the world's premier theaters (Arlene Schnitzer Concert Hall, Eastman Kodak Theater, Glasgow Royal Concert Hall, Schermerhorn Symphony Center).
Their recently released sophomore album, O'Connor Band Live!, is a stunning showcase of their most exciting concert material to date. Recorded in Sellersville, Pennsylvania, in late 2016, the album captures the band on the heels of a packed summer festival schedule, during which they had honed their sound and risen to an even higher level of cohesion, power, and expressiveness than before
"The Mark O'Connor Band is the real deal. Mark is a musical genius and has been a pioneer in the bluegrass and Americana community. He has collaborated across so many different genres, while still being recognized in his own stratosphere for his conquering of the fiddle, and that is something I truly admire. Now together with his whole band he's really found his niche and it's exciting to hear the sound they're creating together." – Zac Brown
"Very few bands can achieve this sense of playing-as-one so completely, so effortlessly that the entire force of the music – the vocals and every instrument –settles into us physically and emotionally as we listen." — No Depression Magazine
"…something that makes your life feel rich. All the songs are as accessible and all are such a balm to the spirit. — Rosanne Cash
"Mark O'Connor has managed to discover and reveal some very high level and intriguing new talent - within his own family! As a longtime fan, it's very satisfying to hear Mark's fiddling back in the bluegrass/country setting after 20 years away from it. There is nobody who does it like him." — Bela Fleck
The O'Connor Band is the product of Mark O'Connor's imagination – one that has served him well over the course of his four-decade professional career. A former child prodigy and national champion on the fiddle, guitar, and mandolin, Mark has won numerous GRAMMYs and CMA Awards, appeared on hundreds of commercial country albums, collaborated with the likes of Johnny Cash, Wynton Marsalis, Dolly Parton, and Yo-Yo Ma, and performed everything from original violin concertos to swing and jazz. But until recently, he had not worked on a project quite like this.
"It's been one of the most surprising and rewarding experiences to perform with my family members on stage," says Mark. "It's really exciting to bend these American genres in new ways, combining accessibility with a real depth of musicianship and writing."
In addition to Mark, the band features his son Forrest, (Harvard graduate and former Tennessee State Mandolin Champion), daughter-in-law Kate (frequent performer on the CMA Awards and CMA Country Christmas shows), and wife Maggie (graduate of the Peabody Institute of the Johns Hopkins University). The four of them play together as though they have been sharing the stage for many years – and in some ways, they have.
"We all grew up listening to my dad's music," says Forrest, "so in a sense, we've been preparing for this band for a majority of our lives."
The band is rounded out by Joe Smart (national flatpick champion on guitar) and Geoff Saunders (bassist/banjoist extraordinaire and recent graduate of the University of Miami's DMA program).
All six band members possess charisma that, when combined onstage, ensnares audiences from start to finish. All are masters of their instruments, all improvise as readily as they play parts in counterpoint, all can sing, and all move about the stage in a free but gripping choreography. Kate's beautiful and powerful voice belies her age. Forrest's songwriting is at once poetic and accessible. Maggie's violin playing blends effortlessly with her husband's, so much so that, at times, the two sound like one player. Joe rips solos on the acoustic guitar as though he were playing electric. Geoff arcos high as commandingly as he grooves low. And Mark, of course, does things on the fiddle that has Paganini turning in his grave. He has also returned to the guitar leaving audiences awestruck over the iconic musician's artistry all over again.
If the band's first year was a flash flood, their second will be a calculated, steady rise. They are touring throughout summer and fall 2017 in support of O'Connor Band Live!, performing an array of original songs, classics, and barnburners that require versatility and a depth of musical knowledge that most bands on the scene today – on any scene, for that matter – simply don't have.

This album contains no booklet.