---
Album info
Album including Album cover Booklet (PDF)
Baptiste Trotignon (b. 1974): L'air de rien:

1

Trotignon: L'air de rien, Pt. 1: 3 + 2

05:52

2

Trotignon: L'air de rien, Pt. 2: Cadenza & Toccata

05:02

3

Trotignon: L'air de rien, Pt. 3: Tango !

02:46

Anima:

4

Trotignon: Anima: I. Grave

03:55

5

Trotignon: Anima: IIa. Allegretto meccanico

04:46

6

Trotignon: Anima: IIb. A peine plus allant

06:26

7

Trotignon: Anima: III. Andante tranquillo

04:58

8

Trotignon: Anima: IV. Prestissimo fantastico

03:51

9

Trotignon: Anima: V. Alla marcia

07:16

Hiatus et turbulences:

10

Trotignon: Hiatus et turbulences, Pt. 1: Noire pointée=180

04:42

11

Trotignon: Hiatus et turbulences, Pt. 2: Très doux

03:04

12

Trotignon: Hiatus et turbulences, Pt. 3: Subito più mosso

02:45

Total Runtime

55:23
Info for Anima

An eminent ambassador of the 'French touch' in jazz and winner of many awards (Django-Reinhardt, Victoires du Jazz, Django d'Or, SACEM jazz awards) – Baptiste Trotignon has been composing for symphony orchestras and classical musicians for several years. The music on this album is not 'symphonic jazz', says Trotignon, 'but you can hear the sounds of the Afro-American musical language, whether in the harmonies or in the very motoric rhythms that are always in motion (dances, toccatas, grooves)'. There are three pieces on the programme: Anima, the most ambitious work he has written to date, not only in terms of length but also in terms of orchestration, density 'and a much stronger desire to make the orchestra sing'; Hiatus et Turbulences, his very first piece with orchestra; and finally L'air de rien, a lighter piece which ends with a tango, and on which he himself plays the piano and adds improvised sections.
Baptiste Trotignon, piano
Orchestre Victor Hugo Franche-Comte
Jean-Francois Verdier, conductor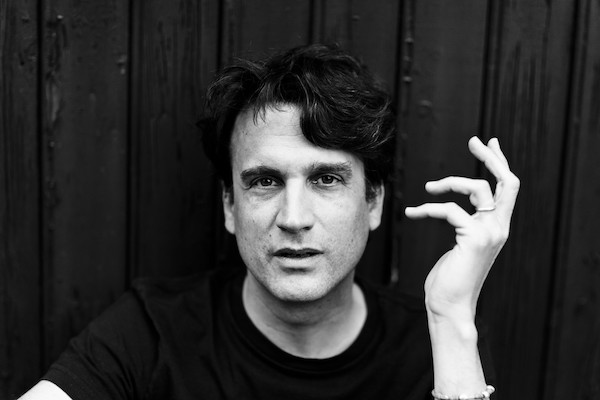 Baptiste Trotignon
Born near Paris in 1974, Baptiste Trotignon grew up in the Loire region, outside Saumur. He started playing the piano when he was 8, and a few years later he joined the Nantes Conservatory, where he won prizes for piano and harmony. In his teenage years, he discovered and taught himself jazz and improvisation, performing his first concerts at the age of sixteen.
In 1994 he appeared as actor and musician in Alain Corneau's movie "Le Nouveau Monde", deciding to move to Paris the following year. In 1998 he formed his trio with Clovis Nicolas (double bass) and Tony Rabeson (drums), and then develops his activities as a leader and signs with the independent label Naïve: released in June 2000, his debut album FLUIDE revealed him as one of the most spectacular, broad-ranging and fascinating pianists of his generation. The album won a Django d'Or for Best First Record in March 2001. Still with the same musicians, he released his second album SIGHTSEEING later that same year: Jazzman declared it "The shock of the year" and in December 2001 the Jazz Academy awarded Baptiste the Prix Django Reinhardt, an annual award given to the jazz musician of the year.
He began to make fewer and fewer appearances as a sideman, performing instead with increasing frequency both with his trio and as a solo artist at international jazz festivals, including: Jazz in Marciac, Montréal, La Villette Jazz Festival, Jazz a Vienne, Nice, Montreux, Vancouver, Toronto, Ramatuelle, Parc Floral de Paris, Nancy Jazz Pulsations...
In October 2002 he won the "Grand Prix de la Ville de Paris" at the Martial Solal International Jazz Competition, and a few months later he also received the French Newcomer of the Year award at the Victoires du Jazz 2003. Spring 2003 saw Baptiste Trotignon release a new recording, this time as a solo pianist performing his original compositions; it was a disc widely praised by the press ("ffff" in Télérama, "Shock of the year" in Jazzman, "top choice" in Jazz Magazine), by the buying public (over 15,000 copies sold) and concert-goers (La Roque d'Anthéron Festival, Piano aux Jacobins in Toulouse, Salle Pleyel in Paris, and many others). In early 2005 he released an excellent recording of a four- piece co-led by David El-Malek; the eponymous TROTIGNON – EL-MALEK was widely praised by press and public alike. October 25, 2005 witnessed the release of SOLO II, a new studio album backed by a live DVD recorded at Piano aux Jacobins and an interview with Michel Contat, released as a digipack and limited edition longbox. Beyond simple genres, this latest solo album was a return to the spirit of his debut that confirmed Baptiste's uncontested originality, as if such a thing had ever been in doubt. It was around this time that he first met Aldo Romano, and a true musical affinity developed between them as they gave concerts together, most often as a trio with Rémi Vignolo. In autumn 2006, this combo released the remarkable album FLOWER POWER, a musical homage to the period between the late sixties and early seventies. Without ever disguising their particular musical language, the three of them offered their take on a repertoire of pop songs and tracks written by Led Zeppelin, Pink Floyd or Bob Dylan, as well as Gainsbourg and Polnareff.
Whilst simultaneously working on an extremely broad range of projects (concerts as a duo with top-flight improvisers such as Tom Harrell and Brad Mehldau, as well as with the classical pianist Nicholas Angelich; artistic direction of musical tribute evenings at Montreux Jazz Festival in memory of Edith Piaf and Claude Nougaro with guests like Catherine Ringer, Bernard Lavilliers or Ute Lemper; "classical" experiences playing the Concer-to in F or "Rhapsody in Blue" from George Gershwin; music for Claude Goretta's film Sartre, and so on...), he continues to develop a musical style that is resolutely open-minded and richly fertile, in collaboration with the quartet he co-leads with David El-Malek: their musical journey has now produced a second album, FOOL TIME, released in September 2007. It's a double CD live recording, again in the company of Darryl Hall and Dré Pallemaerts.
Fall 2008, his label Naive re-releases for its 10 years anniversary his first solo album brought together with a piano solo recital recorded Salle Pleyel in May 2007. During that period he returned to one of his first loves, the Hammond B3 organ, when he took part in the recording of Stefano Di Battista's album Trouble Shootin', with Eric Harland, Fabrizio Bosso and Russell Malone, followed by a tour-over 60 concerts at Europe's major festivals.
Early in 2009 Baptiste's first "American" album, Share, was released. Recorded in New York in June 2008, again with Eric Harland, it brought together two fine musicians he particularly admires: that inimitable living legend of jazz, Tom Harrell, and Mark Turner – two soloists he describes as "warriors of beauty". Following that very successful album he gave some twenty concerts with this dream quintet, including a summer tour in 2009 (with Jeremy Pelt replacing Tom Harrell), during which all the concerts were recorded, resulting in the album "Suite...", mixed in London and released in May 2010. In that highly charged live album - the stage equivalent of the Share adventure - Baptiste further asserted his qualities as a composer. In the following months he wrote a version with string orchestra and winds of the Suite for quintet that was presented at the Jazz in Marciac Festival in August 2010.
In 2011, as well as further original stage performances (duets with classical pianist Alexandre Tharaud, saxophonist Mark Turner, and singer-songwriter Christophe Miossec, whom he invited to take part in a Carte Blanche at the Printemps de Bourges with songs they had written together), he releases in September a compilation entitled "For a while", presenting a selection of pieces from his past ten years with the record label Naïve (plus a bonus DVD of the concert given in Marciac in August 2010), and also Aldo Romano's album Inner Smile, on which he appears as sideman, along with Enrico Rava.
In November 2011 he receives the Grand Prix du Jazz awarded by the SACEM.
2012 was an eventful year... After over 80 concerts in France, Europe and Asia, Baptiste released an amazing and bold album entitled "Song, Song, Song" where he invites an amazing handful of artists to join him: Jeanne Added, Monica Passos, Miossec (with whom he co-wrote two songs) and delicious Melody Gardot. This "declaration of love for the voice" (Le Monde) combines with relish his universe as a composer with carefully chosen covers of French songs played on the piano solo. The album is a critical and commercial success. At the same time his Concerto for Piano "Different Spaces" was created by Nicholas Angelich, Commission from Orchestre National de Bordeaux-Aquitaine, his first major orchestral work written entirely without improvisation, received with great enthusiasm at its creation and for which Baptiste is nominated at the 2014 Victoires de La Musique Classique (the annual french Classical Awards) as Composer of the Year. A recording of this piece will be released in 2015 (Naïve). He develops now this new aspect of his work, venturing into Chamber Music with his String Quartet "Empreintes", Sonata for Flute and Piano, documentary soundtrack for Vincent Trintigant-Corneau...
After recording an album of acoustic ballads with saxophonist Mark Turner ("Dusk is a Quiet Place" 2013), the 40-year-old musician Le Monde has described as "a lesson, a model, perfection from A to Z" has now returned to the art of the trio with "Hit", for which he has teamed up with his faithful partner Thomas Bramerie and American groove master Jeff Ballard.
In 2016, while he's releasing a gorgeous and original project mixing jazz and classical music on Kurt Weill songs with american mezzo-soprano Kate Lindsey ("Thousands of miles", acclaimed by "New-York Times"), he writes two arrangements for Natalie Dessay's album "Pictures of America".
A few months later, he signs with the major label company Sony Music, releasing firstly two co-leaded albums showing his love for South-American musical traditions: "Chimichurri" with argentinian percussionist Minino Garay and "Ancestral Memories" with Afro-Cuban saxophonist based in New-York Yosvany Terry. Many concerts are following with these 3 projects in South-America and United States.
In 2018, while he becomes "Steinway Artist" and receives the prestigious Echo Jazz award in Germany as Best Instrumentalist-Keyboards category, the Orchestre Philharmonique de Radio-France creates his first symphonic piece "Hiatus et turbulences", just after he wrote for choir for Vocello ensemble with Henri Demarquette), or a piano solo Prelude for Philippe Cassard... At the end of the year is also created his second piece for piano and orchestra "L'air de rien", Commission from Orchestre National d'Île-de-France, concert where he also plays for the first time Mozart 1st Piano Concerto!
In November 2019, before beginning composing for a new Commission (Concerto for Trumpet and Orchestra with Romain Leleu), his new and probably more personal album "You've changed" is getting released: back to solo piano after a break of 15 years, and an incredible series of duets with artists like Joe Lovano, Avishai Cohen, Ibrahim Maalouf, Thomas de Pourquery, Vincent Segal and Camélia Jordana.

Booklet for Anima