---
Album info
Album including Album cover
I`m sorry!
Dear HIGHRESAUDIO Visitor,
due to territorial constraints and also different releases dates in each country you currently can`t purchase this album. We are updating our release dates twice a week. So, please feel free to check from time-to-time, if the album is available for your country.
We suggest, that you bookmark the album and use our Short List function.
Thank you for your understanding and patience.
Yours sincerely, HIGHRESAUDIO
Traditional:

1

Ouvertüre

04:11

2

Maria durch ein Dornwald ging

01:43

3

O Heiland, reiß die Himmel auf

02:17

Martin Luther (1483 - 1546):

4

Vom Himmel hoch

01:32

Traditional:

5

Macht hoch die Tür

02:30

6

Ihr Kinderlein kommet

02:04

7

Es ist ein Ros entsprungen

02:26

Georg Friedrich Händel (1685 - 1759):

8

Tochter Zion

02:59

Traditional:

9

Gewitter-Präludium

02:57

10

O Du Fröhliche

02:07

11

Fröhliche Weihnacht überall

02:26

12

Lasst uns froh und munter sein

01:04

13

Der Weihnachtsmann hat einen Sack

03:24

14

Morgen kommt der Weihnachtsmann

02:50

15

Morgen Kinder wird's was geben

03:33

16

Süßer die Glocken nie klingen

02:17

Benedikt Widmann (1820 - 1910):

17

Kling, Glöckchen

02:18

Walter Gehlert (1940 - ):

18

Glocken rufen zur Weihnacht

01:39

Traditional:

19

Kommet, ihr Hirten

01:06

20

O Tannenbaum, Du trägst ein grünen Zweig

01:20

21

Tannenbaum-Fuge

02:13

22

O Tannenbaum

03:03

23

Schneeflöckchen, Weißröckchen

01:48

Friedrich Silcher (1789 - 1860):

24

Alle Jahre wieder

02:10

Traditional:

25

Leise rieselt der Schnee

01:52

Franz Xaver Gruber (1787 - 1863):

26

Stille Nacht, heilige Nacht

04:26

Total Runtime

01:02:15
Info for Meine schönsten Weihnachtslieder

Der renommierte Tenor-Poet Daniel Behle arrangiert 23 seiner liebsten Melodien zur Weihnachtszeit für kleines Ensemble. Damit erschafft er anspruchsvolle und unterhaltsame Hausmusik und lässt die traditionellen, deutschen Weihnachtslieder in einer kammermusikalischen Fassung erklingen.
Daniel Behle ist "jener lyrische Tenor, der in seiner Generation als Poet konkurrenzlos sein dürfte[...]: perfekte Technik, klangschöne Höhe, keine Drücker, Sprachbewusstsein statt Manierismen" (WAZ, 08.06.2017). Inspiriert durch Weihnachtsabende mit seinen Kindern, in denen er ihnen eine Weihnachtsgeschichte vorliest, hat der "renommierter Mozart-Interpret"(OperaLounge 06.06.2017) 23 seiner liebsten traditionellen Weihnachtslieder neu arrangiert und eine bunte, musikalische Weihnachtsgeschichte zusammengestellt. In fast einem Jahr Vorbereitungszeit entwickelte er ein Weihnachtsprogramm mit vielen musikalischen Überraschungen und lässt zusammen mit seinen herausragenden Mitmusikern - dem Oliver Schnyder Trio, ergänzt um Gitarre, Akkordeon und Percussion bekannte Weihnachtsklassiker unterhaltend und veredelt erklingen, dass nicht nur seine Kinder, sondern auch seine erwachsenen Zuhörer begeistert sein werden. Die Melodien von "Alle Jahre wieder und "Vom Himmel hoch" über "Tochter Zion" und "O Du Fröhliche" bis zu "Morgen Kinder wird's was geben" und "O Tannenbaum" erklingen im neuen Soundbett und kammermusikalischer Hausmusik-Manier. Ganz nach dem Leitsatz von Richard Wagner "Kinder, schafft Neues" finden sich neben einer Meistersinger-O Tannenbaum-Ouvertüre auch Anspielungen auf aktuelle weihnachtliche Klischees. So beginnt beispielsweise "Kling Glöckchen" mit bekannten Glockenschlägen, es eilt der Weihnachtsmann im Galopp in "Der Weihnachtsmann hat einen Sack" zum Geschenkekauf im Wonnemonat Mai und bei "Morgen kommt der Weihnachtsmann" erschallt in der Ferne ein populärer Weihnachts-Klassiker.
"Das Motto der heiligen Zeit über die letzten Jahrzehnte scheint zu laut und groß geworden. Der musikalische Event verdrängt das Leise und Kleine" meint Behle. "Zusammen mit einer ganz speziellen 6-köpfigen Besetzung möchte ich den Geist der weihnachtlichen Hausmusik neu aufleben lassen und auf meine Weise kritisch, lachend und wahrhaftig unser Fest der Feste zelebrieren." Daniel Behle ist nicht nur einer der besten Sänger seines Fachs, als meisterhafter Mozart-Interpret bekannt und auf den großen Bühnen zuhause (von Covent Garden über die Bayreuther Festspiele bis zur Sächsischen Staatskapelle Dresden und den Wiener und Berliner Philharmonikern), sondern er ist auch ausgebildeter Komponist. Bei Gastspielen, wenn er seine Freizeit nicht mit den Kindern und der Familie verbringen kann, schreibt er an neuer Musik. So ist auch "Meine schönsten Weihnachtslieder"entstanden.
Auch die Zusammenarbeit mit dem Schnyder Trio dürfte nicht nur Behle-Fans bekannt sein. Mit ihrem Album "Schubert: Winterreise" haben sie Schuberts gesamte Winterreise für Tenor und Klaviertrio arrangiert, auf "Mein Hamburg" entstanden typische Hamburger Lieder komplett neu. Er muss also nicht mehr beweisen, dass er nicht nur ein begnadeter Tenor ist, sondern seine musikalischen Ideen auch selbst zur Feder bringen kann und jedem Lied seine ganz persönliche Note schenkt.
Daniel Behle, Tenor
Oliver Schnyder Trio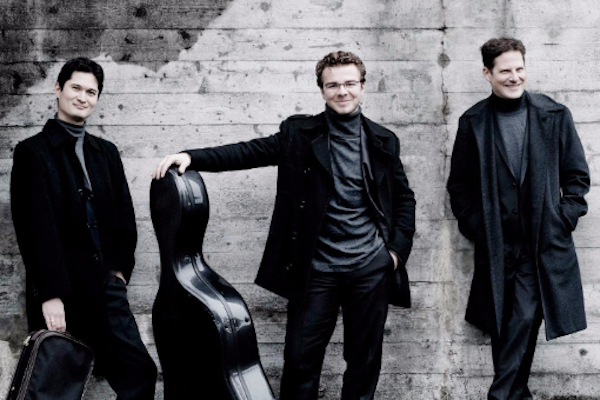 Daniel Behle
is one of the most versatile German tenors and is equally successful in the concert, lied and opera genres. His extensive repertoire ranges from Baroque masterpieces to Classical and Romantic works to compositions of the 20th and 21st centuries.
The year 2017 marks an absolute highlight in his carreer, including concert debuts with Santa Cecilia Rome ("Lobgesang" with Pablo Heras-Casado), Gewandhausorchester Leipzig ("Jahreszeiten" with Trevor Pinnock), Wiener Symphoniker ("St. John Passion" with Philippe Jordan), Balthasar-Neumann-Ensemble ("St. John Passion" with Thomas Hengelbrock), and Berlin Philharmonic ("Missa solemnis" with Christian Thielemann), as well as his debut at the Bayreuth Festival as David in "Die Meistersinger von Nürnberg".
In April 2014 he made his acclaimed debut as Matteo in Strauss's "Arabella" at the Salzburg Easter Festival under Christian Thielemann. In 2015 he returned to Aix-en-Provence as Belmonte ("Die Entführung aus dem Serail") and sang his first Wagner role: Erik in "Der fliegende Holländer" at the Frankfurt Opera. In September 2016 Daniel Behle makes his debut at the Royal Opera House Covent Garden, performing Ferrando in "Così fan tutte".
Daniel Behle appears in concert with renowned orchestras, including the Staatskapelle Dresden, the Berlin Radio Symphony Orchestra (RSB), DSO Berlin, Czech Philharmonic Orchestra, SWR Radio Orchestra or the Stuttgart Bach Academy, working with such conductors as Stefan Asbury, Jiří Bělohlávek, Bertrand de Billy, Christoph Eschenbach, James Gaffigan, Marek Janowski, Ingo Metzmacher, Kent Nagano, Yannick Nézet-Séguin, George Petrou, Hans-Christoph Rademann, Jérémie Rhorer, Andreas Spering, Jeffrey Tate, and Christian Thielemann.
Daniel Behle fascinates his audiences as a lieder singer at such venues as the Schwetzingen Festival, the Schubertiade, the Prinzregenten Theater in Munich, the Cologne Philharmonie, Hamburg's Laeiszhalle, the Beethoven House in Bonn, London's Wigmore Hall and the Richard Strauss Festival in Garmisch-Partenkirchen.
The artist has also made a name for himself as a composer. He premiered his Ringelnatz cycle at the Beethoven House Bonn in 2013. A milestone in his composing career is his arrangement of Schubert's Winterreise for tenor and piano trio (Sony Classical). Following the UK premiere at the Wigmore Hall and the Germany premiere at the WDR Cologne, he will perform the Netherlands premiere at the Concertgebouw Amsterdam in January 2017. With "Mein Hamburg" (arrangements and new compositions for tenor and piano trio to be released in fall 2016) Daniel Behle pays musical tribute to his native city.
Daniel Behle was nominated for a Grammy Award in 2014 in the recording of Leonardo Vinci's Artaserse. His lieder recordings and solo CDs, including Die schöne Müllerin, Dichterliebe, Strauss songs and Bach arias, have been praised by critics. His debut album for Decca (Gluck arias with Armonia Atenea) was released in 2014.

This album contains no booklet.