---
Album info
Album including Album cover
I`m sorry!
Dear HIGHRESAUDIO Visitor,
due to territorial constraints and also different releases dates in each country you currently can`t purchase this album. We are updating our release dates twice a week. So, please feel free to check from time-to-time, if the album is available for your country.
We suggest, that you bookmark the album and use our Short List function.
Thank you for your understanding and patience.
Yours sincerely, HIGHRESAUDIO
1

The Fight Of Our Lives

01:54

2

A Monster

03:27

3

Reveries

03:03

4

Hold Back The Darkness

03:58

5

Save Us From Ourselves

03:02

6

Crash Of The Crown

03:46

7

Our Wonderful Lives

03:06

8

Common Ground

04:00

9

Sound The Alarm

03:25

10

Long Live The King

02:33

11

Lost At Sea

00:38

12

Coming Out The Other Side

03:48

13

To Those

03:01

14

Another Farewell

00:26

15

Stream

02:56

Total Runtime

43:03
Info for Crash Of The Crown

A new era of hope, survival, and prosperity comes calling with the release of CRASH OF THE CROWN, STYX's new studio album, which was written pre-pandemic and recorded during the trying times of the pandemic.
Efforts to record CRASH OF THE CROWN began in earnest at Shaw's home studio in Nashville during the fall of 2019, with Gowan — STYX's criminally minded showman extraordinaire and keyboardist/vocalist since 1999 — in the room together with Shaw and the album's producer, Will Evankovich, as he conjured up the album's first song to be recorded, with cosmetic flourishes that reign over the insistent, yearning call for togetherness, "Common Ground." But the global pandemic that inevitably transformed the way we all wound up living in 2020 changed the course for how many of the band's home-and-away recording sessions ultimately had to set socially distanced sail. Safety precautions took precedent for all involved STYX bandmembers and production compatriots with much diligent quarantining and testing required before any one of them could travel to Shaw's tranquility homebase to spread the uniquely ingrained STYX stardust that's been duly sprinkled across the album's cosmically chosen 15 tracks.
Of all those who made the trek to Nashville, original STYX bassist Chuck Panozzo — who, along with his late twin brother, drummer John Panozzo, formed the initial nucleus of STYX when they began jamming together in their basement on the south side of Chicago in 1961 — is hands down the most effusive about the experience. "I'm constantly amazed at how Tommy's songwriting continues to connect with the social consciousness that spans across generations," marvels Chuck, who plays on "Our Wonderful Lives" and "Lost at Sea," Lawrence's all-too-brief aquatic fever dream. "Both he and Will have been able to tap into the core elements of the human condition, which is something that's not going to change that much in 50 years — or even 500 years. That's why STYX remains relevant after all this time, because we're part of the human condition."
Whether it's the heady rush of the groundwork-laying opening track "The Fight of Our Lives," the wistfully observational treatise of "Reveries," the cautionary extended hand of comfort and redemption that frames "Hold Back the Darkness," the undeniable uplift of "Our Wonderful Lives" (a beautiful sentiment further embellished by a most welcome, first-ever appearance by a banjo on a STYX album!), or the elegiac clarion call for shared grace in "To Those," CRASH OF THE CROWN is music that is both concurrently of its time and truly timeless all at once. Although the official release date for this landmark album may be time-stamped as 2021, the omnisciently observational content of CRASH OF THE CROWN readily brings to mind an amalgamation of historical events that occurred in 1066, 1455, 1775, 1861, 1941, and even 2001 without citing any of them by name — Winston Churchill's prescient wartime observations that permeate the pervasive pleas of "Save Us From Ourselves" notwithstanding. In essence, CRASH OF THE CROWN (or COTC, for short) is a modern-day sonic chronograph of the endless regenerative cycle of the rise and fall — and rise again — of our shared human experience.
"We've never been a protest band. We're more like a gospel caravan trying to send out positive messages wherever we go," observes CRASH OF THE CROWN co-creator and overall visionary Tommy Shaw, who joined STYX in December 1975 as a guitarist/vocalist and instantly became one of the band's most important songwriters. "In order to share those positive messages, you have to look at what the problems are first to figure out all the ways you can help make sure everything's going to be alright. That's a very important part of how we do what we do."
Though COTC takes a hard look at some inherently dark subjects, the prevalent light at the end of the tunnel eventually becomes each song's focal point — a persistent fervor to keep moving forward and achieve the greater good.
STYX's holy mission for cutting CRASH OF THE CROWN was crystal-clear to its co-creator from the get-go. "Absolutely no obstacles were going to get in the way of how we approached creating this album," Shaw concludes about the herculean recording efforts of his fellow COTC makers. "And everything came out exactly the way we wanted to hear it."
James "JY" Young, lead vocals, guitars
Tommy Shaw, lead vocals, guitars
Chuck Panozzo, bass, vocals
Todd Sucherman, drums, percussion
Lawrence Gowan, lead vocals, keyboards
Ricky Phillips, bass, guitar, vocals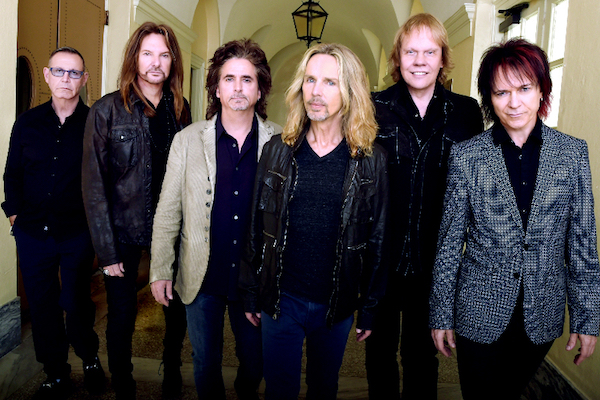 Styx
Tommy Shaw, James "JY" Young, Lawrence Gowan, Todd Sucherman and Ricky Phillips (along with the occasional surprise appearance by original bassist Chuck Panozzo), have performed more live since '99 than all of the previous years of its career combined. Two Super-Bowl appearances, Pollstar Box Office chart-topping tours with Def Leppard, Journey, Boston, REO Speedwagon, Bad Company (to name only a few), two more studio albums and no end in sight, STYX continues to conquer the planet, one venue at a time.
Spawned from a suburban Chicago basement in the early '70s, Styx would eventually transform into the virtual arena rock prototype by the late '70s and early '80s, due to a fondness for big rockers and soaring power ballads.
Early on, Styx's music reflected such then-current prog rockers as Emerson, Lake & Palmer and the Moody Blues, as evidenced by such releases as 1972's self-titled debut, 1973's Styx II, 1974's The Serpent Is Rising, and 1975's Man of Miracles. While the albums (as well as non-stop touring) helped the group build a substantial following locally, Styx failed to break through to the mainstream, until a track originally from their second album, "Lady" started to get substantial airplay in late '74 on the Chicago radio station WLS-FM. The song was soon issued as a single nationwide, and quickly shot to number six on the singles chart, as Styx II was certified gold. By this time, however, the group had grown disenchanted with their record label, and opted to sign on with A&M for their fifth release overall, 1975's Equinox (their former label would issue countless compilations over the years, culled from tracks off their early releases). On the eve of the tour in support of the album, original guitarist John Curulewski abruptly left the band, and was replaced by Tommy Shaw. Shaw proved to be the missing piece of the puzzle for Styx, as most of their subsequent releases throughout the late '70s earned at least platinum certification (1976's Crystal Ball, 1977's The Grand Illusion, 1978's Pieces of Eight, and 1979's Cornerstone), and spawned such hit singles and classic rock radio standards as "Come Sail Away," "Renegade," "Blue Collar Man" and "Fooling Yourself."
The band decided that their first release of the '80s would be a concept album, 1981's Paradise Theater, which was loosely based on the rise and fall of a once-beautiful theater (which was supposedly used as a metaphor for the state of the U.S. at the time -- the Iranian hostage situation, the Cold War, Reagan, etc.). Paradise Theater became Styx's biggest hit of their career (selling over three million copies in a three-year period), as they became one of the U.S. top rock acts due to such big hit singles as "Too Much Time on My Hands". It also marked the first time in history that a band released four consecutive triple-platinum albums.
A career-encompassing live album, Caught in the Act, was issued in 1984, before Styx went on hiatus, and the majority of its members pursued solo projects throughout the remainder of the decade. A re-recording of their early hit, "Lady" (titled "Lady" '95"), for a Greatest Hits compilation, finally united Shaw with his former Styx bandmates, which led to a full-on reunion tour in 1996. But drummer John Panozzo fell seriously ill at the time (due to a long struggle with alcoholism), which prevented him from joining the proceedings -- as he passed away in July of the same year. Although grief-stricken, Styx persevered with new drummer Todd Sucherman taking the place of Panozzo, as the Styx reunion tour became a surprise sold-out success, resulting in the release of a live album/video, 1997's "Return to Paradise," while a whole new generation of rock fans were introduced to the grandiose sounds of Styx via a humorous car ad which used the track "Mr. Roboto," as well as songs used in such TV shows as South Park and Freaks & Geeks.

This album contains no booklet.