---
Album info
Album including Album cover Booklet (PDF)
Johann Sebastian Bach (1685 - 1750):

1

Toccata & Fugue in D Minor, BWV 565: I. Toccata (Arr. T. Chulochnikova for Solo Violin)

02:48

Heinrich Ignaz Franz Biber (1644 - 1704):

2

Rosary Sonatas: No. 16, Passacaglia in G Minor

09:02

Ivan Khandoshkin (1747 - 1804):

3

Violin Sonata in D Major, Op. 3 No. 3: I. Andante maestoso

04:38

Philip Glass (b. 1937):

4

Violin Concerto No. 2 "American Four Seasons" (Excerpts): I. Prologue

01:49

Georg Philipp Telemann (1681 - 1767):

5

Fantasia No. 9 in B Major, TWV 40:22: Vivace

03:04

Philip Glass:

6

Violin Concerto No. 2 "American Four Seasons" (Excerpts): III. Song No. 1

02:06

Nicola Matteis (1676 - 1737):

7

Alia fantasia

03:38

Philip Glass:

8

Violin Concerto No. 2 "American Four Seasons" (Excerpts): V. Song No. 2

02:09

Antonio Maria Montanari (1676 - 1737):

9

Violin Sonata in D Minor: IV. Giga senza basso

02:19

Philip Glass:

10

Violin Concerto No. 2 "American Four Seasons" (Excerpts): VII. Song No. 3

02:06

Johann Sebastian Bach:

11

Violin Sonata No. 2 in A Minor, BWV 1003: IV. Allegro

03:18

Eugène Ysaÿe (1858 - 1931):

12

Violin Sonata in E Major, Op. 27 No. 6

04:34

13

Violin Sonata in A Minor, Op. 27 No. 2: I. Obsession

02:41

Johann Sebastian Bach:

14

Toccata & Fugue in D Minor, BWV 565: II. Fugue (Arr. T. Chulochnikova for Solo Violin)

05:20

Total Runtime

49:32
Info for Meditations & Reflections for Solo Violin

This album explores the fascinating allusions between baroque and contemporary music through the prism of the repertoire for the unaccompanied violin. Two distinctive sound worlds coexist and reflect on each other in this dualistic album. This was made possible by using two different violins and by experimenting with the idea of the historical pitch as one of the expressive tools. Violinist Tatiana Chulochnikova has been praised by the press for her "fine performances" (The Washington Post,) "dark plush romantic violin sound," (New York Concert Review) and "thrilling technique and bravura style" (San Francisco Classical Voice). Born in Kharkiv, Ukraine, Ms. Chulochnikova began playing violin at the age of seven and made her professional debut at fourteen performing Bruch's violin concerto with the Kharkiv Philharmonic. She received her professional training at the Tchaikovsky Conservatory in Moscow as well as Oberlin Conservatory and The Juilliard School.
Tatiana Chulochnikova, violin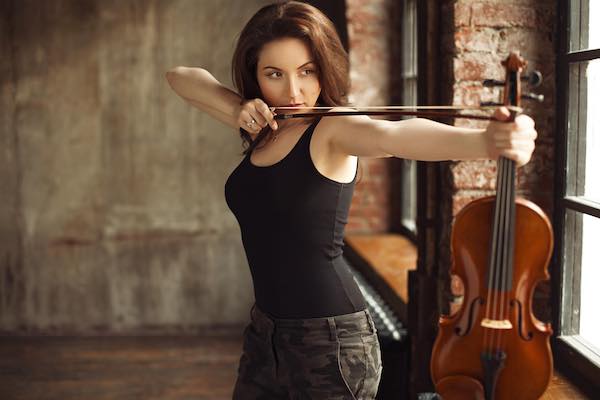 Tatiana Chulochnikova
Violinist Tatiana Chulochnikova has been praised by the press for her "fiercely pointed" (San Francisco Chronicle) and "fine performances" (The Washington Post), "dark plush romantic violin sound' (New York Concert Review) and 'thrilling technique and bravura style" (San Francisco Classical Voice). Born in Kharkiv, Ukraine, Tatiana began playing violin at the age of seven and made her professional debut at fourteen performing Bruch's violin concerto with the Kharkiv Philharmonic. An award winning, Tatiana Chulochnikova received her professional training at the Tchaikovsky Conservatory in Moscow as well as Oberlin Conservatory and the Juilliard School.
In recent seasons Tatiana Chulochnikova appeared as a soloist with orchestra, recitalist and concertmaster with leading early music ensembles throughout the United States, Europe and Russia. The highlights include appearances as a concerto soloist in Vivaldi's "Four Seasons", Philip Glass' Violin Concerto no.2 "American Four Seasons"; Tatiana's solo debut at Carnegie Hall's Weill Hall, chamber debut at Kennedy Center's Milennium Stage, as well as solo and duo recitals in Chicago,IL, San Francisco, CA, Minneapolis, MN and New York City. Chulochnikova's performances and interviews have been broadcast by classical radio stations nationwide including WETA, KALV and WFMT.
In 2016 Chulochnikova's first commercial CD recording was released worldwide on Toccata Classics(London, UK). A world premiere of violin music by composer Theodore Akimenko, the album earned very enthusiastic reviews including Fanfare Magazine (US) which called it "a fascinating release" and Classica Magazine (France) which described the interpretation as demonstrating a "total commitment and a free lyricism that goes straight to the heart". Chulochnikova's second album "Meditations and Reflections" was recorded at the Steppenwolf Studio in the Netherlands in November 2018 and will be released worldwide by Steinway&Sons recording label on October 18, 2019.

Booklet for Meditations & Reflections for Solo Violin