---
Album info
Album including Album cover
Ludwig van Beethoven (1770 - 1827): Piano Sonata No. 30 in E Major, Op. 109:

1

Beethoven: Piano Sonata No. 30 in E Major, Op. 109: I. Vivace ma non troppo, sempre legato - Adagio espressivo

04:03

2

Beethoven: Piano Sonata No. 30 in E Major, Op. 109: II. Prestissimo

02:30

3

Beethoven: Piano Sonata No. 30 in E Major, Op. 109: III. Gesangvoll, mit innigster Empfindung. Andante molto cantabile ed espressivo

10:03

Claude Debussy (1862 - 1918): Préludes, Book 1, L. 117 (Excerpts):

4

Debussy: Préludes, Book 1, L. 117 (Excerpts): No. 8, La fille aux cheveux de lin

02:41

5

Debussy: Préludes, Book 1, L. 117 (Excerpts): No. 9, La sérénade interrompue

02:53

Wolfgang Amadeus Mozart (1756 - 1791): Piano Sonata No. 3 in B-Flat Major, K. 281:

6

Mozart: Piano Sonata No. 3 in B-Flat Major, K. 281: I. Allegro

03:49

7

Mozart: Piano Sonata No. 3 in B-Flat Major, K. 281: II. Andante amoroso

03:19

8

Mozart: Piano Sonata No. 3 in B-Flat Major, K. 281: III. Allegro

04:15

Hermann Schroeder (1904 - 1984): Oboe Sonata:

9

Schroeder: Oboe Sonata: I. Allegro poco vivo

03:35

10

Schroeder: Oboe Sonata: II. Lento cantabile

04:10

11

Schroeder: Oboe Sonata: III. Vivace

03:14

Franz Liszt (1811 - 1886): 2 Konzertetüden, S. 145:

12

Liszt: 2 Konzertetüden, S. 145: No. 2, Gnomenreigen. Presto scherzando

03:56

Johannes Brahms (1833 - 1897): Variations & Fugue on a Theme by Handel in B-Flat Major, Op. 24:

13

Brahms: Variations & Fugue on a Theme by Handel in B-Flat Major, Op. 24: Aria

00:52

14

Brahms: Variations & Fugue on a Theme by Handel in B-Flat Major, Op. 24: Var. 1, Piú vivo

00:52

15

Brahms: Variations & Fugue on a Theme by Handel in B-Flat Major, Op. 24: Var. 2, Animato

00:43

16

Brahms: Variations & Fugue on a Theme by Handel in B-Flat Major, Op. 24: Var. 3, Dolce

00:47

17

Brahms: Variations & Fugue on a Theme by Handel in B-Flat Major, Op. 24: Var. 4, Risoluto

00:51

18

Brahms: Variations & Fugue on a Theme by Handel in B-Flat Major, Op. 24: Var. 5, Espressivo

01:01

19

Brahms: Variations & Fugue on a Theme by Handel in B-Flat Major, Op. 24: Var. 6, Sempre

01:04

20

Brahms: Variations & Fugue on a Theme by Handel in B-Flat Major, Op. 24: Var. 7, Con vivacita

00:39

21

Brahms: Variations & Fugue on a Theme by Handel in B-Flat Major, Op. 24: Var. 8

00:29

22

Brahms: Variations & Fugue on a Theme by Handel in B-Flat Major, Op. 24: Var. 9, Poco sostenuto

00:59

23

Brahms: Variations & Fugue on a Theme by Handel in B-Flat Major, Op. 24: Var. 10, Allegro energico

00:37

24

Brahms: Variations & Fugue on a Theme by Handel in B-Flat Major, Op. 24: Var. 11, Dolce

00:58

25

Brahms: Variations & Fugue on a Theme by Handel in B-Flat Major, Op. 24: Var. 12, Soave

00:55

26

Brahms: Variations & Fugue on a Theme by Handel in B-Flat Major, Op. 24: Var. 13, Largamente, ma non più

01:25

27

Brahms: Variations & Fugue on a Theme by Handel in B-Flat Major, Op. 24: Var. 14, Sciolto

00:48

28

Brahms: Variations & Fugue on a Theme by Handel in B-Flat Major, Op. 24: Var. 15

00:40

29

Brahms: Variations & Fugue on a Theme by Handel in B-Flat Major, Op. 24: Var. 16, Ma marcato

00:46

30

Brahms: Variations & Fugue on a Theme by Handel in B-Flat Major, Op. 24: Var. 17, Più mosso

00:14

31

Brahms: Variations & Fugue on a Theme by Handel in B-Flat Major, Op. 24: Var. 18, Grazioso

00:46

32

Brahms: Variations & Fugue on a Theme by Handel in B-Flat Major, Op. 24: Var. 19, Leggiero e vivace

01:02

33

Brahms: Variations & Fugue on a Theme by Handel in B-Flat Major, Op. 24: Var. 20, Legatissimo

01:12

34

Brahms: Variations & Fugue on a Theme by Handel in B-Flat Major, Op. 24: Var. 21, Dolce

00:48

35

Brahms: Variations & Fugue on a Theme by Handel in B-Flat Major, Op. 24: Var. 22, Alla musette

00:47

36

Brahms: Variations & Fugue on a Theme by Handel in B-Flat Major, Op. 24: Var. 23, Vivace e staccato

00:30

37

Brahms: Variations & Fugue on a Theme by Handel in B-Flat Major, Op. 24: Var. 24

00:43

38

Brahms: Variations & Fugue on a Theme by Handel in B-Flat Major, Op. 24: Var. 25

01:00

39

Brahms: Variations & Fugue on a Theme by Handel in B-Flat Major, Op. 24: Fuga. Moderato

05:35

Total Runtime

01:15:31
Info for Textures in Classics

"Textures in Classics" from renowned pianist and music scholar Sang-Hie Lee explores the rich musical possibilities offered by the piano. To do so, Lee performs works from some of the seminal composers in Western music including Mozart, Beethoven, and Brahms. The album captures Lee's unique pianism at the height of her maturity as an artist. While contemporary performers often place an outsized emphasis on virtuosic technical skill, Lee's performances examine the notion of texture in piano music; this ranges from the clean, crisp soundscape of Mozart's early pianoforte to Beethoven's exacting technique and lush harmonies. There is little doubt that TEXTURES IN CLASSICS will cement Lee's legacy as a scholarly-artistic pianist.
Sang-Hie Lee, piano
John Corina, oboe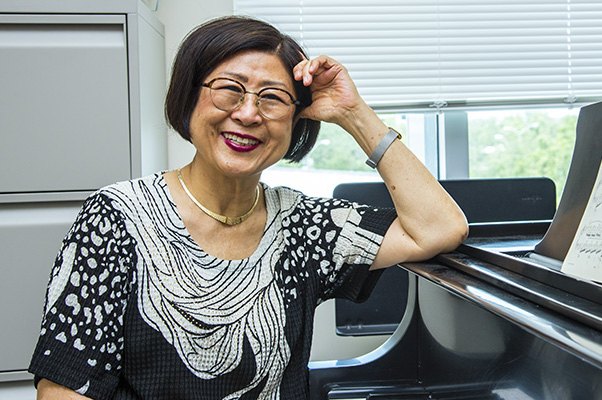 Dr. Sang-Hie Lee
Professor of Music at the University of South Florida, is an active teacher, pianist, researcher, author, and cross-disciplinary administrator. As the founder of Ars Nostra, she performs piano duo music by significant living composers: her music is featured in six albums by Ravello, Centaur, Capstone, and Albany labels. Lee is the principal author of Scholarly Research for Musicians: A Comprehensive Strategy (Learning Solutions Division, The McGraw-Hill, 2012, 2013 and Routledge 2017), and Scholarly Research in Music: Shared and Disciplinary-Specific Practices, 2nd Edition (Routledge 2022). She is the primary editor of Perspectives in Performing Arts Medicine: A Multidisciplinary Approach (Springer 2020) and was the founding editor of the Cultural Expressions in Music Monographs Series (College Music Society 2008-2014). She is the author of 74 scholarly publications, has presented 85 conference papers, keynotes, and lectures, hosted seven international conferences, and performed numerous solo and chamber-music concerts in the United States, South Korea, China, Serbia, Brazil, Italy, and Canada.
She served as the Associate Dean of the College of Fine Arts (1995-1998) and PI & Executive Director of AmeriCorps Arts USF (1997-2000), and is currently the Director of USF-Performing Arts Medicine Collaborative (2009- present). Lee's research has focused on musician's health, pianists' hand biomechanics, retraining pianists with focal dystonia, piano technique, music faculty vitality and organizational conditions, and executive music leadership in higher education.
Lee's papers are published in Medical Problems of Performing Artists, European Journal of Integrative Medicine, SciMedicine Journal, Psychomusicology, Médicine des Arts, the American Music Teacher, Piano Bulletin of European Piano Teachers Association, Australian Journal of Music Education, The College Music Symposium, the International Society for Music Education Conference Proceedings, and Music Teachers National Association session tape. She also published reviews and abstracts in Psychology of Music, The Piano Quarterly, the Bulletin of the Council of Research in Music Education, Conference on Piano Pedagogy Proceedings, and Music Educators National Conference proceedings. In addition, her research is introduced in the inaugurating MENC Handbook of Research on Music Teaching and Learning, Music, Motor Control and the Brain, the Pianist's Reference Guide, Pianographie, the Piano Quarterly, and the Journal of the American Liszt Society.
Lee has completed D.M.A. and Ed.D. work at the University of Georgia, Ph.D. in Higher Education from the University of Michigan, M.M. in Piano Performance from the American Conservatory of Music, and B.A. in Piano Performance from Ewha Womans University. She has taught piano and piano pedagogy for 40 years at Grambling State University, the University of Alabama, the State University of New York.
John Corina
taught composition, oboe, and theory at the University of Georgia, Athens, and performed with the Georgia Woodwind Quintet for 25 years. While there he was a full professor, served as Chairman of Theory and Composition, was a member of the graduate faculty and, in 1985, was awarded the university's teaching excellence Professorship. He has been Professor Emeritus of Music since his retirement in 1991.
As composer of over 130 works, Corina has received 14 awards from the American Society of Composers, Authors, and Publishers (ASCAP) and other organizations. As an oboist, he has performed throughout North America and Europe, accepting nine invitations to appear at the International Double Reed Society. He was a church organist and choir director for 50 years until retirement, the last 24 years of which he held the position of organist/choirmaster of Emmanuel Episcopal Church in Athens. He also directed and conducted the University of Georgia Symphony Orchestra and the Athens Choral Society, as well as numerous other choruses, orchestras, and bands.
The premiere of This Endris Night was on December 24, 2004, at St. Stephen's Anglican Catholic Church in Athens GA under the direction of organist/choirmaster William Coscarelli. This publication is the result of a performance by the University of Georgia's Collegium Musicum conducted by Dr. Mitos Andaya as part of the University's Holiday Concerts 2011.

This album contains no booklet.