---
Homage to Godowsky: Piano Works Dedicated to Leopold Godowsky Andrey Gugnin
Album info
Label: Hyperion
Genre: Classical
Subgenre: Instrumental
Artist: Andrey Gugnin
Composer: Felix Mikhailovich Blumenfeld (1863-1931), Emil von Sauer (1862-1942), Eugenio Pirani (1852-1939), Abram Chasins (1903-1987), Ignaz Friedman (1882-1948), Ossip Gabrilowitsch (1878-1936), Joseph Holbrooke (1878-1958), Constantin von Sternberg (1852-1924), Theodor Leschetizky (1830-1915), Tivadar Szanto (1877-1934), Moritz Moszkowski (1854-1925), Franz Liszt (1811-1886)
Album including Album cover Booklet (PDF)
I`m sorry!
Dear HIGHRESAUDIO Visitor,
due to territorial constraints and also different releases dates in each country you currently can`t purchase this album. We are updating our release dates twice a week. So, please feel free to check from time-to-time, if the album is available for your country.
We suggest, that you bookmark the album and use our Short List function.
Thank you for your understanding and patience.
Yours sincerely, HIGHRESAUDIO
Josef Hofmann (1876 - 1957): Charakterskizzen, Op. 40:

1

Hofmann: Charakterskizzen, Op. 40: I. Vision

05:26

2

Hofmann: Charakterskizzen, Op. 40: II. Jadis

03:20

3

Hofmann: Charakterskizzen, Op. 40: III. Nenien

07:05

4

Hofmann: Charakterskizzen, Op. 40: IV. Kaleidoskop

05:30

Felix Blumenfeld (1863 - 1931): Etude pour la main gauche seule, Op. 36:

5

Blumenfeld: Etude pour la main gauche seule, Op. 36

05:57

Emil von Sauer (1862 - 1942): Etudes de concert:

6

Sauer: Etudes de concert: No. 19 in B Minor. Vision

04:34

Eugenio Pirani (1852 - 1939): Scherzo-Etude, Op. 67:

7

Pirani: Scherzo-Etude, Op. 67

04:09

Abram Chasins (1903 - 1987): Preludes, Book 3, Op. 12:

8

Chasins: Preludes, Book 3, Op. 12: No. 1 in G-Flat Major. Prelude No. 13

01:30

Ignaz Friedman (1882 - 1948): 3 Klavierstücke, Op. 33:

9

Friedman: 3 Klavierstücke, Op. 33: I. Etude

02:33

10

Friedman: 3 Klavierstücke, Op. 33: II. Mazourka

02:13

11

Friedman: 3 Klavierstücke, Op. 33: III. Tabatière à musique

03:44

Ossip Gabrilowitsch (1878 - 1936): 2 Piano Pieces, Op. 12:

12

Gabrilowitsch: 2 Piano Pieces, Op. 12: II. Etude for the Left Hand

05:04

Joseph Holbrooke (1878 - 1958): Rhapsodie-Etudes, Op. 42:

13

Holbrooke: Rhapsodie-Etudes, Op. 42: IV. La fantastique

02:07

14

Holbrooke: Rhapsodie-Etudes, Op. 42: V. Une nuit ténébreuse

03:59

Constantin von Sternberg (1852 - 1924): Etude de concert No. 5 in F Major, Op. 115:

15

Sternberg: Etude de concert No. 5 in F Major, Op. 115

02:36

Theodor Leschetizky (1830 - 1915): 3 Morceaux, Op. 48:

16

Leschetizky: 3 Morceaux, Op. 48: I. Prélude humoresque

01:19

17

Leschetizky: 3 Morceaux, Op. 48: II. Intermezzo scherzando

02:35

18

Leschetizky: 3 Morceaux, Op. 48: III. Etude héroïque

03:42

Theodor Szántó (1877 - 1934): Troisième étude orientale (en quartes):

19

Szántó: Troisième étude orientale (en quartes)

03:11

Moritz Moszkowski (1854 - 1925): Melodia appassionata in E Minor, Op. 81 No. 6:

20

Moszkowski: Melodia appassionata in E Minor, Op. 81 No. 6

04:18

Franz Liszt (1811 - 1886): Grandes Etudes de Paganini, S. 141:

21

Liszt: Grandes Etudes de Paganini, S. 141: No. 3 in G-Sharp Minor. La campanella (Arr. Busoni)

05:28

Total Runtime

01:20:20
Info for Homage to Godowsky: Piano Works Dedicated to Leopold Godowsky

An anniversary accolade with a twist: one hundred and fifty years after his birth, this is a wonderful recital of some of the many works dedicated to Leopold Godowsky. It's difficult to imagine more persuasive performances than these by Andrey Gugnin, who makes a second appearance on Hyperion after his universally—and vociferously—acclaimed Shostakovich.
Leopold Godowsky was one of the greatest pianists in history. During the first quarter of the twentieth century his name was synonymous with the piano. He was born on 13 February 1870 in a small town near Vilnius. A child prodigy, he was almost entirely self-taught. After a spectacular concert in Berlin in 1900 he became one of the highest-paid and most sought-after concert artists in the world—a position he retained until 1930 when a stroke curtailed his career. He died in New York on 21 November 1938.
As a composer Godowsky is perhaps best known for his series of fifty-three Studies on Chopin's Études which advanced to an unprecedented degree the potential of the left hand in particular, and keyboard polyphony in general. In the past thirty years his original compositions and further transcriptions have been programmed and recorded by many pianists. The Hyperion label has played a not-insignificant role in championing his music.
This release is issued to celebrate the sesquicentenary of Godowsky's birth. It is a collection of some of the many works for solo piano dedicated to him; so many, indeed, that there would be sufficient titles to fill a second disc—works by George F Boyle, Émile-Robert Blanchet, Issay Dobrowen, Emil Liebling, Leo Ornstein and others, not to mention the two piano concertos written for Godowsky: Glazunov's Piano Concerto No 1 in F minor, Op 92, and another by Hugo Kaun, his Op 50.
Much thought and care has gone into making the present selection, so it may appear perverse that the most famous piano solo dedicated to Godowsky has been omitted. This is the Polka de W R by Rachmaninov, now known to be a transcription/elaboration of Lachtäubchen (the 'Turtle-dove polka'), Op 303, by Franz Behr. It was felt that, as this piece has been recorded so frequently by so many pianists (four times alone by the composer himself), it would be beneficial to leave it out in order to allow as many of the other dedications a place on this recording; the majority of them have never been recorded before, and the remaining titles only rarely.
It is, nevertheless, to Rachmaninov that we turn for an explanation (in part, at least) of why Godowsky was held in such reverence by his peers, and why so many of them honoured him with a dedication. 'Godowsky', wrote Rachmaninov, 'is the only musician of his age who has given a lasting, a real contribution to the development of piano music.'
A rather brilliant idea … great entertainment … lovely playing' (BBC Record Review)
'Gugnin's jaw-dropping, transcendental technique makes light of bravura showpieces by Blumenfeld, Friedman, the English composer Joseph Holbrooke and Moszkowski—catnip for pianophiles' (The Sunday Times)
'One of the most sheerly enjoyable CDs I've heard in a long time … a combination of sentimentality and glitter that is irresistible, especially in such winning and flexible performances as these' (The Telegraph)
Andrey Gugnin, piano
Please Note: We offer this album in its native sampling rate of 96 kHz, 24-bit. The provided 192 kHz version was up-sampled and offers no audible value!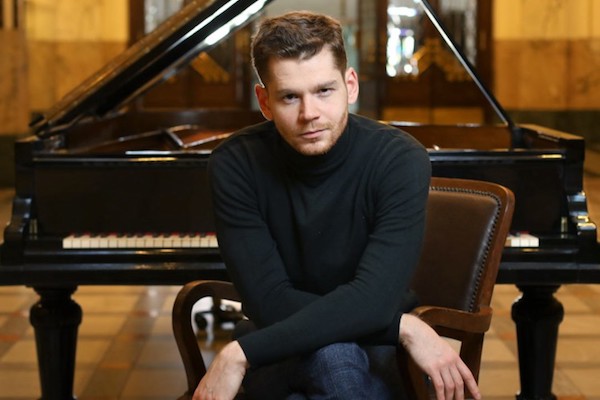 Andrey Gugnin
Moscow-born concert pianist Andrey Gugnin is rapidly gaining international acclaim as a passionately virtuosic performer, who possesses an 'extraordinarily versatile and agile technique, which serves an often inspired musical imagination' (Gramophone). In 2020, the BBC Music Magazine Awards named Andrey the winner of the Instrumental category for his recording of Shostakovich preludes and piano sonatas on Hyperion Records. Since winning the prestigious Sydney International Piano Competition in 2016, Andrey has gone from strength to strength in concerts and recordings which exhibit his impassioned interpretations.
In demand as a concert soloist, Andrey has been invited to perform as a guest artist with notable orchestras across the globe, such as the London Philharmonic Orchestra, Mariinsky Theatre Orchestra, State Academic Symphony Orchestra of Russia, Netherlands Symphony Orchestra, Utah Symphony, West Australian Symphony Orchestra and Sydney Symphony Orchestra.
Andrey has performed on some of the most prestigious stages in the world, including the Musikverein in Vienna, Victoria Hall in Geneva, Carnegie Hall in New York, Abravanel Hall in Salt Lake City, Sydney Opera House, the Grand Hall of the Moscow State Conservatory, the Tchaikovsky Concert Hall in Moscow, Mariinsky Concert Hall, the Louvre in Paris, Tokyo Metropolitan Theatre and Hamarikyu Asahi Hall. Andrey has also appeared at a number of international festivals, including the Verbier, Ruhr Piano, Mariinsky International, Dubrovnik Summer, Ohrid Summer and International Chopin festivals.
As a recording artist, Andrey has published a broad scope of repertoire, ranging from works for solo piano to concertos. His release of Liszt's Transcendental Studies (Piano Classics, 2018) was Editor's Choice in Gramophone. His recording of Shostakovich concertos (Delos International, 2007) was featured in the soundtrack of Steven Spielberg's Oscar-winning film Bridge of Spies.
Andrey took his first lessons with Natalia Smirnova, who laid the foundations for his studies with Olga Mechetina, Valery Kastelsky, Lev Naumov, Stanislav Ioudenitch, William Naboré and Vera Gornostayeva.

Booklet for Homage to Godowsky: Piano Works Dedicated to Leopold Godowsky